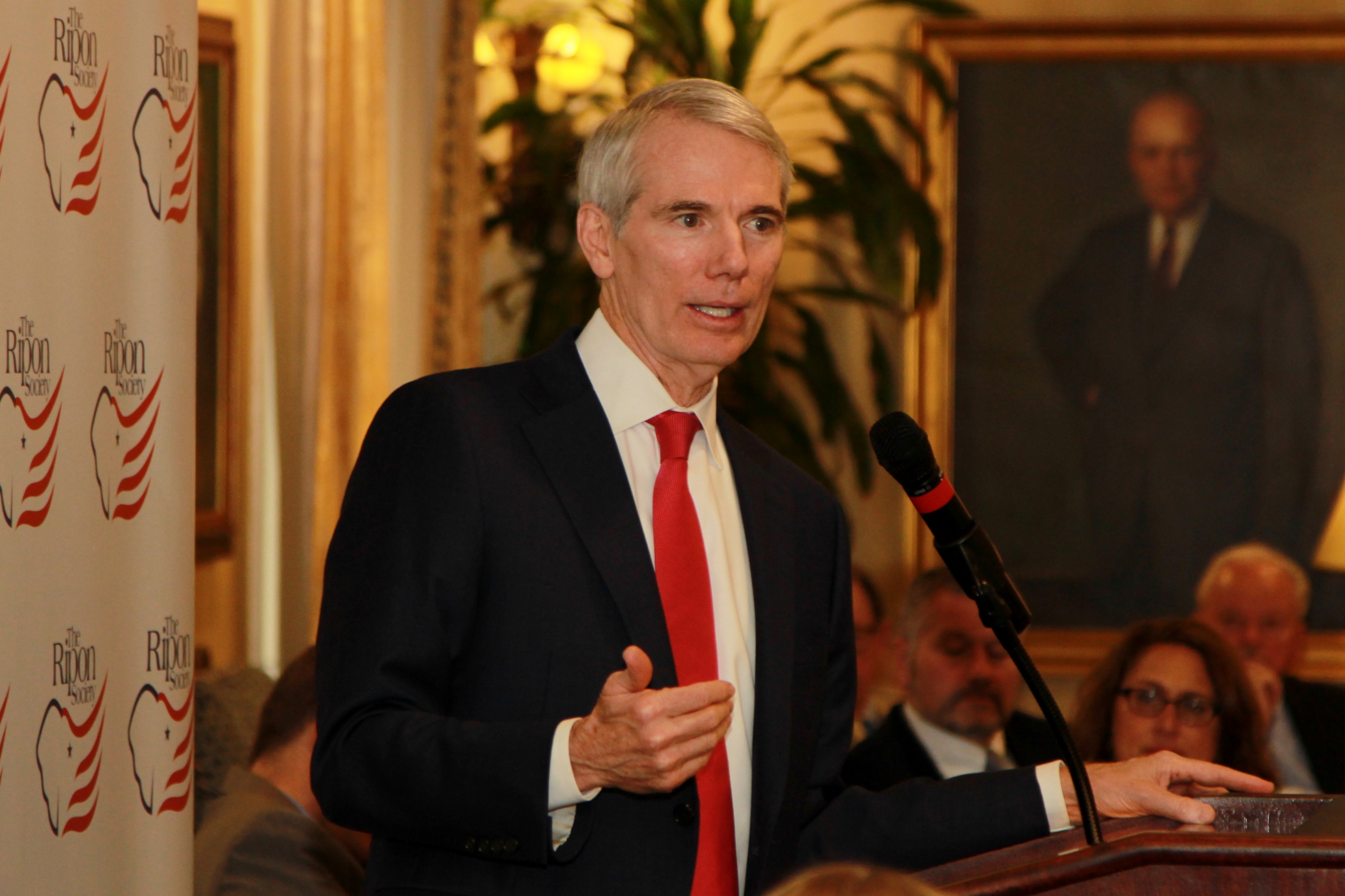 Portman Praises Economic Rebound, but says Recovery is not yet Complete
WASHINGTON, DC – With the economy booming and unemployment at a record low, U.S. Senator Rob Portman (R-OH) appeared before a breakfast meeting of The Ripon Society this past Thursday morning to discuss the economic rebound in America and what can be done to help those who remain out of the workforce and are struggling to make ends meet.
"It's heartening to see that there are serious changes being made in our economy that are positive for someone who's making $40,000 to $50,000 a year and can now see a higher wage," the Senator stated. "Even the quarterly numbers in terms of non-supervisory wages represent the highest wage growth we've seen in at least a decade. So this is exciting. It's actually happening — the things that we hoped would happen in the context of tax reform."
"Added to that is regulatory relief, which I think is specifically because of some of things Congress did through the Congressional Review Act. We were able to get rid of a lot of bad regulations. But I think more broadly, it's a different culture at the top. And it is a positive culture in my view, saying: 'Yes, we understand regulations are important, but we're not going to use regulations to punish businesses — particularly small businesses.' That change is dramatic back home."
To that end, Portman noted that 75% of businesses in Ohio have indicated they are hiring this quarter. He further noted that the "Ohio Means Jobs" website, which posts job openings in the Buckeye State, had a list Thursday morning of about 145,000 that are currently available.
Despite this economic rebound, Portman stated that the economic recovery is not yet complete. "There's a lot of good stuff going on," he said. "But we still haven't solved the issue of those who are on the sidelines not engaged in work."
"The best numbers the Department of Labor can give you is that there are 8.5 million men between the ages of 25 and 55 who are currently not working and not looking for work," he stated. "Let's use that number – 8.5 million men between the ages of 25 and 55. These are able-bodied men in their prime working years. This is not about the baby boom generation retiring, which is what some economists on the left particularly have been saying. It's about people who are simply not at work."
According to Portman, there are four reasons why Americans have not reentered the workforce as the economy has continued to grow:
1) The Skills Gap — "The jobs of the 21st century require a certain level of skill," he stated. "The 145,000 jobs that are open today — a lot of them are IT jobs, coding for instance. If you're a coder in Ohio, you can get a job, and you can walk into the job making 50, 60, 70 thousand bucks a year. You can learn how to code in 10 weeks. If you're a welder in Ohio, you've got lots of opportunities. If you are machinists, go for it. There are lots of opportunities there, so if you have those kinds of skills you can get a job. If you're in this health care space and you have a health care skill, even if you're a tech — I'm not even talking about a nurse or a doctor — you can get a job in Ohio right away. There are literally thousands of jobs open right now in Ohio, and millions across the country. So, there is a skills gap, because many Americans just don't have those skills."
To that end, Portman, who co-chairs the Senate Career & Technical Education (CTE) Caucus, noted that the President recently signed the Educating Tomorrow's Workforce Act, legislation he authored with Senator Tim Kaine (D-VA) to allow states and localities to use Perkins grant funding to establish CTE-focused academies. "It's going to make a big difference," he stated, because it encourages more career and technical education and encourages more opportunities for businesses to work in this space. Part of it is through more apprenticeships and internships — that sort of thing. But part of it is getting the business community more engaged in the skills training. We have to do it."
2) The Welfare-to-Work Cliff — "As Republicans," Portman observed, "we get attacked all the time for being insensitive to people who are dependent on government programs. I think there ought to be a work requirement. But what we ought to say is 'we want to give people the opportunity to have dignity and self-respect.' It comes from work. Therefore, we have got to deal with the cliff. It's real. Because when you go from welfare to work and you lose those benefits, there's a cliff. There's much less of an incentive to get involved in work and take that sacrifice. Also, there's a tax increase."
Portman noted Congress took a step in the right direction last December when it passed the Tax Cuts and Jobs Act, which lowered taxes on lower income Americans who are trying to find work. "Three million Americans who had income tax liability as of last year have no income tax liability this year. Those three million people are people who are at the lower end of the economic scale, who — because of doubling the standard deduction, doubling the child tax credit, and lowering rates — no a longer have any federal income tax liability."
This tax relief aside, Portman said that Congress still needs to do more "to deal with this issue of getting people off dependency to work."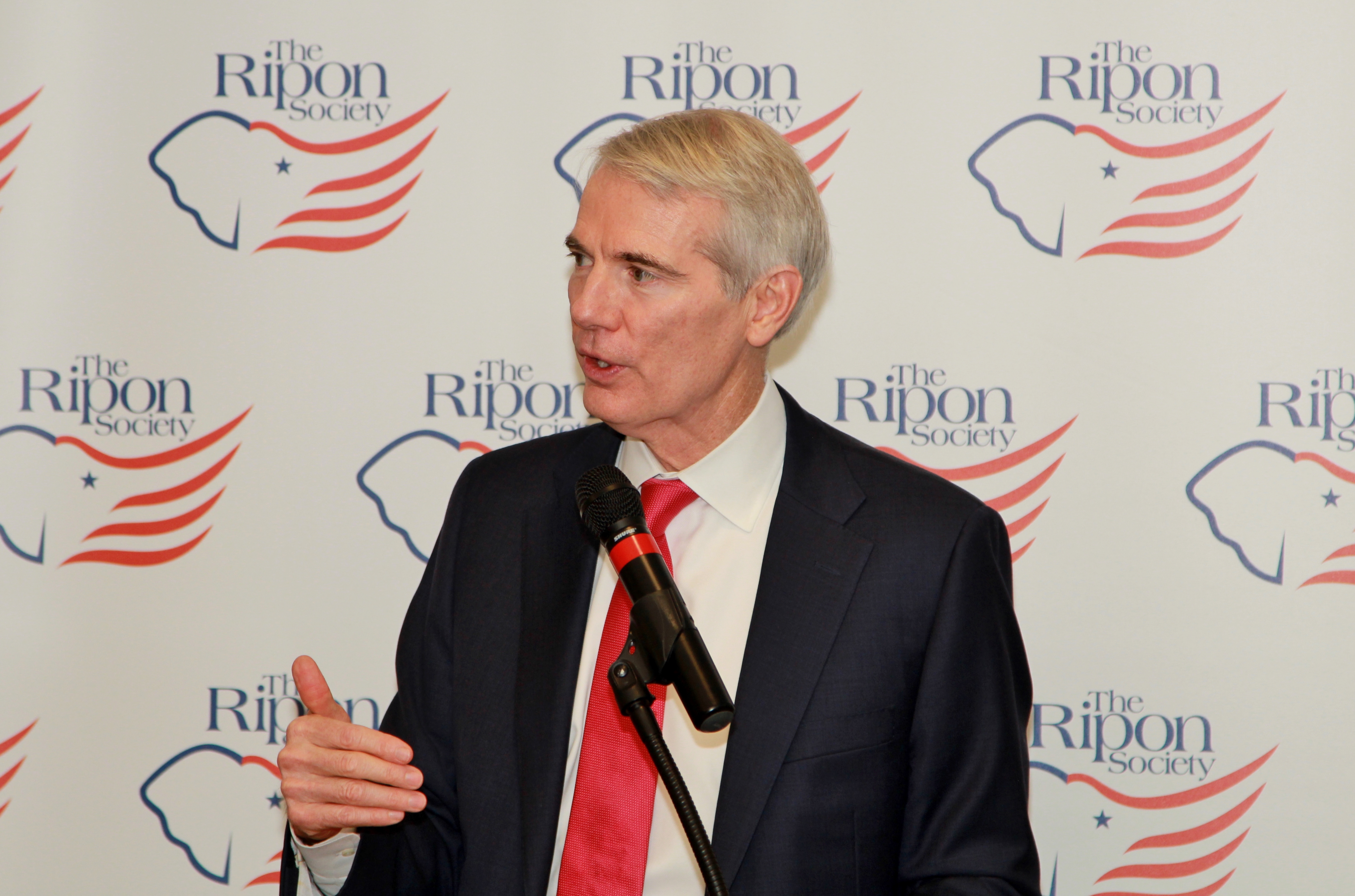 3) The Record Number of Felons – "We have a record number of people who have felony records out there," Portman said, "and it is harder to get a job if you've got that record." To that end, Portman noted that he is now working to reauthorize The Second Chance Act, a bill he authored that was enacted 10 years ago and has provided thousands of Ohioans and more than 137,000 people in 49 states with skills training and other assistance to help them find work and ease their reentry into society after prison. Portman also noted that he recently visited a non-profit organization in Youngstown, Ohio, that performs just this type of service.
"It's called Flying High," he said of the organization. "They take people who are coming out of prison — almost all of them with a drug or alcohol issue — and help them to learn wellness skills. Every single one of them is getting a job, and the stories of course are incredible. There is some relapse — some people go back to their old ways, whether it's their drug habit or whether it's criminal activity. But the vast majority of these, in this case, men are finding themselves not just with jobs, but really good jobs. And they're back owning their own place, back with their kids, getting custody again, back to being productive citizens. It can happen."
4) The Opioid Crisis – According to Portman, the opioid crisis is not only "the biggest issue" facing America when it comes to people not reentering the workforce, but is also an issue "that I think the business community is not acknowledging and therefore not as engaged in as they should be."
"The data is just overwhelming on this," he continued. "If you look at the Department of Labor study that came out recently, if you look at the Brookings Institution study by the former head of the CEA for Obama, they tell you the same story — which is that roughly half of the men I talked about earlier, the 8.5 million men, are taking pain medication on a daily basis.
"Think about that — roughly half of these men. So let's say 4 million men in America who otherwise might be working are taking pain medication on a daily basis. That's not over-reported, folks — that's under-reported, both because of the criminality involved, and because of the stigma that's attached to an opioid addiction. That number is relatively low.
"In my home state of Ohio, we're #2 or #3 in the country in terms of opioid addiction and overdoses. Obviously, that's going to be higher. But let's just use the number. What an enormous asset out there. What a great way for us to help close that gap of 145,000 jobs currently open."
To that end, Portman recently introduced the Comprehensive Addiction and Recovery Act (CARA) 2.0 Act, a bipartisan proposal that provides additional funding to combat the opioid epidemic and builds on the landmark bill he authored two years ago. He is also the co-author of The STOP Act, which would close a loophole that currently allows dangerous synthetic drugs like Fentanyl from being shipped through the U.S. Postal Service to drug traffickers here in the United States.
"My answer when people ask me how things are going with the opioid epidemic is that there's a lot of positive," he said. "There's a lot of innovation — a lot of great things happening. But I will say I do believe that we would have been a lot further along, and we would have seen better results this year than last year in Ohio overall, not just in some counties but overall, but for Fentanyl … And we've got to deal with this."
"Until we solve the opioid crisis and get these people off the sidelines and back into the game, we're going to continue to see not only these individuals unable to achieve their God-given potential, but our economy unable to achieve its full potential at a time of economic growth."
To view Portman's remarks before The Ripon Society breakfast discussion last Thursday morning, please click on the link below:
The Ripon Society is a public policy organization that was founded in 1962 and takes its name from the town where the Republican Party was born in 1854 – Ripon, Wisconsin. One of the main goals of The Ripon Society is to promote the ideas and principles that have made America great and contributed to the GOP's success. These ideas include keeping our nation secure, keeping taxes low and having a federal government that is smaller, smarter and more accountable to the people.