McCarthy Discusses the Politics of Impeachment and GOP Prospects Heading Into Next Year

WASHINGTON, DC — House Republican Leader Kevin McCarthy (CA-23) appeared yesterday morning before a breakfast meeting of The Ripon Society, where he discussed not only how the debate over impeachment is delaying work on trade and other important issues, but how the GOP approach to these issues will affect the party's prospects heading into the elections next year.
"We should understand what impeachment means," the California lawmaker stated. "We are going to try to remove somebody from office who was duly elected. Every other Congress before has believed that was such a great responsibility that no one person should make the decision. No one committee should make the decision, either. Everybody in the House should have a say before you go to this impeachment inquiry. But we will not do that in Pelosi's House."
"Normally, we go through the Judiciary Committee. But they don't even trust their own Chair or the Committee itself. So they moved it to the Intel Committee — to an individual who's lied to us numerous times. Why? So the public cannot see. We put a person in charge who's going to lie. We put a person in charge who is going to pick and choose which witnesses appear. And we're going to set a structure that's different than how… we've treated anybody before this … We have broken all norms. We have now decided that politics matters more than democracy."
McCarthy was first elected to the House in 2006 and has served as Republican Leader since 2014. In his remarks, he also talked about yesterday's meeting at the White House between the President and Congressional Leaders. It was a meeting, he noted, that was supposed to be about the situation in Syria, but instead the topic quickly shifted to impeachment and was followed by Speaker of the House Nancy Pelosi leaving early and walking out of the room.
"That meeting was about national security," McCarthy said. "She could not even put impeachment aside. She could not even read a letter that the President had handed to her. She turned it over to make a point that everybody would see — that she would not read it, that her mind was made up. Her mind was made up not only to not read it, but to not even stay there … I've been to a lot of meetings that have people disagreeing.. I didn't walk out. I didn't go to the microphones. I didn't complain. I sat in the room to get the work done."
To that end, the Republican Leader pointed to a number of key areas where, he hopes, both parties can put the politics over impeachment aside and work together to reach common ground.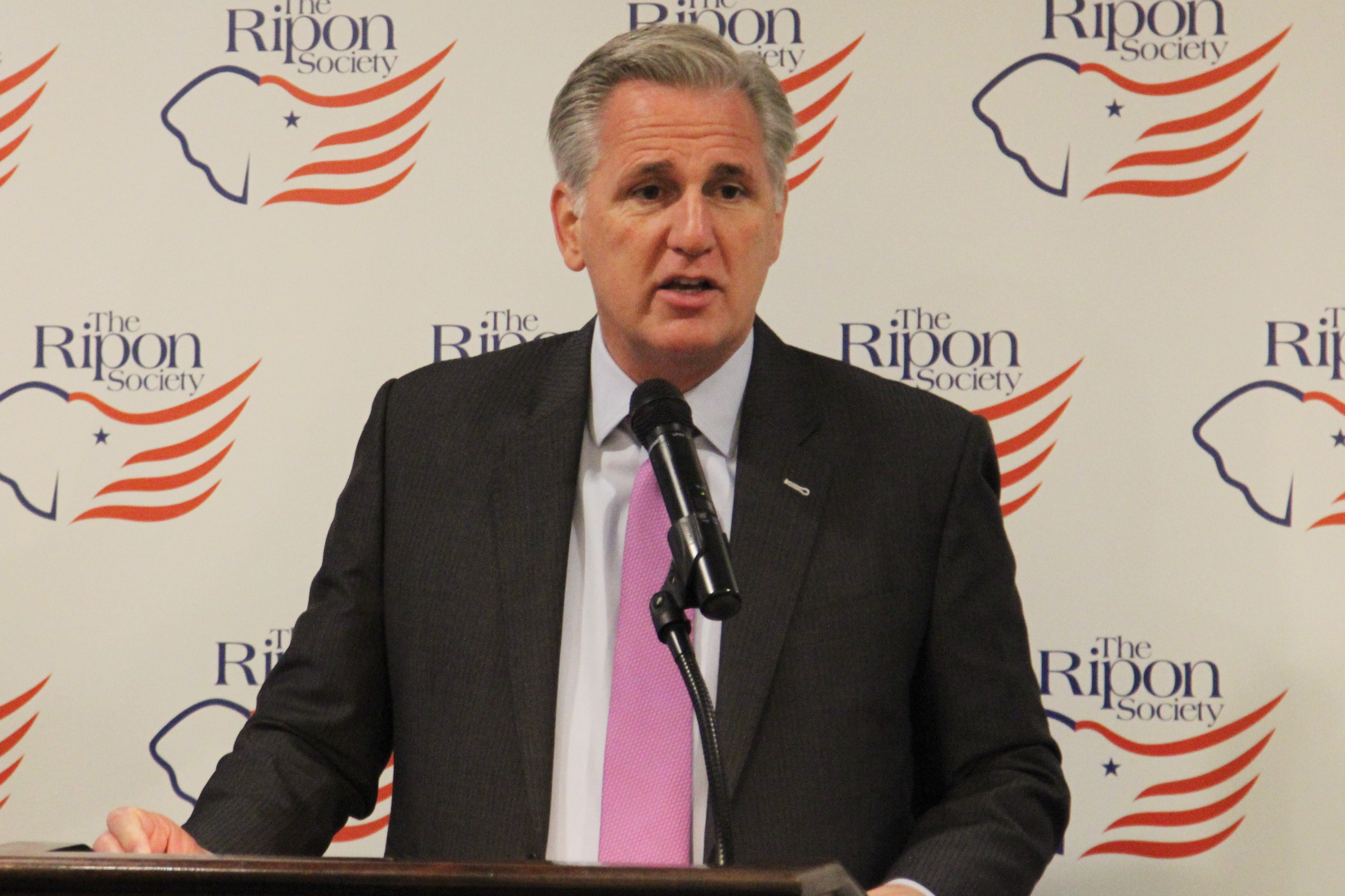 "I do believe they'll do USMCA now simply because they have not done anything else," McCarthy said of the Democrat majority. He added that passage of the modernized trade agreement could not come soon enough. "For those who study economics, you know that China is no longer our top trade partner. About a month and a half ago, you know who became number one? Mexico. You know who became number two? Canada. Imagine Xi Jinping next month, meeting with our President, negotiating a trade agreement, and we had USMCA done. That we had a trade agreement with our top two trade partners would only make us stronger."
McCarthy also pointed to surprise billing in the health care field as another area where he hopes an agreement between the parties can be reached. "We all know that's the number one challenge out there," he said. "Why can't we solve it?"
Following his discussion about these issues, the veteran legislator turned his attention to the 2020 election and the effort by Republicans to win back control of the House next year.
"The number you should always remember is 19," he observed. "Republicans need 19 seats to flip the House. That is a smaller number than Nancy Pelosi needed two years ago. There are 55 seats we're going to play in. 31 of those 55 are seats that President Trump carried. The first 13 of those 31 are ruby red. Those are seats that, in a presidential year, are likely to come back."
McCarthy pointed to candidate recruitment as another reason he is optimistic heading into the coming campaign.
"This is something I've spent a lot of time on," he revealed. "In the last election cycle, we had 30 tough races. In 28 of those 30 races, our candidates were white males. The biggest record we've ever had for Republicans is 128 women candidates. I'm already at 126. Get me to next week, and I'll shatter that record. If you take the top races we have today, the majority of our candidates are women, not men."
McCarthy said he is also optimistic about GOP prospects in 2020 because of the Democrats and the radical direction the party has taken over the past several years.
"Four new members of the Democratic Party have redefined it," he stated referring to the members of a group of legislators known as 'The Squad.' "It is no longer the Democratic Party that you and I know and would debate against. It is now a Socialist-Democratic Party. They call themselves that. They don't call themselves Democrats. And now they're endorsing Bernie Sanders, who has registered before as a Socialist."
"Bernie Sanders and Elizabeth Warren are running on the same path. I was afraid that Elizabeth Warren wouldn't be able to get there because of the way she structures her campaign. She would take no big donors, only small grassroots. But she's done quite well. At the end of the day, Elizabeth Warren is going to be their nominee."
As a result, McCarthy predicted, the choice facing voters when they go to the polls next year will be quite clear.
"It's going to be about socialism versus freedom," the Republican Leader declared.
To view McCarthy's remarks before The Ripon Society breakfast discussion yesterday morning, please click on the link below:
The Ripon Society is a public policy organization that was founded in 1962 and takes its name from the town where the Republican Party was born in 1854 — Ripon, Wisconsin.  One of the main goals of The Ripon Society is to promote the ideas and principles that have made America great and contributed to the GOP's success.  These ideas include keeping our nation secure, keeping taxes low and having a federal government that is smaller, smarter and more accountable to the people.