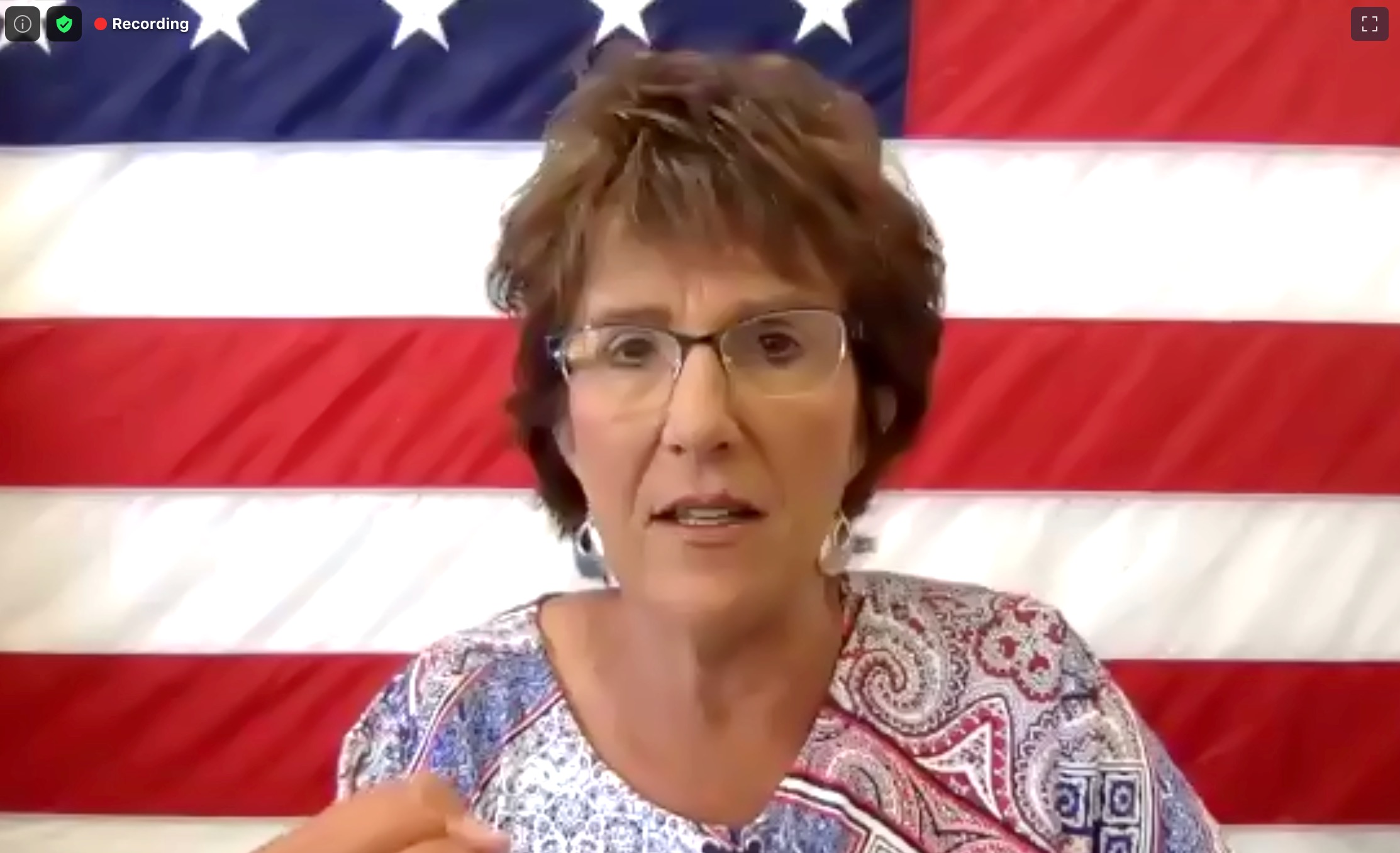 Walorski Talks About Fight Against COVID-19 and the Increasing Importance of Telehealth in Our Lives
WASHINGTON, DC — U.S. Rep. Jackie Walorski (IN-2) appeared before a virtual meeting of The Ripon Society and Franklin Center this past Thursday, delivering remarks about the impact of the coronavirus on her District and the increasingly important role that telehealth is playing in keeping people healthy, safe and secure.
"When I got back here, the first thing I jumped into was this issue of PPE," Walorski began, referring to her efforts at the outset of the crisis in March to ensure that frontline workers had the personal protective equipment they needed to perform their jobs. "I wanted to make sure that we got our share of the strategic national stockpile.
"I was also beating on every private door of every private company here, trying to get the things that we needed to keep hospitals afloat and protect healthcare workers, who turned out to be the heroes in this entire conversation. We definitely have controlled the spread of coronavirus in Indiana. We definitely have flattened the curve. Because of that, our governor laid out a 5 phase approach to reopening, and we are in phase 4 of 5."
"I also have one of the largest manufacturing districts in the nation. We don't follow the country in manufacturing — we lead the country. And it was really important that our manufacturers remain deemed as essential and be able to remain working this entire time. And they did. I believe that my role here at home was to do everything I could to protect Hoosier lives and livelihoods. And I think we've been able to strike a balance and do just that. Our manufacturing is bouncing back at a phenomenal rate."
Walorski was elected to the House in 2012 and currently serves as a member of the Ways & Means Committee. In addition to discussing the effort she is spearheading in her District to fight the coronavirus, she also discussed the steps that Congress has taken in this regard, including the passage of the landmark CARES Act.
"We've made a great effort to get money in the hands of people from the time things closed to the time they can reopen," the Indiana lawmaker said. "Half the country is opening, and I am confident that we can do this correctly. I think Indiana is doing it correctly. I think we have a great future in front of us. Because we came into this as a nation so strong — with unemployment at a record low and the stock market incredibly high — I believe we'll be stronger when this is over."
Walorski also praised the work being done in the Hoosier State to combat the pandemic and get the economy going again.
"Crisis breeds innovation," she observed. "And in the land of entrepreneurs that I represent, they've innovated a lot of really phenomenal things in switching their manufacturing over to make PPE. Our Governor has a marketplace where, when the state reopened, all these workers were going back to work — whether it's a mom and pop on main street or a company of 500 people. We are now producing so much PPE inside of our state that these individuals and companies could go to that marketplace and get the startup PPE that they needed. I mean, that's innovative. I talk about it every single time I'm talking to somebody, especially somebody from other states. We've innovated, and we are well on our way to showing the country how to do this correctly. I couldn't be more proud."
Walorski concluded her remarks by commenting on the other crisis that has erupted in recent weeks — the crisis of racial justice and the demonstrations that have been occurring across America and her home state.

"We've had a lot of demonstrations," she said, "but they've been peaceful. In some of the demonstrations, some of the main demonstrators are saying, 'We want the world and we want our nation to see how we're conducting this here.' And you know what — that's how change happens. Change does happen from the grassroots, from the ground up, not from the federal government down.
"I'm optimistic because of what's been happening at the ground level, with peaceful demonstrations and law abiding citizens wanting to exercise their rights. If Pelosi would only call us back to work and let us sit down in DC, across from each other in a bipartisan way, we can do this and we can get it done. And I'm very optimistic that we will find a solution."
Following her remarks, Walorski was asked a number of questions, including one about the increasingly important role that telehealth is playing in American lives.
"I am a strong believer in telehealth," she declared. "I've always loved it because I spent so much time working on VA issues and working with veterans. One thing that the VA has done well in the past is telehealth, and they've refined it. Crisis is the mother of invention, and we now have a model of telehealth that gives more access to more people. I am very optimistic about it, and think it's something that needed to happen.
In response to a follow-up question about the need to make sure telehealth is available in all parts of America — not just in cities and more populated regions — Walorski added: "We're going to hold people back in this country at a phenomenal pace if we don't get the country connected, including the rural areas."
Walorski was also asked her thoughts on the upcoming election and the prospect for GOP candidates this year.
"We have some of the best candidates we've ever had," she stated. "We definitely have more female candidates than we've ever had. So I think we have every reason to believe that we have a really good chance to get the House back. Just based on where the Left has gone in this country, Americans are sitting at their kitchen tables at night and watching the news and wondering 'How did we get here as a country? Why are all these things happening?'
"I also think that Speaker Pelosi is going to do everything she can to retain the House and retain the majority. I think that's one of the reasons why she's not calling us back into session to solve a lot of these problems. She doesn't want to pull her members back from their individual districts. If they're being targeted, she wants them to be there.
"So it's going to be a really interesting fall. I think a lot of people will be surprised when they see what the final score is when it's all over on the national level."
The Ripon Society is a public policy organization that was founded in 1962 and takes its name from the town where the Republican Party was born in 1854 – Ripon, Wisconsin. One of the main goals of The Ripon Society is to promote the ideas and principles that have made America great and contributed to the GOP's success. These ideas include keeping our nation secure, keeping taxes low and having a federal government that is smaller, smarter and more accountable to the people.