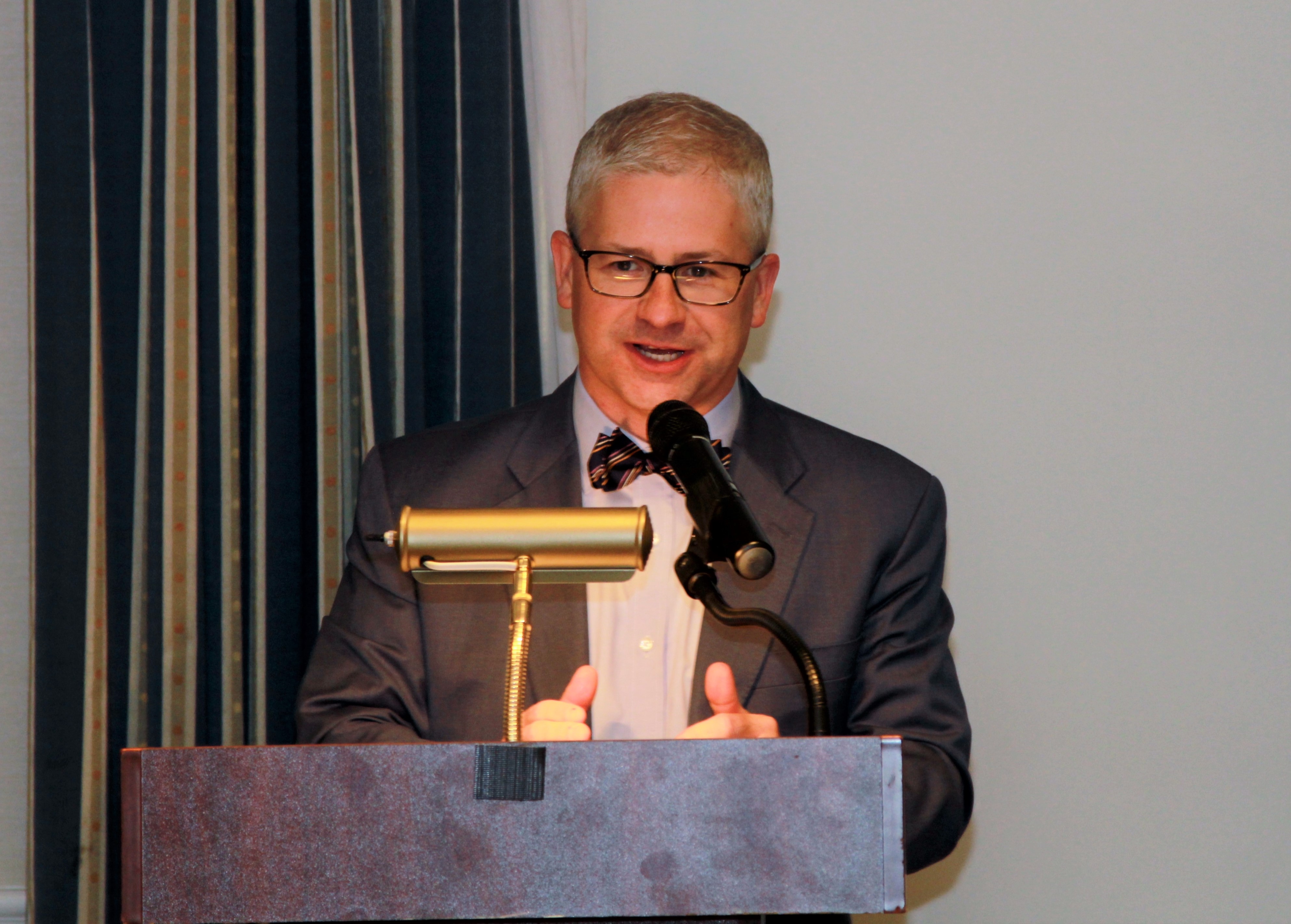 McHenry Discusses Upcoming COVID Relief Package and the Upcoming Election
WASHINGTON, DC — Throughout the novel coronavirus outbreak, there have been a number of bills passed by Congress to address the virus directly and to reinforce the American economy as a whole. As Republicans and Democrats negotiate on the next legislative response, The Ripon Society held a virtual discussion on Wednesday with the top Republican on the House Financial Services Committee.
That lawmaker is U.S. Rep. Patrick McHenry (NC-10), pictured above speaking to The Ripon Society in 2019, who kicked off the discussion by giving an update on the talks unfolding between the two parties.
"I think the terms of discussion are still at the nice phase where everyone is saying generally broad-based negative or positive things," McHenry explained. "Pelosi and Schumer say the Administration is not serious, the Administration says that these are nice talks, and that's all just the standard procedure before you get into the real substance of negotiations.
"I think we're quite distant from a deal, and the soonest that Congress could vote on a substantial package would be Wednesday of next week –– but I don't see it happening that quickly. I think there's still a long ways to go before we actually get to a deal. There are some challenges, obviously. When Lindsey Graham said on Sunday that basically half the Senate Republicans aren't going to be for the next package, that transfers the stronger hand out of Mitch McConnell's smart touch and transfers it away to Pelosi and Schumer. It gives them additional leverage, and I think that is a bad situation."
According to McHenry, Congress cannot sit on the sidelines while Americans across the country face uncertainty. Yet, at the same time, he stresses that now is not the time for legislative overreact.
"There are severe economic issues that will result in us not acting. The consequences are real. We're talking about real people's lives at stake with these monies and policies. I think the news of this day is fairly accurate. We're not close to a deal. The big policy asks have come from Chairwoman Waters and most of what she's asked for is unattainable, because no Republican would support the types of things she's asking for, and a significant component of her asks are not directly COVID related."
With fewer and fewer days until the 2020 election, the likelihood for measurable Congressional action on a number of issues wanes. And, according to McHenry, the next COVID-19 package will not be spared from partisan gamesmanship.
"We are certainly in a Presidential Election year. We're certainly in the midst of major campaigns for control of the House and the Senate. The COVID package is caught up in it as one of those points of leverage. If you really want to know about the policy outcome, you have to step back and put yourself in Chuck Schumer, Nancy Pelosi, and Joe Biden's shoes. What's the point of leverage? What's the best outcome? How do you mitigate the worst outcome? Working through that tells me that I don't see a huge desire for them to get to good on a package. There's not a huge desire for that in the short run."
Wrapping up his initial remarks, McHenry touched on the political dynamics of coronavirus heading in to the election this fall. From his perspective, prevailing over the pandemic and stopping its spread should be top priority for Republicans nation-wide.
"House and Senate races ride in many ways with the President having a close election, close to win, close to lose, but a close election. Our economy and electoral chances for Republicans all rest on one fundamental thing that is very, very difficult to conquer, which is the virus. We can stimulate the economy all we want, that will not put people in theaters. It will not pack restaurants again like we experienced in normal life before this. It will not put us broadly on airplanes, like before the virus and will not put us in resorts. Without health safety, the economy can't rise, and without the economy rising, the politics don't get better for Republicans. We know the key is social distancing, wearing a mask, and washing our hands.
"We've got this problem in Congress right now," the veteran lawmaker stated. "A colleague of mine went to the White House and tested positive for COVID. According to the media, he was in the Judiciary Committee yesterday – walking around without a mask. I have not seen him wear a mask. And he goes back from the White House to go back to his office to tell his staff in person. Obviously this is not behavior that we should model and that has severe consequences that bleed over into the economy."
McHenry was then asked a number of questions by those in attendance. The first question focused on the Democrats' policy agenda on the Financial Services Committee for the remainder of the year.
"Us Republicans have beaten back some of the bad ideas. Chairwoman Waters wants a very broad moratorium on evictions and mortgage payments. The problem is if you tell people they don't have to pay their loans, they're not going to pay their loans. At which point we're going to have to have another effort, which would be to backstop our financial system and in even more dramatic ways.
"The Chairwoman's agenda is very broad, especially concerning the regulation of public companies. And she has focused in on diversity. I think a smart focus, admittedly, is enhancing diversity in corporations. But heavy handed mandates are not in keeping with anything that is directly germane to the owners of those companies, the stockholders of those companies. That is going to have an effect, not just on financials, but every public company in America and making it more expensive to be a public company."
Finally, McHenry was asked to touch on the civil unrest unfolding in cities across the country, the pushback against police departments, and how this is coming across to voters.
"Biden can't reasonably address it," McHenry disclosed, "and it helps the President substantially. Definitely helpful, but it would be perhaps the second or third issue this fall. The number one issue, though, is the virus, the number two issue is the economy, the number three issue would be social unrest.
"The unrest will help get the base out. And some persuadables would be influenced by that distress and the violence. But also those persuadables want to know if you have some answer to the mistreatment of people based off of their race. For some of the persuadables, they want to know that you're not for systemic racism. They want to know that you have an answer to bad actors in the police department doing bad things. And you're not in favor of bad actors within law enforcement getting away with murder.
"That too has to be discussed in a thoughtful way, and have an answer, a plan – something of substance."
The Ripon Society is a public policy organization that was founded in 1962 and takes its name from the town where the Republican Party was born in 1854 – Ripon, Wisconsin. One of the main goals of The Ripon Society is to promote the ideas and principles that have made America great and contributed to the GOP's success. These ideas include keeping our nation secure, keeping taxes low and having a federal government that is smaller, smarter and more accountable to the people.