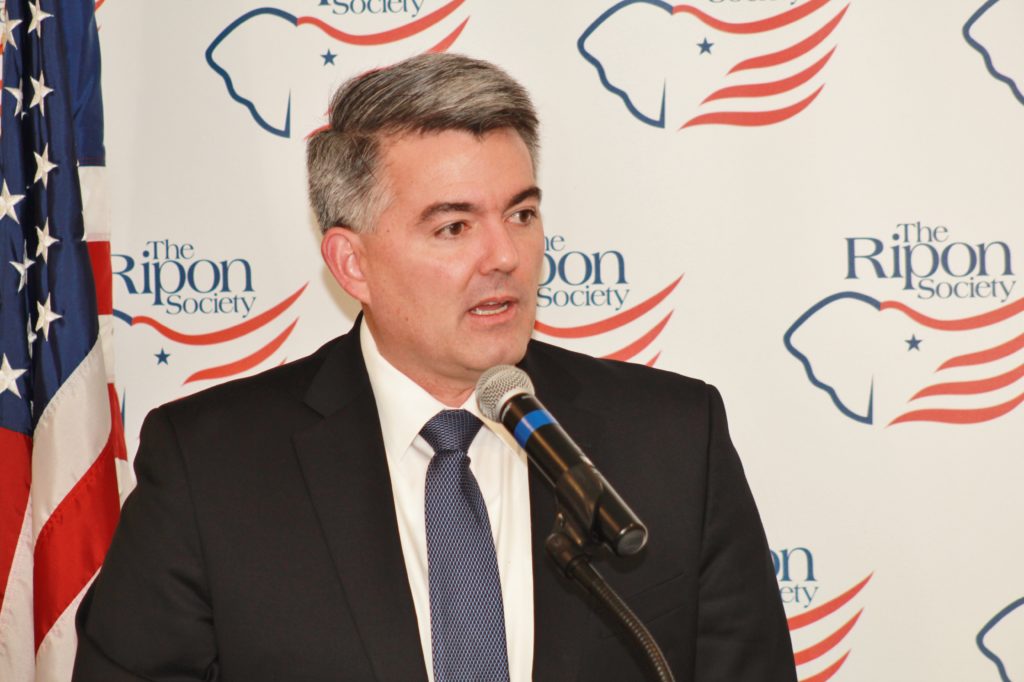 Gardner Says Next Aid Package Must Focus on What Americans Need — Not What Washington Wants
WASHINGTON, DC — U.S. Sen. Cory Gardner (R-CO) appeared this past Thursday before a virtual meeting of The Ripon Society, delivering remarks about the next aid package being debated on Capitol Hill, and why he believes Congress cannot take a "one-size-fits-all approach to fixing the economy."
The Colorado lawmaker — pictured above addressing The Ripon Society in 2018 — began his remarks, however, by focusing not on a measure that is still being considered, but on a landmark piece of legislation he authored that has now passed both the Senate and the House with broad bipartisan support, and is on its way to the White House for the President to sign.
The measure is called The Great American Outdoors Act. Introduced this past March by Gardner and a small group of Senators from both sides of the political aisle, the bill will provide permanent and full funding for the Land and Water Conservation Fund and addresses the nearly $20 billion maintenance backlog in our national parks and other land management agencies.
"Just to give you a perspective about what this bill will do," Gardner stated, "I landed at Denver International Airport the day after we passed the bill in the Senate. I remember looking up at the Rocky Mountain horizon and knowing that this bill will benefit every single mountain that I see. And even on the East side — the flat lands, the high Plains — it's going to be a benefit to every single county there, too.
"The Land and Water Conservation Fund program has funded work in every county in America. It is hard to think of many programs that have touched every single county in America. Over 100,000 people will be employed just by the national park provisions alone. For every $1 million we spend in Land and Water Conservation Fund dollars, it promotes and supports between 16 and 30 jobs. For those areas in Western Colorado that were hardest hit by the pandemic, it's going to mean a tremendous boost economically as we get out of this together, which we will."
Gardner was elected to the Senate in 2014 after serving four years in the U.S. House. A fifth-generation Coloradan who was born and raised in Yuma, he serves on the Senate Committees on Energy & Natural Resources, Foreign Relations, and Commerce, Science & Transportation.
Following his remarks about the Great American Outdoors Act, he moved on to the issue of commerce, and, specifically, the effort underway to stabilize an economy that has been suppressed in the fight against COVID-19.
"There are three things that I have been guided by over the last four months as we've addressed both the health pandemic and the economic crisis that it has created," Gardner stated. "The first, of course, is dealing with the pandemic, itself, and what we're doing to flatten the curve and stop the spread. That means focusing on research, testing, innovation, and reporting. That also means pushing for a national plan to create the diagnostics and testing policies that we have to have. Vaccines, we have to address that. The second prong of this approach has been focused on making sure that people who are worried about putting food on their table, who are worried about how they're going to make ends meet and how they're going to keep their businesses, that they're going to be okay. The third prong, of course, is focused on businesses themselves — making sure that we are not only able to keep businesses open, but that they can snap back into full force of what we had before the pandemic when it comes to our economy.
"These are not things you do in isolation of each other. You don't do them in silos. You do all three of these things at the same time — address the pandemic, helping individuals, and getting our economy moving again. I've been part of an effort to craft as many programs as possible to make sure that we are covering every nook and cranny of our economy with solutions that will work. We know that Boston is different than Bakersfield, and we know that Denver is different than Detroit. We have to make sure that we tailor programs that are going to fit those cities.
"For example, Lake City, Colorado does 100% of their business in June, July, and August. Twelve months of business confined to those three months because of weather, geography, and people. It goes down to about 600 people in the winter and goes up to thousands of people in the summer. But all of their revenue is going to be generated for that town and for their businesses in those three months. We have to make sure that those kinds of businesses are taken care of, too. We can't take a one-size-fits-all approach to fixing the economy."
In part for this reason, Gardner stated, he and Missouri Senator Josh Hawley (R-MO) have co-authored a bill called the Rehire America Act.
"The Rehire America Act is a framework that I've developed with Senator Hawley," Gardner explained. "The goal of the bill is to make sure we're providing workers and businesses with a bridge that will help cover that gap between what the CARES Act provided and when the economy can fully ramp back up again."
Among other things, the Rehire America Act would provide:
Rehiring incentives — to help businesses staff up and get unemployment down, the federal government should provide temporary payroll support of 120% of a rehired employee's wages, capped at $50,000 per employee. This would help businesses offer temporary wage increases to rehired workers to offset the difference between prior wages and pandemic unemployment. This temporary bonus should also cover newly hired workers to allow businesses that have survived the lockdowns to hire workers laid off from businesses that cannot reopen.
Baseline wage support — for businesses with revenue shortfalls, the federal government should pay up to 80% of wages for each worker currently on payroll, capped at $50,000 per employee and remitted to employers on an advance basis. Payroll support would be delivered through the payroll tax system as a 'negative' payroll tax.
"It is basically a ramp that will help cover revenue uncertainties and encourage people to fully engage in the workforce again," Gardner said of the proposal.
Gardner also took a moment to discuss two other bills he is pushing.  The one bill, called the RESTART Act, would give businesses that took out Paycheck Protection Program (PPP) loans the flexibility they need to utilize the PPP effectively.  The bill would also create a loan program to provide funding to support the hardest-hit businesses for the remainder of 2020 and provide loan forgiveness as a backstop against ongoing economic challenges.  The other measure Gardner has thrown his support behind is the RESTAURANTS Act, which would establish a $120 billion fund to distribute grants of up to $10 million to restaurants.
"We're going to have a Phase 4 coming up," Gardner continued, referring to the larger economic stabilization package that Congress is currently considering. "I guess it's Phase 5 in the House. We've got a lot of different numbers they're using to describe where we're at in this. But the number that matters most is the number of Americans who are back to work, the number of Americans who are back in school, and the number of Americans who are no longer worried about how they are going to be. That's the number that matters. And that's why these bills are so important to getting things fixed and moving in the right direction."
The Ripon Society is a public policy organization that was founded in 1962 and takes its name from the town where the Republican Party was born in 1854 – Ripon, Wisconsin. One of the main goals of The Ripon Society is to promote the ideas and principles that have made America great and contributed to the GOP's success. These ideas include keeping our nation secure, keeping taxes low and having a federal government that is smaller, smarter and more accountable to the people.