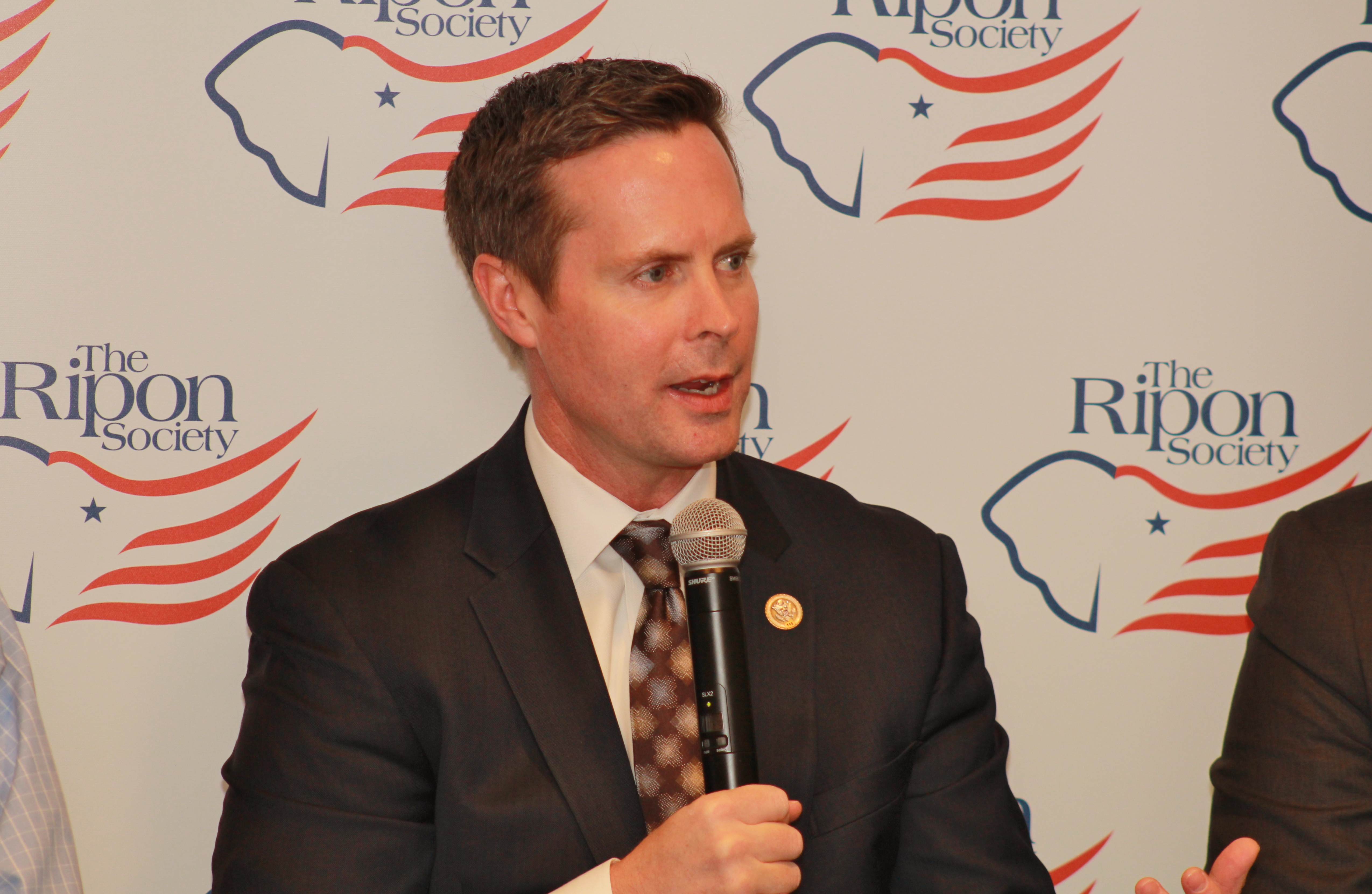 Says this is a manufactured conspiracy and he's heard from local letter carriers who are frustrated that the Postal Service has been politicized
WASHINGTON, DC — With the United States Postal Service (USPS) being thrust into a national debate over whether it is up to the task for handling a record number of mail-in ballots for the election this fall, and with Members of the House of Representatives being called back to the nation's capital to vote on additional funding for the USPS, The Ripon Society hosted a virtual discussion on Friday with U.S. Rep. Rodney Davis (IL-13).
Davis – pictured above speaking at an event in 2018 – was first elected in 2012 and is the Ranking Member on the House Administration Committee and is also the top Republican on the Elections Subcommittee. He kicked off his remarks by acknowledging a recently released poll that found less than half of all Americans have confidence that their ballots cast this November will be fairly counted.
"This concern over our elections is perception rather than the reality," Davis declared, "and it's being fomented by the partisans on both sides. Unfortunately, it seems these partisans want to take advantage of this discontent and cause more disarray. There is no place in the world that runs a more fair election process in the United States of America, because our elections are run by our constitution at the state and local level. Now, there will be jurisdictions that put themselves in a position to not have results for weeks after the election, California being one of them with their mail-in balloting rules and also their ballot harvesting rules. But, most of America is going to go on just like it always has, and we're going to know who wins on election night with almost every race."
While he believes the election system as a whole is secure, Davis expressed concerns regarding the Democrats' push to mail ballots to each voter across the country.
"When national Democrats talk about mail-in balloting, they are proposing something that is different than what is done here in Illinois. Our vote-by-mail program, which is very successful, mails applications out to every registered voter. You can turn that application in and once they verify it's you, you get a live ballot sent to your house. Democrats in Congress, on the other hand, have been pushing a national vote-by-mail initiative that would just mail live ballots to every registered voter without any verification.
Regarding the proposed bill that would send extra funding to the USPS, Davis says there are certain aspects of the legislation that he has long advocated for.
"There are a lot of things I support in this package. I signed onto a letter months ago and asked our leadership to include $25 billion for the Postal Service because of the COVID-19 pandemic. I think now's the time to start to recognize the reason why the Post Office has finished their budget in the red each year – it's the pre-funding of pensions.
"I don't want any pension fund to get to a point where they're like Illinois and where they will never catch up. But in the end, we also know that pension obligations to be fully pre-funded causes a serious hit in your cashflow capabilities. I've been a cosponsor of a bill to reduce that obligation back down to manageable yet still enviable terms. And that's what the postal unions, the post office, and a lot of folks have asked us to do after they initially thought that this would be a good idea. Those are things that Republicans and Democrats haven't addressed in Washington."
Finally, on the topic of the Post Office, Davis expressed his disappointment in the damaging rhetoric emanating from Washington as of late regarding the capabilities and motives of the USPS.
"This is a manufactured conspiracy. And you know who's most outraged by this – the letter carriers. I was at the gym with one just a couple of mornings ago and this gentleman comes in wearing his postal uniform. He's ready to go for the day and I asked, 'Hey, how's DC making you feel?'
"He goes, 'I'm angry. I'm mad because now my customers think that I'm stopping them from getting mail on time because of what's being said in Washington, DC.' That's the effect being felt out here in middle America. And I think you're going to start to see a lot of folks realize that, yes, more funding is needed, but let's stop with this nonsense that's coming out of Washington.
After his opening remarks, Davis took a couple questions from the audience, the first asking about his personal experience as someone who tested positive for the coronavirus and has overcome it.
"I was one of the lucky ones," the Republican lawmaker admitted. "I didn't have any major symptoms. And I was lucky too, because I was able to go to a network of my colleagues and ask them what to expect. It was still scary because of all of the reporting that we see and we hear about the negatives. We hear about those who are hospitalized, those who are going through a major health crisis because of this virus, but in the end, the majority of people that contract this virus are like me, they're asymptomatic.
"Luckily my wife and all my family and staffers all tested negative, but it began a 10 day quarantine for me. It allowed me a lot of time in front of this computer, a lot of time to reflect, and a lot of time to really understand the accuracy and importance of statistics, and how we go about making sure we truly get an idea of what the impact of this disease is."
Finally, Davis was asked about a recent visit the Secretary of the Interior David Bernhardt made to his district this week.
"I had the Secretary of Interior David Bernhardt in my district yesterday. I represent Springfield, Illinois home to Abraham Lincoln, the author of the Emancipation Proclamation, and home to one of the three 1908 race riot events that are credited with leading to the creation of the NAACP. In 1908, people went into the African American communities in Springfield, Illinois, and burned houses and killed people.
"That happened in my district and we have unearthed artifacts from that neighborhood during a federal rail project. I've been working to get those artifacts that have been dug up and get them recognized for the significance the site has played in the creation of the NAACP and civil rights in this country.
"Yesterday, David Bernhardt came to Springfield and added the archaeological site as one of 30 sites in the nation to the African American Civil Rights Network a program that was created by my colleague and good friend, Rep. William Lacy Clay (MO-1) in 2017. Our goal is to get that site a national monument and have it create a nexus with the legacy of Lincoln right here in Springfield. I was really proud to be joined by my friend who runs the state NAACP, Teresa Haley, Secretary Bernhardt, and Congressman Darin LaHood (IL-18). It was a great day for Springfield and I was proud to be with him and glad I got out of quarantine in time to make it happen."
The Ripon Society is a public policy organization that was founded in 1962 and takes its name from the town where the Republican Party was born in 1854 – Ripon, Wisconsin. One of the main goals of The Ripon Society is to promote the ideas and principles that have made America great and contributed to the GOP's success. These ideas include keeping our nation secure, keeping taxes low and having a federal government that is smaller, smarter and more accountable to the people.