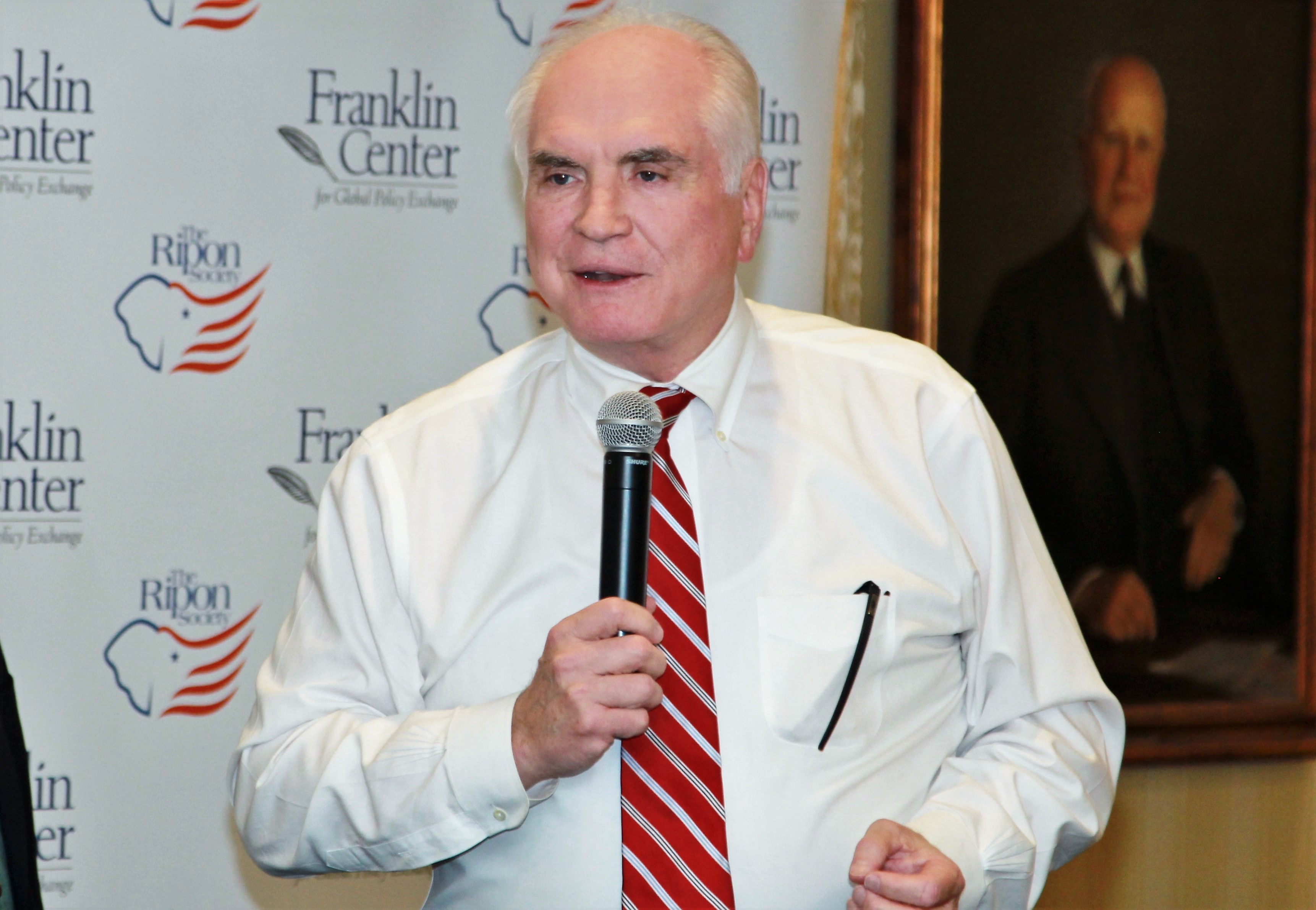 Kelly Reflects on Today's Political Environment, and his Experience as a Survivor of COVID-19
WASHINGTON, DC —  U.S. Rep. Mike Kelly (PA-16), pictured above speaking at a panel discussion in 2019, appeared this past Thursday before a virtual meeting of The Ripon Society, sharing his thoughts about today's political environment, and his own experience as a survivor of COVID-19.
"I started with hydroxychloroquine the day after my diagnosis," Kelly said, recounting the days after he learned he had the virus earlier this year. "People ask me now, 'Do you think that really helped you?' And this is the one thing I will say: I never had the respiratory problems that some of my friends who were going through it at the same time were going through. I lost my appetite. I lost about 30 pounds in a little over 10 days, and everything tasted horrible to me. I was sleeping 18 to 20 hours a day, and I was cold all the time — I couldn't get my body temperature up.
"And while I was going through all of this, a friend of mine, who I went to high school with and is a doctor in eastern PA, texted me and said, 'Mike, after you recover, you should go and check into a plasma therapy program that an immunologist is working on at the University of Pittsburgh Medical Center. I called UPMC, and they said you have to wait three weeks until fully recovered. So I went down to Pittsburgh, had the test which came back negative, and then they took blood samples. They called me about four or five days after that and said, 'You do have the antibodies. If you want to, you can enter into this plasma program that we think is going to be a great value in finding a cure for this coronavirus.
"So I've been doing that. It's about every 10 days. People ask me, 'How often you can do it?' About once every 10 days is what they recommend. So I'm involved in a plasma program right now. I don't know what's going to come of that, but I do know it's very safe, it's very easy, and it makes you feel — just by sitting in that chair for an hour, once every 10 days — that maybe something during that time period will help change somebody's life and make it possible for them to be a survivor."
Kelly was elected to Congress in 2010 after serving as a member of the Butler City Council and on the boards of several local civic organizations. A successful small businessman, he is the owner of several auto dealerships that employ more than 200 people in the Western Pennsylvania region.
In addition to discussing his own experience dealing with the coronavirus earlier this year, he also shared his thoughts about the current political environment and the next COVID-19 relief package being negotiated on Capitol Hill.
Among other things, the Pennsylvania lawmaker said he thought that liability protections should be included in any final agreement, and that negotiators should also keep in mind that, in many cases, millions of dollars appropriated as part of previous relief packages have not yet been spent.
More than anything, though, Kelly said he hoped negotiators stay focused on good policy, and avoid the partisanship that has divided the country in recent years.
"I think too often Washington gets wrapped around the axle of the next election, as opposed to doing the right thing for the right reason for the people we all represent.  Let's look at the right policy and worry less about November 3rd than the general health and well-being of the American people."
The Ripon Society is a public policy organization that was founded in 1962 and takes its name from the town where the Republican Party was born in 1854 – Ripon, Wisconsin.  One of the main goals of The Ripon Society is to promote the ideas and principles that have made America great and contributed to the GOP's success.  These ideas include keeping our nation secure, keeping taxes low and having a federal government that is smaller, smarter and more accountable to the people.