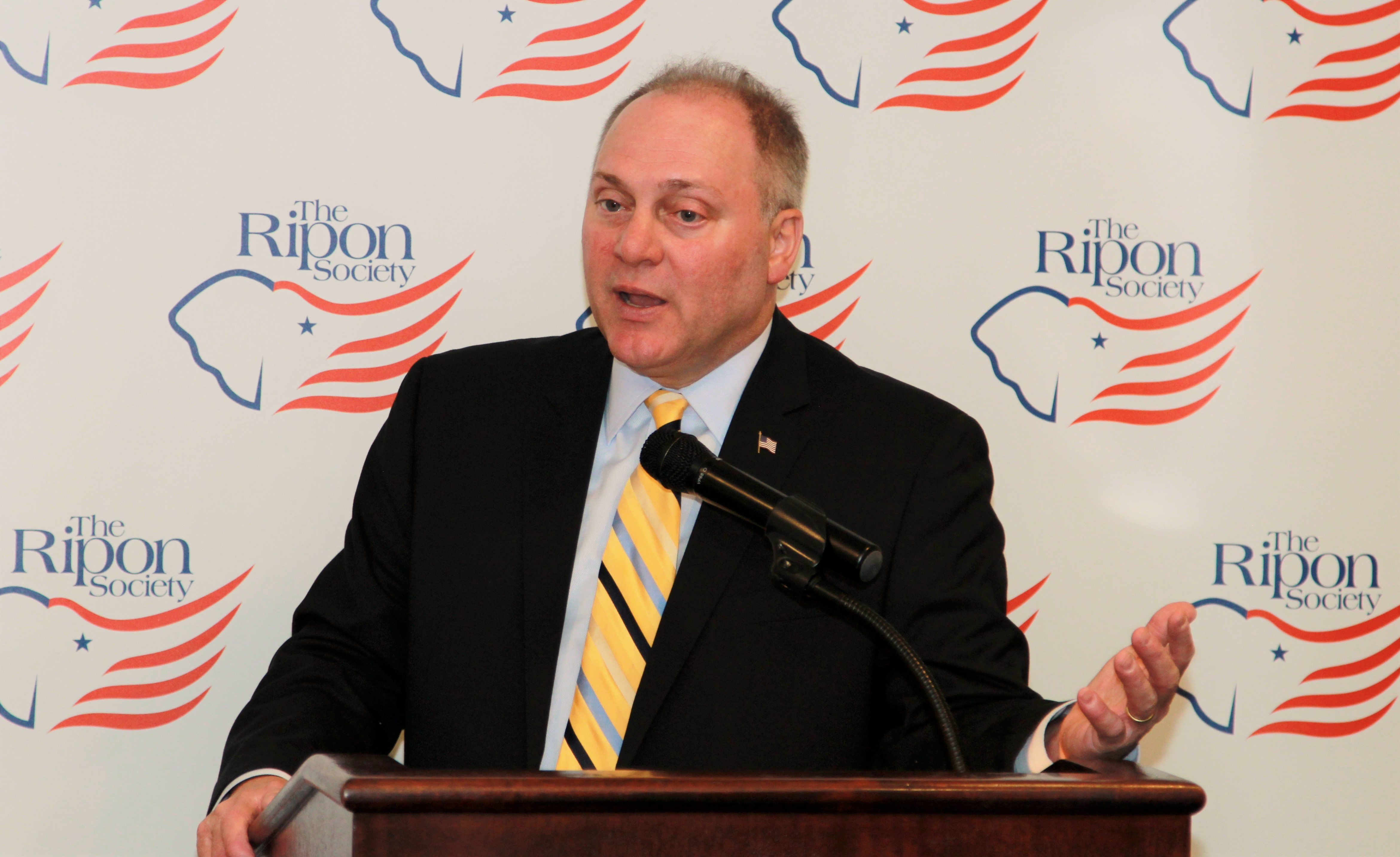 Scalise Lays Out GOP Commitment to America
WASHINGTON, DC — House Republican Whip Steve Scalise (LA-1) appeared this past Thursday before a virtual meeting of The Ripon Society, delivering remarks about the upcoming election and the plan House Republicans recently introduced that lays out their governing vision for the House of Representatives next year.
Called Commitment to America, the plan would chart House Republicans on a course to tackle three broad goals next year. The first goal is to "Restore Our Way of Life" by defeating the coronavirus and reducing the violence and looting we have seen on our streets. The second goal is to "Rebuild the Greatest Economy in History" by creating jobs, cracking down on China, and modernizing America's infrastructure. The third goal is to "Renew the American Dream" by not only improving education for the younger generation, but by strengthening the social safety net for the older generation.
Additional information on the Commitment to America can be found by clicking here.
"What we wanted to do is lay out for people what we will do if we get the majority back," Scalise said of the plan. "I think there's a very clear path to get the majority back. A lot of it depends on how the presidential election goes. If President Trump does well, as I expect him to do, then we have a real chance of getting the House back. At that point, I think it's important that we tell people what we would do.
"A lot of it focuses on renewing a sense of spirit and rebuilding our country to get us back to where we were. We had a great economy before COVID. It isn't like after the Obama years, when we had a struggling economy and the President wanted to make America great again. He was doing just that when COVID came along. So first you have to confront this challenge.
"Operation Warp Speed is part of that. But you've also got to rebuild America again. And so for all of our great candidates and for the members that are in tough districts, we wanted to rally around a set of principles that laid out our vision in this regard. That's what the Commitment to America is all about."
Following his remarks, Scalise — who is pictured above addressing The Ripon Society in June of 2019 — was asked his thoughts about some of the key races around the country, and he said he was especially pleased by the diverse backgrounds of those who will be on the GOP ballot this year.
"This cycle, more than ever, we've seen an incredibly diverse field of candidates on the Republican side," the Louisiana lawmaker stated. "One of the very first candidates that I got behind in a primary was Wes Hunt, an African-American Apache helicopter pilot who is highly respected in the Houston area. Normally, we stay out of primaries. But sometimes you come across a candidate who really fires you up. Wes Hunt is that kind of candidate.
"In Florida, we've got two great candidates in Miami. Maria Elvira Salazar ran two years ago and came very close as a first-time candidate. She is really dynamic and is running again. We also have the Mayor of Miami-Dade, Carlos Gimenez, who is a great candidate, as well."
Scalise also singled out Lisa Scheller, who is the Republican candidate in Pennsylvania's 7th Congressional District.
"She's a recovered addict and she's got a great story to tell," Scalise said of Scheller. "She's helping people who are opioid addicts and are trying to recover. She set up a program where they can get a job in these coffee shops that she started so that they can get their life back together. It's a great story."
Scalise was also asked his thoughts on the Supreme Court vacancy and the impact it may have on the election.
"Our base is fired up about it," he stated matter-of-factly. "But once that seat is filled — and it's going to be filled before the election — I have no doubt that it will serve to demoralize some of their base. They are not excited about Joe Biden. They might dislike the President, but negative energy is not what elects a President.
"Trump's voters love this President. They are the forgotten men and women who didn't show up two years ago, but who voted for Trump in 2016. Trump wins or loses based on whether or not those folks show up. And I will tell you that I'm in a lot of those states, and they are showing up. They didn't show up for us in 2018 frankly because they gave up on both parties. But they love this President and what he's doing. That's positive energy. And positive energy is what's going to win this election, not negative energy."
In addition to discussing the political environment and the upcoming election at Thursday's virtual meeting of The Ripon Society, Scalise also made a prediction — not about politics, but about football.
"LSU is going to beat Mississippi State this week," he declared. "We're going to defend the national title!"
The Ripon Society is a public policy organization that was founded in 1962 and takes its name from the town where the Republican Party was born in 1854 – Ripon, Wisconsin. One of the main goals of The Ripon Society is to promote the ideas and principles that have made America great and contributed to the GOP's success. These ideas include keeping our nation secure, keeping taxes low and having a federal government that is smaller, smarter and more accountable to the people.