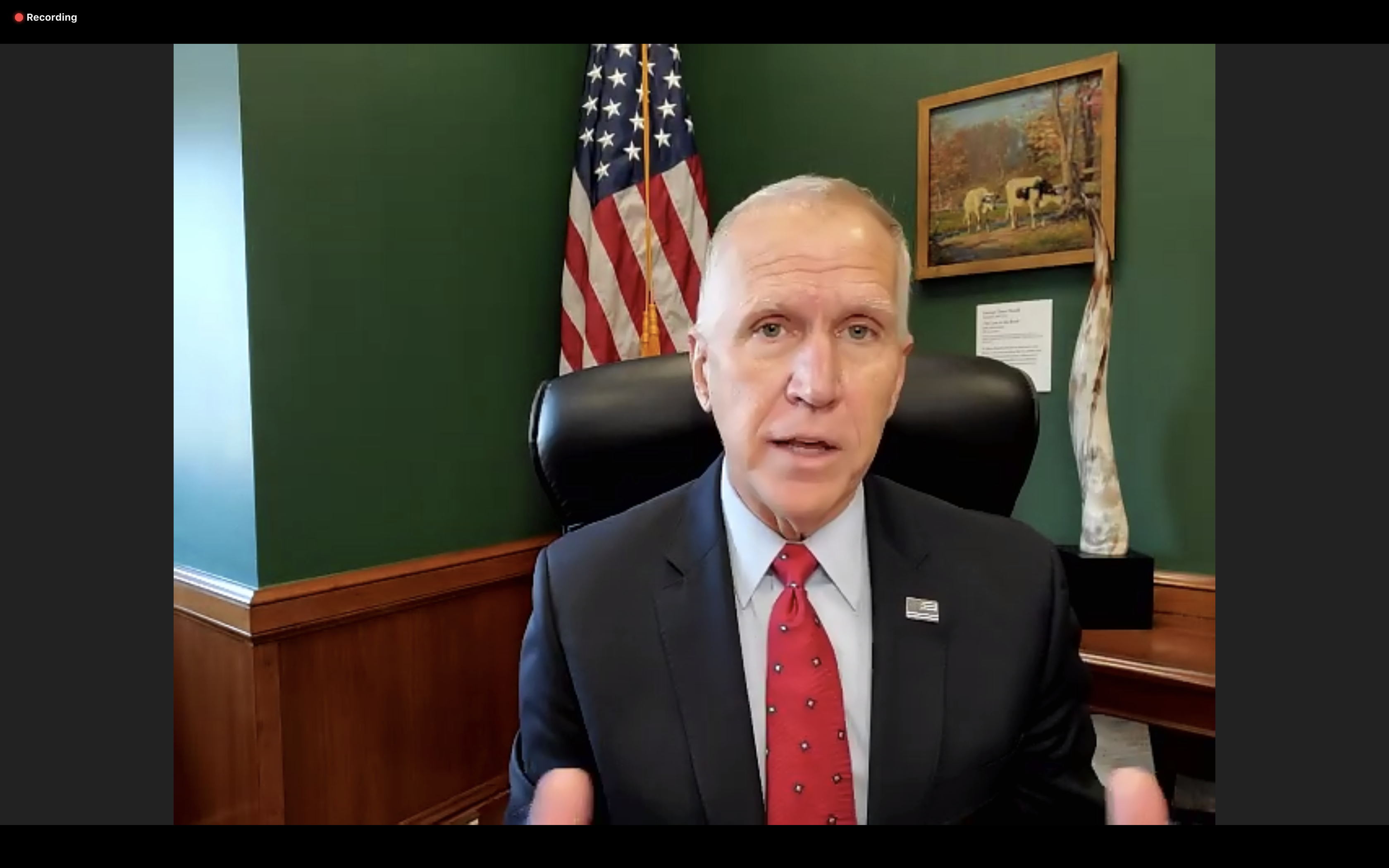 Tillis Pushes to Hold China Accountable
WASHINGTON, DC — As efforts continue for fighting the COVID-19 pandemic, focus has shifted to China. More specifically, what their role was in the lead up to the outbreak and how policy dealing with China should change going forward.
Discussing this topic in front of a virtual meeting of The Ripon Society on Wednesday was U.S. Sen. Thom Tillis (R-NC), Chairman of both the Senate Judiciary's Subcommittee on Intellectual Property and the Armed Services Subcommittee on Personnel. He kicked off his remarks by explaining what's at stake when it comes to theft of intellectual property by foreign entities.
"The strength of our economy rests on the strength of our innovation and then our ability to protect the intellectual property rights," Tillis declared. "I started my career in the high-tech sector as a product manager at Wang Laboratories in Boston. I learned very quickly that a key factor in making investments in innovation is the extent to which you can protect your investment and your intellectual property.
"Many of the hearings that we've had on the Subcommittee on Intellectual Property have focused on the biggest thief of intellectual property in the world – China. Is it any coincidence that their next generation strategic fighters look a lot like our joint strike fighter? They stole the information. The good news is they don't have any comparison to performance, but still, they stole it and they'll perfect it."
According to Tillis, not only is China stealing from the U.S. Government, but companies across the nation are seeing their products and designs copied and taken back to China.

"We see them manufacturing counterfeit goods that are unsafe. People are being harmed by thinking they're buying one product when in fact they're buying a Chinese knockoff, which has nothing compared to the standards that we expect for these products. Each step of the way, we are seeing that there's intellectual property theft everywhere."
Earlier this month, Tillis introduced the America First Vaccine Act. According to him, this legislation would ensure that any vaccine developed by an American company – with the assistance of taxpayer funds – would be available to Americans before it can be sent to other countries.
"I flew in this morning and, as always, they gave the instructions before we took off to put on your mask before you help somebody else out in the event of an emergency. That's what this is about. I do believe that we've got to make sure that the most important thing that we do is protect our folks, the taxpayers who invested in it, and then do everything we can to help the world. And I think we can do that because Project Warp Speed has laid the groundwork and created the plumbing to get the vaccine out to the public while we're still working on and developing a viable vaccine. Another vaccine is going into phase three clinical trials this week, and I think it's very likely that we're going to have the first safe and effective vaccine created by an American company."
Following the North Carolina Senator's opening remarks, he took a handful of questions from viewers, including what approach he believed the United States should take concerning China.
"The fact of the matter is they lied to the world about the virus. China ended up gagging the ophthalmologist who initially raised concerns of a possible virus and he ultimately died from COVID-19. Then they spent weeks not sharing test information, DNA sequencing. We could have had far more control over the spread of this pandemic if China had simply acted properly. In my view, there are three different areas where we must hold China accountable.

"Number one, we have to have the World Health Organization and other organizations either hold China to a higher standard, or let China have consequences for their behavior over the last nine months since it hit our shores. Number two, look at our reliance on China for personal protective equipment, pharmaceuticals, manufacturing. Our lack of resilience was greatly exposed in this pandemic and we have to figure out a way to encourage a reformulation of the supply chains, either back into the United States or at least into more friendly areas of jurisdiction for things that are critically important for a pandemic response.

"Number three is we have to hold China accountable militarily. We've seen China basically take over countries by having those countries take on Chinese debt. We've seen China bring entire islands out of the South China sea, and then claim that there are territorial waters that happen to overlap with international shipping lines. We've got to hit them on all three fronts."

Tillis was then asked about his home state and, coming out of COVID-19, where he sees the greatest opportunities for economic growth.

"You don't go after every single economic opportunity. You go after the ones where we have a compelling value proposition for the businesses. To me, the strategic sectors in North Carolina are agriculture, because we're one of the largest scale agriculture states in the country, biotech, pharmaceuticals, high tech, and textiles.

"If you take a look at the COVID response, the biotech and textile industries here – especially with regard to personal protective equipment – should be well positioned to take over some of the links of the supply chain that are currently running through China."

Finally, Tillis was asked to touch on his work in the Senate to ensure America's veterans are receiving the best care and treatment possible – especially since nearly one-in-ten adults in North Carolina have previously served their country in uniform.

"About 30 minutes ago, we voted the TEAM Act out of Committee. This is the toxic exposures bill that, at one point, we were getting pushback on and now it's on a path for going to the Senate floor and being passed through unanimous consent. I have to thank Jon Tester (D-MT) for working on the agreement that got it out of Committee. I've worked a lot on toxic exposures. I've worked a lot on a first of its kind veteran's life center that we just opened up after 10 years of work in Butner, NC, which I think is going to be a template for the rest of the country – dealing with wounded warriors, people with behavioral health problems, and homeless veterans to give them the care that they need."

The Republican lawmaker continued.

"We passed the VA MISSION Act, which is giving increased access to veterans across the state and across the nation. We moved forward with the modernization of the electronic health record, which is going to create a seamless transition between active service and veteran status for their health information. Having their service history, their veteran status, and their health history in one place is a game changer for providing care to veterans. I've made this a priority in the five and a half years that I've been in the Senate and I think that over the past three and a half years, when President Trump got in and he made it a priority, we were able to accelerate this progress under his leadership and under the leadership of Secretary of Veterans Affairs Robert Wilkie."
The Ripon Society is a public policy organization that was founded in 1962 and takes its name from the town where the Republican Party was born in 1854 – Ripon, Wisconsin. One of the main goals of The Ripon Society is to promote the ideas and principles that have made America great and contributed to the GOP's success. These ideas include keeping our nation secure, keeping taxes low and having a federal government that is smaller, smarter and more accountable to the people.