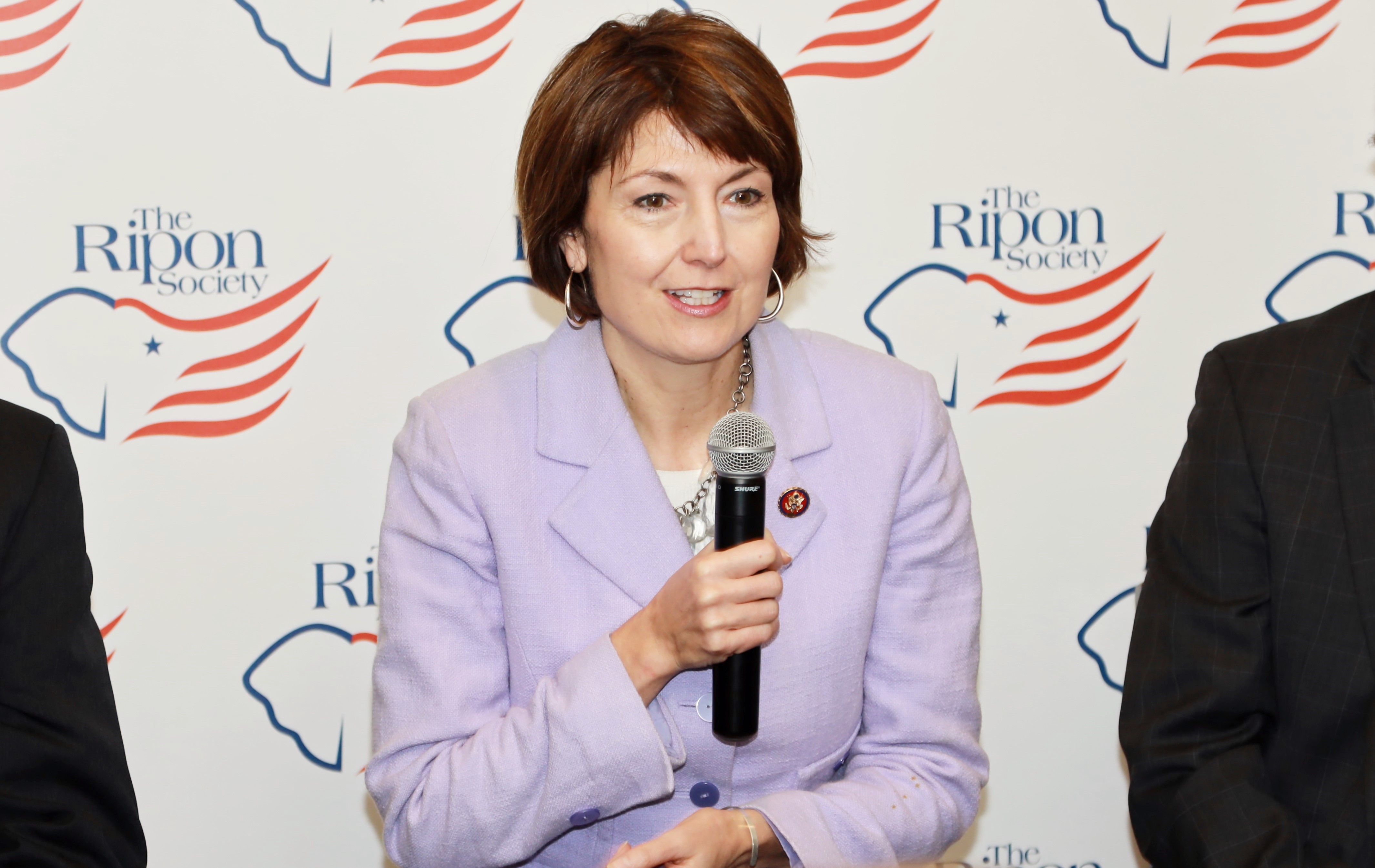 McMorris Rodgers Touts American Tech Innovation & Competitiveness with China
WASHINGTON, DC — U.S. Rep. Cathy McMorris Rodgers (WA-05) appeared before The Ripon Society this past Friday to discuss her work on the Energy & Commerce Committee, the panel's priorities to boost American development in emerging technology, and her thoughts on the upcoming election.
But first, McMorris Rodgers – pictured above speaking at an event earlier this year – took a moment to address the wildfires raging in her home state and throughout the Western United States.
"The fires in Eastern Washington and all across the West are heavy on my heart," the Washington lawmaker stated. "Just yesterday I was visiting towns just thirty miles South of Spokane – Malden and Pine City – where a fire came through on Labor Day and just destroyed these towns. Malden is a small town and the City Hall is gone. The Fire Department, the Post Office, and the Grange Hall are all gone as well. Eighty-five homes out of one hundred twenty in this small town are gone. Walking through that town is just devastating, yet there was also this sense of the community coming together. 
"There is a bright dawn ahead. Folks are already talking about how we're going to clean this up, how we're going to rebuild, and how we're going to meet the immediate needs of the families here – it just shows me the resiliency of the American spirit."
McMorris Rodgers, a 15-year veteran of Capitol Hill and the top Republican of the Consumer Protection and Commerce Subcommittee, then outlined the latest work being done by her and her Energy & Commerce colleagues.
"In May, we introduced a package of bills around emerging technology. They were all Republican-led bills at the time. Yet, on Wednesday, we were able to pass nine of those bills out of the Democrat-controlled committee. And it's part of a larger global competitive package and highlights the importance of American leadership around emerging tech.
"This is artificial intelligence, quantum computing, blockchain, and other emerging technologies that we see China using to oppress minorities and dissidents within their borders. It is very important that America is leading on this. And the fact that we introduced this package in May and passed nine of the bills on Wednesday out of the committee proves that when you have the right policy, you can drive the agenda – even from the minority."
This bipartisan legislative package, called the 
American COMPETE Act
, includes a bill written by McMorris Rogers, which seeks to reinforce American development of artificial intelligence.
"One of the bills is my legislation called the GAINS Act, which is Generating Artificial Intelligence Networking Security Act, but it's really focused on AI and the importance of American leadership in AI. We need to focus on what AI can do to help cure cancers, for example. It is because of artificial intelligence and digging deeper into these algorithms that we can detect cancers earlier, and that we're going to be able to save lives. Think about the clinical trials that are underway right now, the work that has been done around the COVID vaccine and Operation Warp Speed. The public private partnership to bring a new vaccine to market is being driven by artificial intelligence as well as some of the work that they're doing to learn more about the coronavirus and develop treatments even sooner.
"The issues in front of this committee are energy technology and health care. These are the issues that are going to define our future and will define whether or not America is leading in this global economy and whether or not we're beating China in these areas. And we need to make sure that we continue to give people confidence and give them the courage to dream again, especially after what we've been through with coronavirus."
She wrapped up her initial remarks by turning to the fall election and the races across the country for the House of Representatives. According to McMorris Rodgers, 2020 has shaped up to be a banner year for Republican candidates running for Congress.
"It is record-breaking and so exciting to see the women that are stepping up, getting into the arena, and running for Congress. We've had 228 file to run – a record number. It was nearly double anything that we've seen in the past. And we have 90 that won their primaries. This means we have more women in general elections than we've ever seen before.
"I just want to highlight this part in particular: these are women that approached me. For years I've been recruiting women and men all over the country to run, but especially it was noteworthy with the women, how often I felt like we had to reach out to them and tap them on the shoulder and encourage them to run. And this cycle, they've been knocking on my door, asking if they could talk with me about running for Congress. These women are impressive. They are successful in business, technology, health care, and other fields. They're running and waging good campaigns, and it's really exciting to see this energy around women as well as minorities."
At the end of the virtual discussion, McMorris Rodgers was asked about where she sees the dynamic between the United States and China heading in the coming years, and how American companies working overseas should navigate this relationship.
"I come from Washington state – the most trade dependent state in the country," McMorris Rodgers explained. "Forty percent of our jobs are trade dependent and we export a lot to China and to the entire Pacific rim. I think, where my heart is right now, it is important for America to be smart, be strategic, and lead the American way. The relationship that we've had with China has been an important one, and is going to continue to be an important one, but we need to make sure that we're continuing to bring China our way, where China respects individual rights and intellectual property rights.
"President Trump has been the toughest of any president on China. I know that it has been very disruptive, but I am pleased to see him holding China accountable. It has needed to happen because whether it's HP or so many other companies – big and small – have had products stolen. Companies that have gone out of business because China would steal or duplicate the systems or the products."
McMorris Rodgers continued.
"I think that clearly we have invested a lot in China. A lot of American businesses have invested a lot in building this relationship and it's going to continue to be an important relationship. I just think it's time for America to stand up for American products and intellectual property rights and make sure that China is adhering to that. I also think about how dependent we have become on China for so much, and that's been exposed during coronavirus. Think about the strategic minerals and chemicals that we need in so many products that we are now dependent upon China for, whether it's weapon systems or critical infrastructure or products. And again, I just think that we need to look more strategically about how we make sure that we're not making ourselves vulnerable or weak. We need to make sure we are building a strong foundation here at home and holding China accountable."
The Ripon Society is a public policy organization that was founded in 1962 and takes its name from the town where the Republican Party was born in 1854 – Ripon, Wisconsin. One of the main goals of The Ripon Society is to promote the ideas and principles that have made America great and contributed to the GOP's success. These ideas include keeping our nation secure, keeping taxes low and having a federal government that is smaller, smarter and more accountable to the people.