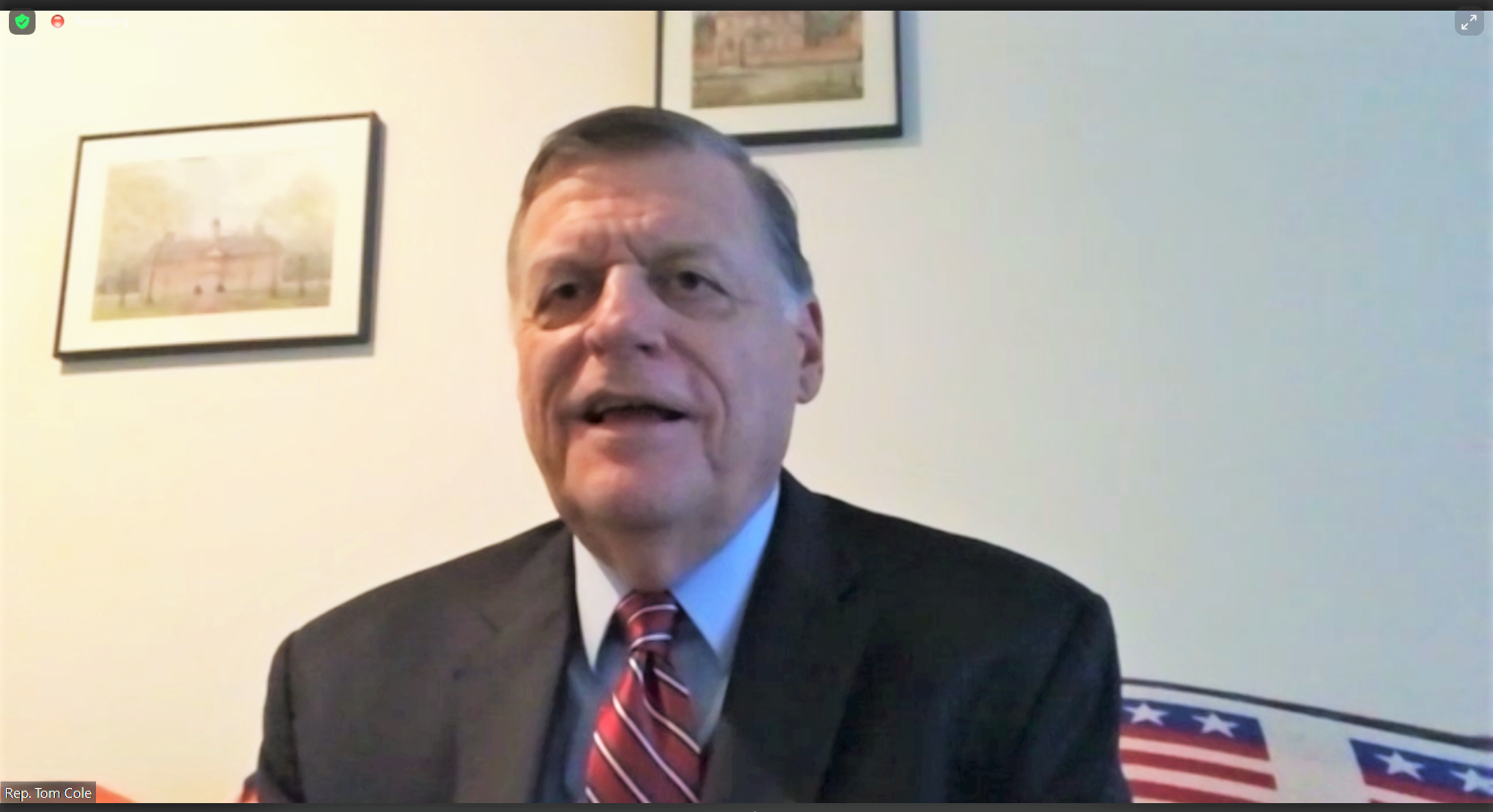 WASHINGTON, DC — In remarks this past Thursday before a virtual meeting of The Ripon Society and Franklin Center, U.S. Rep. Tom Cole (OK-4) called on Congress to pass a fifth coronavirus relief measure during the lame duck session, and discussed the prospect for bipartisan cooperation on Capitol Hill in the coming year.
Cole began his remarks by discussing the results of the November 3rd general election and how GOP candidates exceeded expectations in both House and Senate races alike.
"At this point, the Democrats have only picked up a net of one seat," he stated, referring to the results in the upper chamber. "That's quite a tribute to our guys in the Senate. But I think it's a tribute to the President as well because he provided the base for all of our candidates to be successful. We would not be having down-ballot success if Donald Trump had not proven to be a lot stronger and a lot more durable than people recognize.
"From a House standpoint, the big surprise down ballot was that we went into an election where all the pundits told us we were going to lose anywhere from five seats to a minimum of 10 to 15. Some people were even saying we could lose as many as 20 seats. Instead, when all is said and done, we'll pick up probably someplace between seven and 11 seats. That's a huge swing, and it puts us within striking distance of retaking the majority in the mid-terms when the tide would normally favor us."
Cole was first elected to the House in 2002. He served as Chairman of the National Republican Congressional Committee from 2006 to 2008, and is currently viewed as one of the top political strategists in today's GOP. In his remarks on Thursday, he credited the performance of the House Republican leadership for this year's electoral success.
"I think we picked the most brilliant leader for the political situation that we're in in picking Kevin McCarthy as our Leader. Kevin in turn tapped Tom Emmer to be the guy he thought he needed at the NRCC. And I'd say both of those turned out to be spectacularly good choices.
"When it comes to Kevin, we just happen to have our best fundraiser, our best candidate recruiter, and our best political strategist are all the same person. And that person happens to probably have the closest relationship with the President of United States of anybody in Congress… It kept us relevant these two years, and it put us in a position to make gains. Kevin raised over a hundred million dollars. But money doesn't win elections by itself. You've got to have candidates."
To that end, Cole also credited U.S. Rep. Susan Brooks (IN-5) for her work as the leader of the NRCC's recruitment effort, and U.S. Rep. Elise Stefanik (NY-21) for her efforts to increase the number of Republican women who ran and won this year.
"This was the best crop of candidates I've ever seen," he declared.
According to Cole, the result of this year's election will have a clear impact on how Republicans in the House organize and govern in the coming year.
"The fact that we have more Members in our conference is going to do a couple of things," he observed. "Number one, it has really strengthened our leadership. We have leadership elections next week, and I don't know of any contests for any major leadership spots. Everybody is very pleased with the Leader, the Whip, the Conference Chair, and the other people — they all work together so well.
"Having watched this for a long time, I will tell you I've seen less rivalry or sharp elbows amongst our leadership than I've ever seen before. They were all focused on doing the job. Steve Scalise, for instance, doubled and I think maybe eventually tripled his own assessment. And Liz Cheney was just tireless moving around the country and raising money and doing events for people. And there's nobody better, I will tell you, to deliver a message than Liz Cheney, because it's always smart, thoughtful, and on target."
"I think Members will do anything their leadership asks them to do within reason because they were so spectacularly vindicated in this particular election cycle. So we're going to have a lot of unity and we're going to have a lot of energy. And we're going to be able to have a lot of fun on the floor. There's no question we're going to be able to put a lot of pressure on Democrats who are going to have to put vulnerable Members in the position of casting tough votes.
"And the contrast of the unity, the energy and the optimism in our conference versus the finger-pointing, the divisions, and I think the discouragement in their caucus is going to play out over and over again on the floor. So again, I'm pretty thrilled with the way we're going in."
As for the make-up of next year's legislative agenda, Cole said that will be determined by what does — and does not — happen in the next several weeks.
"A lot depends on what, if anything, we can do in the lame duck," he said, turning from politics to policy. "I still believe we need another Coronavirus bill. I also think it's important that it not look like the bill that Nancy Pelosi could have had but did not get because she overplayed her hand. They could have had a $1.5 to $1.8 trillion bill that would have been very generous, and probably would have been beyond what most Republicans want to spend. I still think the economy needs that.
"There are 10 million people who are not employed who were employed in February. Those people are running out of benefits and time. We need to not leave them behind. We've got small businesses, particularly in areas of the country where there is another spike, that may find themselves put under certain restrictions or some sort of shutdown. They're going to need another round of PPP in my opinion. We are also still billions of dollars short of what we need in the distribution of the vaccines, even though the vaccine development itself has come along very well, and I think is one of the great triumphs of the Trump Administration."
In addition to passing a COVID relief package, Cole noted that Congress has another, even more fundamental, responsibility to fulfill — and that is to pass legislation to keep the government funded.
"We have to remember the government shuts down on December the 11th," Cole said. "Can we do an omnibus? Does the President want to sign an omnibus? I'm not sure, really. We know the President didn't much like signing the first omnibus back in May of 2017. And if he doesn't want to do one, then we're going to have to do some sort of CR and kick this into February.
"The Democrats may think they'll have a better deal with the new President, assuming that the numbers hold and that the President-elect becomes the President. If that's the case, I think they're making a mistake. But again, the first two things of the next session are going to be the things we ought to get done this session, and that is another Coronavirus bill and an omnibus appropriations bill."
As for other priorities on next year's agenda, Cole said he expected those to come into focus after the presidential inauguration. Regardless of the course that Democrats pursue, Cole said that House Republicans are ready — both legislatively and politically — for whatever comes their way.
"We're much better positioned to either legislate or fight," Cole stated. "And I think we're supremely well positioned to retake the majority. This is the best positioned Republican minority in my lifetime."
Cole concluded his remarks with a final observation about the current President and, if the current election results do in fact hold up, the enormous influence that Donald Trump will continue to have in the future of the GOP.
"This is a President who, in many ways, was not repudiated," he stated.  "Thanks in part to his showing, his party did better down ballot than anybody expected them to do. The President and his team have every right to have a very strong voice in what shape the Republican party is going to take moving forward.  Anybody who thinks that the era of Trump is over, I think is making a very premature and inappropriate judgment."
The Ripon Society is a public policy organization that was founded in 1962 and takes its name from the town where the Republican Party was born in 1854 – Ripon, Wisconsin. One of the main goals of The Ripon Society is to promote the ideas and principles that have made America great and contributed to the GOP's success. These ideas include keeping our nation secure, keeping taxes low and having a federal government that is smaller, smarter and more accountable to the people.