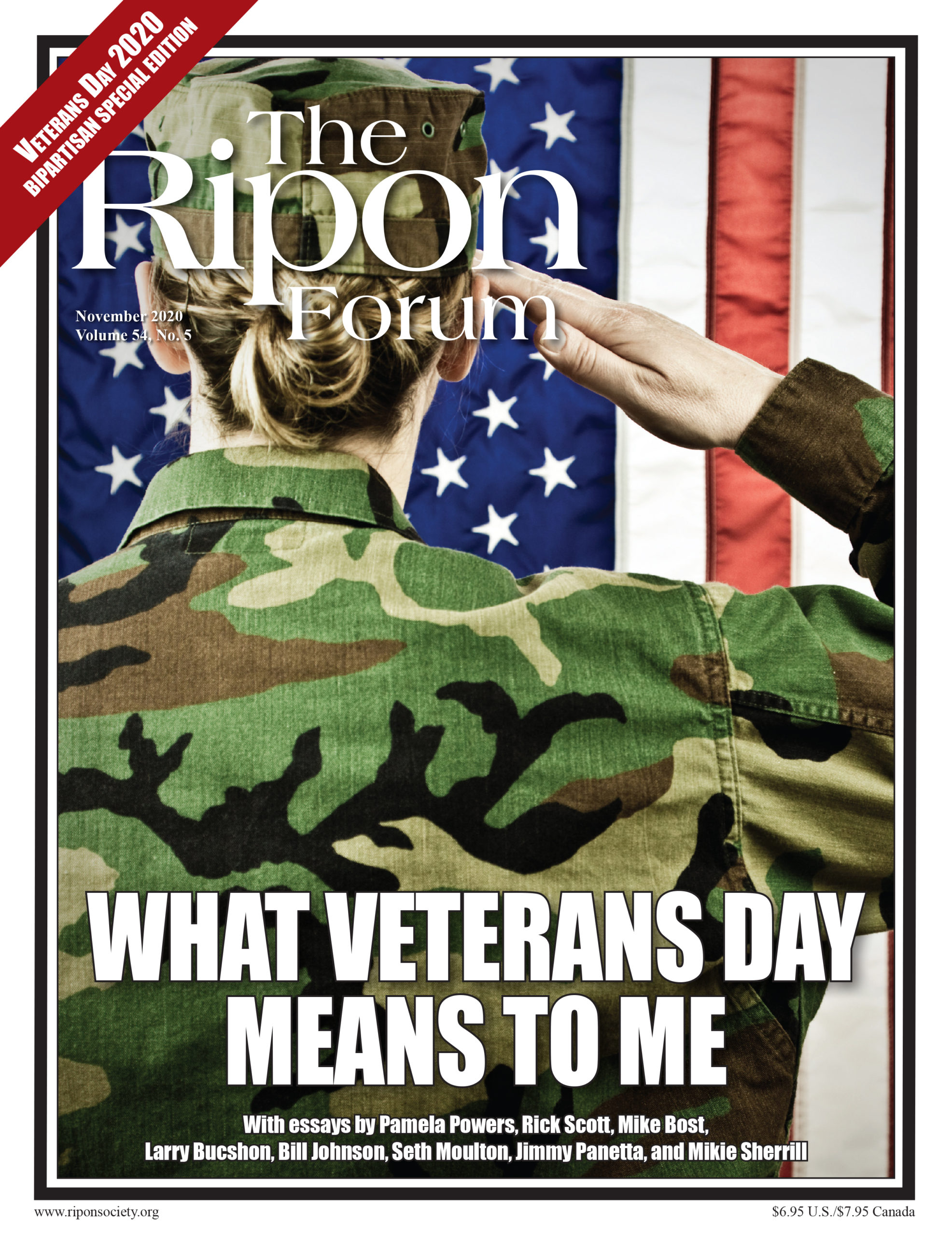 WASHINGTON, DC — With Veterans Day approaching, The Ripon Forum reached out to a bipartisan group of policymakers who have served in the U.S. Armed Forces to get their thoughts on the meaning of the holiday, what their time in uniform meant to them, and why it is important to honor the service of America's veterans not only once a year, but each and every day.
The policymakers writing for this bipartisan Special Veterans Day Edition of The Ripon Forum include:
– Acting Deputy Secretary of Veterans Affairs Pamela Powers, who spent almost three decades in the Air Force and retired as a Colonel in 2018 — "After nearly 30 years of service in an Air Force uniform," Powers writes, "I learned that courage is courage, excellence is excellence, and sacrifice is sacrifice, regardless of gender."
– U.S. Sen. Rick Scott (R-FL), a Navy veteran whose adopted father served in the 82nd Airborne and fought in the Battle of the Bulge during World War II — "What he and our brave men and women in uniform did to protect the freedoms we enjoy is awe-inspiring," Scott writes. "And we can never forget their accomplishments."
– U.S. Rep. Mike Bost (R-IL-12), who served in the U.S. Marine Corps, where he was trained as an electronic specialist and radar repairman — "We have nearly 55,000 veterans in Southern Illinois and over 17 million nationwide," Bost writes. "While I will never know all their names or hear all their stories, they are my brothers and sisters."
– U.S. Rep. Larry Bucshon (R-IN-8), a doctor who spent nearly 10 years in the U.S. Navy Reserve — "I have the greatest respect for the brave men and women of our armed forces that answered the call to serve," Bucshon writes. "Putting on the uniform of the United States of America, the greatest team on Earth, is truly an honor that is unmatched."
– U.S. Rep. Bill Johnson (R-OH-6), who spent 26 years in the U.S. Air Force before retiring as a Lieutenant Colonel — "My uniform still hangs in my closet, cleaned and pressed," Johnson writes. "And the core values I learned — Integrity First, Service Before Self, and Excellence in All We Do – are a road map to a successful life."
– U.S. Rep. Seth Moulton (D-MA-6), who joined the Marines in 2001, months before the 9/11 attacks — "Service to others is the only way any of us can ultimately justify freezing in the mud, sweltering in the jungle, or being stuck deep beneath the Arctic Ocean in a pressurized metal tube," Moulton writes. "Truly believing in service — in servant leadership — is what gets us through."
– U.S. Rep. Jimmy Panetta (D-CA-20), who was commissioned as an Intelligence Officer with the U.S. Navy Reserve in 2003 and volunteered for active duty in Afghanistan in 2007 — "As members of the Armed Forces, they made it a priority to fight for us," Panetta writes. "As a veteran and a Member of Congress, I have made it a priority to fight for them."
– U.S. Rep. Mikie Sherrill (D-NJ-11), who graduated from the U.S. Naval Academy and went on to serve almost 10 years on active duty in the U.S. Navy — "Veterans Day is a reminder that keeping our promises to our nation's heroes is an issue all Americans can get behind," Sherrill writes. "Every American, Republican or Democrat, has a sacred responsibility to our veterans."
This Special Edition also features a history of the Veterans Day holiday written by Deirdre O'Rourke, a Frenzel Fellow with The Ripon Society.
According to Forum Editor Lou Zickar, this is the second year in a row the centrist Republican journal has published a special edition as a way of paying a small tribute to America's veterans.
"As with last year's tribute," Zickar stated, "we reached out to a number of lawmakers in Congress who also served in the military and asked them a simple question – "What does Veterans Day mean to me?" Among other things, we asked them to share stories about their time in uniform and how they mark this important holiday each year. We also asked them to discuss any specific legislative initiatives they are working on that will not only be of assistance to America's veterans, but be a fitting tribute to their service to America, as well.
"These lawmakers are both Republicans and Democrats — which is how
it should be when talking about veterans issues. Indeed, one of the reasons that the military is viewed as being the most trusted institution in America is that it is also viewed as being above politics. That is a good thing — especially at a time when our country is so deeply divided along partisan lines. It is also something both parties, and all Americans, should seek to preserve. By publishing this bipartisan Veterans Day Special Edition of The Ripon Forum, we are attempting to do just that, while at the same time honoring those brave men and women who put service above self."
The Ripon Forum is published six times a year by The Ripon Society, a public policy organization that was founded in 1962 and takes its name from the town where the Republican Party was born in 1854 – Ripon, Wisconsin. One of the main goals of The Ripon Society is to promote the ideas and principles that have made America great and contributed to the GOP's success. These ideas include keeping our nation secure, keeping taxes low and having a federal government that is smaller, smarter and more accountable to the people
To view the online version of the latest edition of The Ripon Forum, please click here.