Roby & Brooks Applaud Historic Number of GOP Women Elected to Congress
WASHINGTON, DC — This past Wednesday, The Ripon Society hosted a virtual discussion with two Republican leaders involved in this year's record-breaking effort to get more Republican women on the ballot and, ultimately, in the House and Senate.
Those two leaders were U.S. Reps. Martha Roby (AL-2) and Susan Brooks (IN-5), who, among other things, reflected back on their Congressional careers and discussed why the influx of Republican women taking office in 2021 is significant to the future of the GOP — and the country as a whole. Brooks kicked things off by touching on how the movement to recruit more women began following the 2018 midterms.
"We had a historic number of women who filed across the country to run as Republicans this year," Brooks stated. "I think Elise Stefanik (NY-21) really started it in the last cycle in 2018, but we really had some devastating losses in that 2018 election cycle, so I began working with Tom Emmer (MN-6) and I put together a team of members who focused on recruiting women, candidates of color, and veterans. I'm really thrilled to share with you that we have flipped 12 seats in the House so far, and nine are women, two are male candidates of color, and one is a veteran. That was the winning combination this cycle."
"I think, with all of these flips, our leadership will put even more of a focus on recruiting and helping women candidates. I want to just give a shout out also to Cathy McMorris Rodgers (WA-5) who always has supported and has been a leader in supporting female candidates from the beginning. She was the one member of Congress who supported me when I ran back in 2012 and I've never forgotten it."
Roby agreed, underscoring the importance of having a record number of Republican women serving in the House and why there is a unique opportunity electorally for the GOP heading into the next cycle.
"Although Susan and I will be leaving, I think that the Republican Conference has a tremendous opportunity moving forward and it's my hope and my wish that they use that to their advantage, not just on policy issues that we care about, but looking ahead for the future of the Republican majority and the possibility of winning the White House down the road. I think that the decisions and the approach that this new Congress takes will dictate a lot of what that looks like.
"I've never been here when the Democrats had such a slim majority as they will next Congress, but I think that it's going to force their hand for governing. I have strived to work on having real relationships across the aisle to work, to get things done for the American people. Yes, we all need to be strong advocates for the people that we represent back home in our districts and the priorities of our districts, but at the end of the day, when it comes to getting things done, our work is on behalf of all of the American people."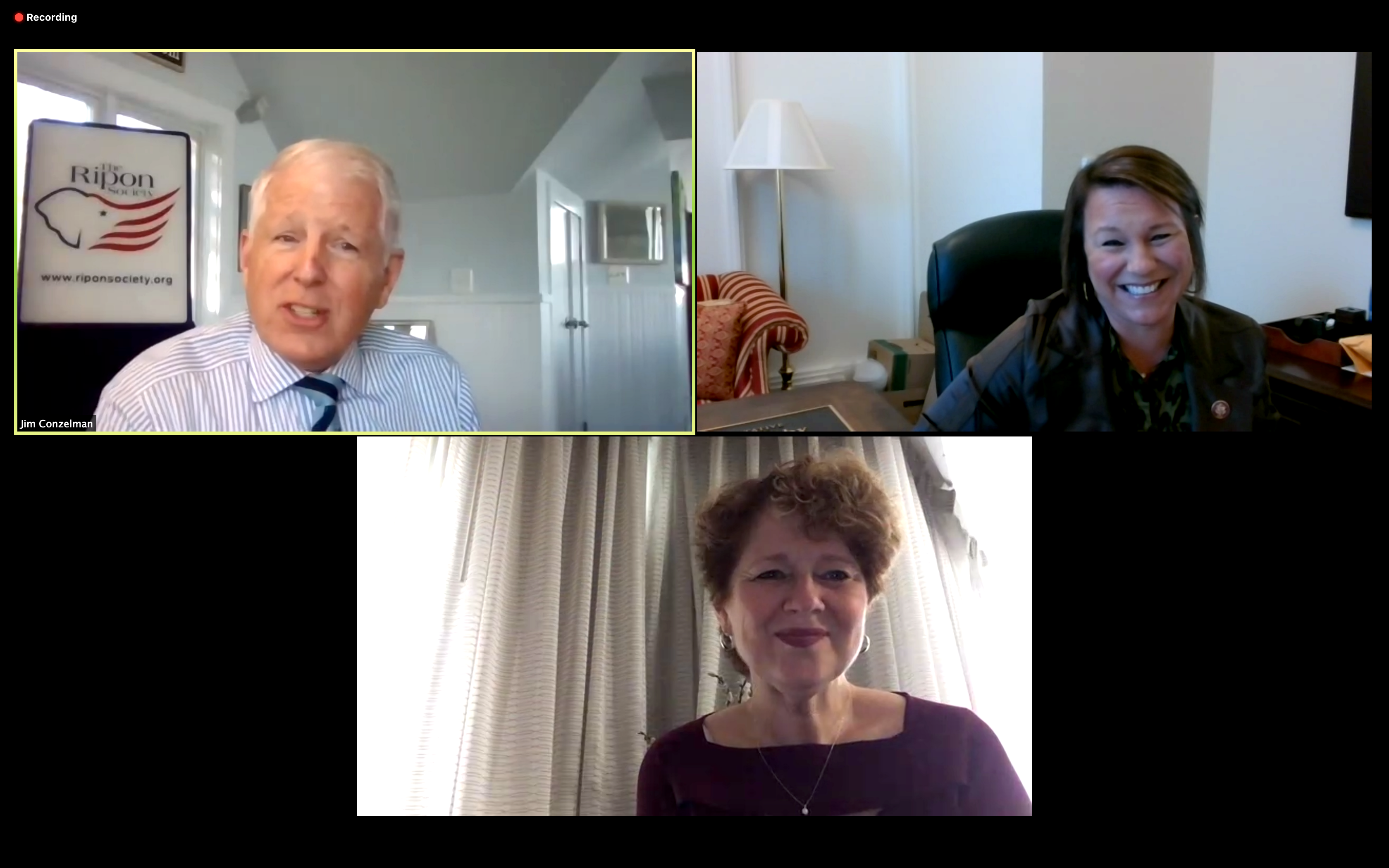 The two lawmakers then took a number of questions from the virtual audience, including how to ensure President Trump's supporters remain in the party and if the GOP can make inroads with voters in America's suburbs.
"We suffered pretty tremendous losses in 2018 when Trump voters didn't come out en masse like they did in 2016," Brooks stated bluntly. "That impacted our numbers dramatically. So we've already experienced it once. I don't think the President was as engaged in 2018, but I think he learned and indicated he was going to be incredibly engaged in races in 2020. And he and his team were engaged in races throughout the country this cycle. So the question will be whether or not he and his team remain engaged going forward.
"One thing we can do is promote the new women candidates, get them out in front of the cameras and talking as much as we can, and get the many candidates of color out in front of the cameras more often to engage. We need to remind people what Trump's economic policies were about, how and why these candidates won, and why it is so important to fight socialism. Those were the types of messages that carried the day in a lot of districts across the country."
Roby explained that, in order to ensure continued enthusiasm and energy into the next election, Republicans in Congress must form a unified message.
"I hope and pray that we do not squander this opportunity. The Democratic majority here in the House is so slim that it's going to force the hand of people to work together, and the American people will be watching.
"It's going to be really important in the next election cycle for there to be a cohesiveness in message and a cohesiveness in what our priorities are. That has to be defined today. We can't wait until February or March to have a plan about the things that we care about. I think that our Conference is going to have to work together like they never have before. We cannot have division within the Republican party on what our priorities are. If we do, the American people are not going to respond kindly to our party or want to be a part of that."
Next, they were asked what the GOP can do going forward to improve their performance among women voters and if having more women on the ballot helps in this endeavor. Roby emphasized the need for women to feel at home within the Republican Party, citing the fact that many women across the country broadly agree with the Republican message.
"There's a lot of women voters who have shared conservative values, but they feel a little lost right now. There's a lot of women in our country that feel like they're without a home because the Republican Party may not look like the party they signed up for.
"There's a tremendous opportunity for the Republican Party to continue to appeal to female voters throughout the country, and it's going to take some work and it can't all be placed on the shoulders of just the female members in our Conference. We collectively have got to have a conversation about why people, particularly women, moved away from the Republican Party."
Finally, both Congresswomen closed the discussion by addressing a special member of the virtual audience — The Honorable Constance Morella. Morella served the people of Maryland's 8th District in Congress from 1987 to 2003 before her appointment as U.S. Ambassador to the Organization for Economic Co-operation and Development (OECD), serving in Paris from 2003 to 2007. She is Chairwoman Emeritus of the Franklin Center for Global Policy Exchange and is regarded in Washington as someone who always chose collaboration over partisanship, action over rhetoric, and respect over animosity.
"You epitomize the grace and class and hard work that we know came before us," Brooks told Morella, "and yet your involvement, your encouragement, your love of the country is a great thing for Martha and I to emulate as we leave. We're lucky to be a handful of a few thousand citizens in the country who get to come to DC and represent, but yet you have been a force in Washington after leaving Congress. You are always so encouraging, particularly to the women in Congress on both sides of the aisle. And I just want you to know I've admired watching you and getting to know you, and I hope to see you in the future. So thank you, Connie, for your friendship."
Roby echoed that sentiment.
"Connie, thank you for all that you have done and continue to do, and thank you for your friendship, for all the work, and for blazing a path for the rest of us. I just thank you so much."
Morella thanked the two Congresswomen for their own service here in Washington, saying the two have set the bar for those who will follow in their footsteps.
"I want to applaud both of you. You are the ones that really bring the luster and strength to the Party. And I'm just so pleased that you helped to bring in more Republican women, and I hope what you have done will resonate with the others. Bravo, and I wish you well, and thank you so much."
The Ripon Society is a public policy organization that was founded in 1962 and takes its name from the town where the Republican Party was born in 1854 – Ripon, Wisconsin. One of the main goals of The Ripon Society is to promote the ideas and principles that have made America great and contributed to the GOP's success. These ideas include keeping our nation secure, keeping taxes low and having a federal government that is smaller, smarter and more accountable to the people.