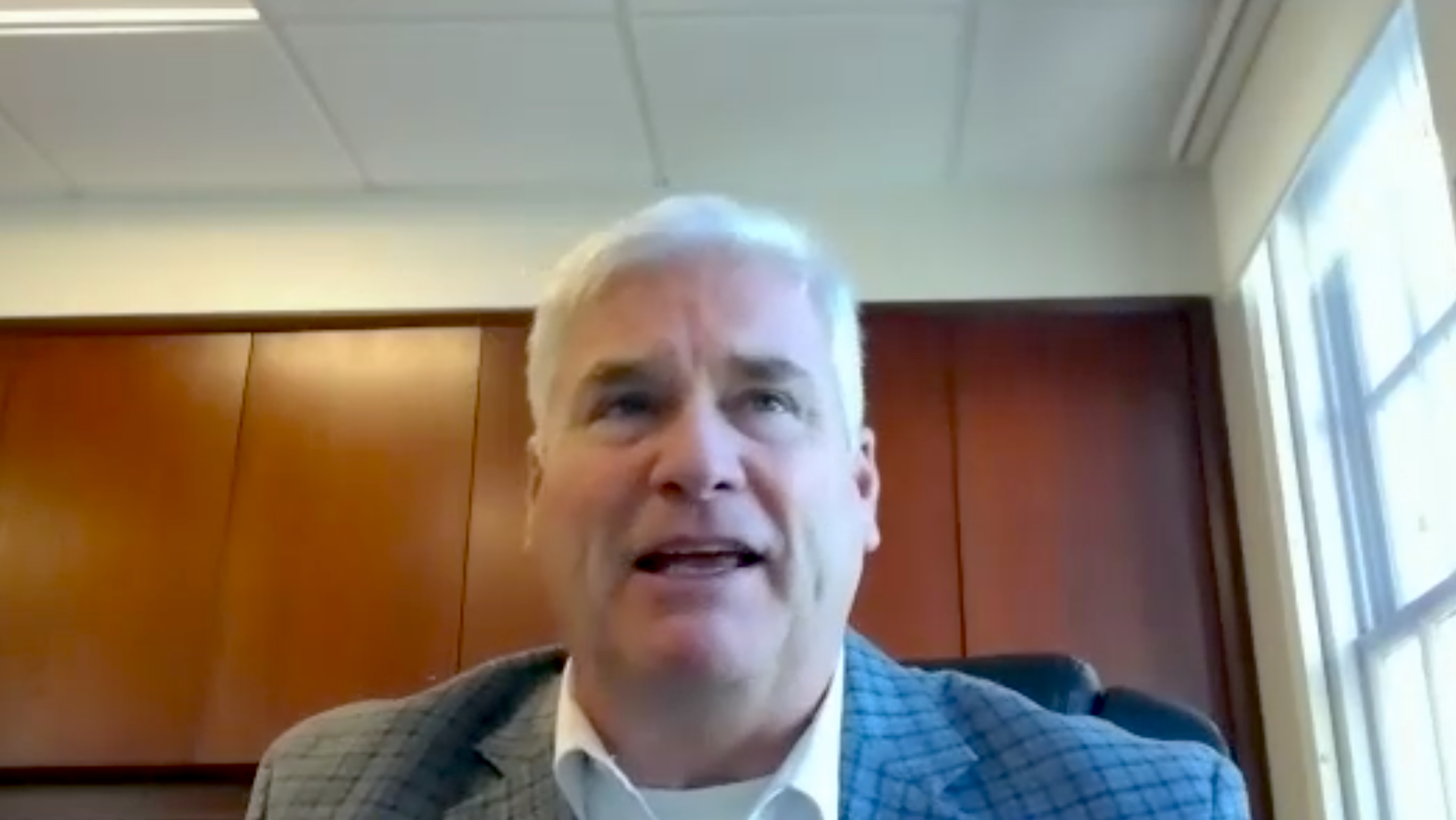 Emmer Takes Stock of GOP Gains
WASHINGTON, DC — The Ripon Society hosted a virtual discussion this past Thursday with NRCC Chairman Tom Emmer (MN-6), who discussed the results of Tuesday's election and the strategy that helped Republicans not only pick up at least eight seats in the U.S. House of Representatives, but elect the most diverse GOP class in history along the way.
"From day one," the Minnesota lawmaker stated, "we had a message that the Democrats' radical socialist agenda is a threat to middle-class Americans. That is why everyday this cycle, we made sure voters knew the Democrats' big-government policies are bad for them — whether it was their plan for government-run health care, their plans to kill oil and gas jobs, or their refusal to stand unequivocally with the men and women who wear the uniform and protect us every day on our streets.
"We were criticized for our rhetoric. Some said we were too aggressive. Well, I'm not going to apologize. I'm a hockey player — there is no such thing as being too aggressive. The same is true in campaigns. As I told my colleagues at the National Republican Congressional Committee, we will always maintain our integrity and we will always be honest. But we're going to be brutally honest. And we kept that promise. I promised my colleagues that we would do whatever it took to win seats and we did.
"We recruited the most diverse class of candidates in congressional history, and ended up with 94 women, 75 minority candidates, and 107 veterans running as Republican Congressional nominees. We also focused on resources, and I'm going to tell you, our team did one heck of a job. Despite the fact that we were down 40 seats from the last Congress, we still set the record for NRCC fundraising. The result is that this past week we showed America what House Republicans stand for.
"We elected the most diverse class of candidates in history on a message of protecting the freedoms this country was founded on. We are now going to keep this momentum going. I'm not waving the white flag until every vote is counted. If we don't retake the majority this week, we will take back the House in 2022."
Emmer was elected to the House in 2014 and was selected by his colleagues to be Chairman of the NRCC in November 2018. Following his opening remarks, he answered a number of questions, including one about the accuracy of pre-election surveys and whether public opinion polling in America is broken.
"I think that you have to be very skeptical of polling nowadays," Emmer stated bluntly. "I saw a poll with the question, 'Do you feel comfortable in this election telling your family, your friends and your neighbors who you're voting for?' More than 80 percent of Democrats said 'yes' compared to less than 20 percent of Republicans. There's your problem. How do you poll people if they're not willing to talk to you? We're going to have to find a different way of doing it."
Emmer was also asked about the importance of GOP messaging and how this messaging resonated with Hispanics over the past year.
"Following the last election, we at the NRCC decided that the message of the 2020 election was going to be a choice between freedom and socialism. That decision was based on the fact that Ms. Ocasio-Cortez and others came in and didn't hide behind the progressive label. Rather, they came in and proudly announced, 'The socialists have arrived!' I don't think they realized how damaging that was with Hispanic communities.
"One of the reasons that Hispanics and others came to this country is to leave the lawless violence in their own countries behind. They came here to live in peace and pursue the American dream. And when they saw Democrats this past year equivocating about violence in our own streets and whether the riots that we saw should be allowed to continue, I believe it drove them over to the Republican side."
Emmer concluded by responding to a question about his ultimate goal as NRCC Chairman – retaking control of the House of Representatives.
"We are going to win the majority in two years," he declared. "The Democratic Party is not going to get any better, and the distinction between the parties could not be more significant right now.
"After all, who is their leader going to be? Is Nancy Pelosi going to survive after this past Tuesday night? And what kind of candidates are they going to recruit? Because right now, the Democrat Party looks like the party of Alexandria Ocasio-Cortez, Rashida Tlaib, Ilhan Omar, and Ayanna Pressley. It's definitely not the party of Collin Peterson anymore."
The Ripon Society is a public policy organization that was founded in 1962 and takes its name from the town where the Republican Party was born in 1854 – Ripon, Wisconsin. One of the main goals of The Ripon Society is to promote the ideas and principles that have made America great and contributed to the GOP's success. These ideas include keeping our nation secure, keeping taxes low and having a federal government that is smaller, smarter and more accountable to the people.