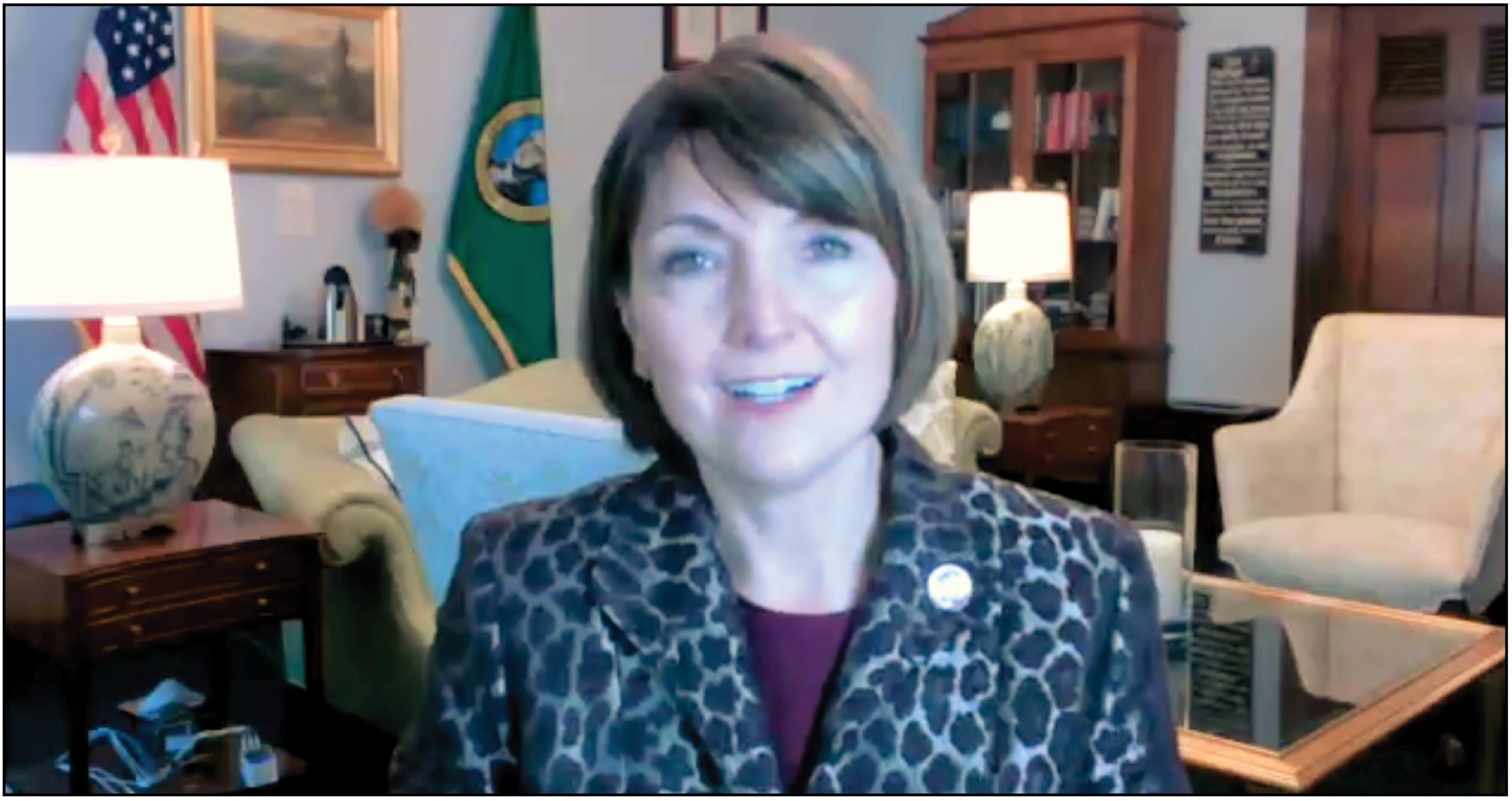 McMorris Rodgers Lays Out Vision as Top Republican on Energy & Commerce
WASHINGTON, DC — With a new Congress beginning earlier this year, U.S. Rep. Cathy McMorris Rodgers (WA-5) took over as the new Republican Leader of the Energy & Commerce Committee. First elected to Congress in 2004, she has served in House leadership as the Republican Conference Chair in the past and is a veteran member of the panel.
She appeared Wednesday afternoon before a virtual meeting of The Ripon Society and began her remarks by touching on her new role on the Committee and what the overall objectives will be for her and her colleagues moving forward.
"I am excited and honored to be leading this committee for the Republicans," McMorris Rodgers stated. "This committee is at the very center of crushing the coronavirus, rebuilding our economy, and ensuring that America continues to be the best in the world when it comes to innovation, saving lives, and lifting people out of poverty. And my goal is to make sure that we're ushering in a new era of innovation so that we're modernizing our healthcare, ensuring that America is leading and curing diseases, and that we are beating China."
According to McMorris Rodgers, even though ample opportunity exists for bipartisan collaboration in 2021, she believes that Speaker Pelosi may move to stifle opportunities for the two parties to work together.
"It's clear to me that Speaker Pelosi learned how to 'drive the train' when President Barack Obama was elected and they passed the Affordable Care Act, Dodd-Frank, and cap and trade out of the House. Now, she is just driving it faster than ever. There is a sense that she has nothing to lose, so she's going as fast as she possibly can this time around on progressive policies. All you have to do is look at how she jammed the $1.9 trillion spending bill through on reconciliation."
But, as for her committee, McMorris Rodgers explained that two issues in particular will be the center of attention in the coming months — the accountability of big tech and energy.
"I am very concerned about the power of big tech and released details of my Big Tech Accountability Platform in January. Whether it's big tech's control over speech, companies limiting consumer choice or their algorithms driving addiction and hurting our kids, there needs to be accountability and forward-thinking solutions.
"Our Big Tech Accountability Platform is guided by four principles and goals: increasing meaningful transparency, enhancing oversight and accountability, pushing for consistency and objectivity, and exploring competition issues so that innovation is unleashed.
"On the energy and environment front, the Democrats are pushing their climate and infrastructure agenda. They just introduced their CLEAN Future Act, which is really a down payment on the Green New Deal and is all about decarbonizing our entire economy by 2050. It's almost a thousand pages of mandates and regulations and my concern is that the approach that they're taking is a threat to our national and energy security, our grid reliability, energy affordability, and America's global competitive edge."
McMorris Rodgers then took a number of questions from the virtual audience, beginning with what her own personal priorities are for the Committee.
"The issue around supply chains is a top priority for me," said the Washington Republican. "We learned during COVID-19 that we're really dangerously dependent upon China, whether it's pharmaceuticals or just basic medical supplies. This includes energy too. Right now the Democrats are promoting wind, solar, and batteries, but China dominates the marketplace in all of that. 90% of the solar panels, 80% of the windmills, and 90% of the rare earth minerals are controlled by China right now. We need to make sure that we are addressing supply chain issues, because I'm very concerned that we are dangerously dependent upon China."
McMorris Rodgers continued.
"I'm also very concerned about what I see as a crisis among our youth in particular — a mental health crisis due to the long-term impact of lockdowns and isolation. I'm hearing stories almost every day of addiction or depression or anxiety or attempted suicides. I believe that we need to be doing more, and it starts with getting our kids back in school."
Next, McMorris Rodgers was asked to touch on how the U.S. can close the digital divide and ensure there is access to broadband to Americans across the country.
"COVID-19 has only underscored the importance of closing the digital divide once and for all so we can improve access to tele-health, virtual schooling, or opportunities for economic growth.
"This pandemic has certainly jumpstarted tele-health. And the feedback has been positive across the board from both providers and patients that they liked the option of tele-health and tele-mental health, where individuals don't have to travel, but they can connect with a provider wherever they may be. It's a winner and one that we need to make sure that we're continuing. There's broad bipartisan support for encouraging tele-health, but we've got to have the broadband connection first."
Finally, McMorris Rodgers was asked about the possibility of Republicans and Democrats to find common ground on climate change policy and what possible actions could be taken on the issue this year.
"There's certainly a desire to find the common ground and to work on some bipartisan solutions — absolutely. There are members on our side of the aisle that would welcome that opportunity. The question is whether or not the majority decides to do it alone or not. And so far at the beginning of this Congress, it seems like Speaker Pelosi is more interested in scoring political wins and taking a go-it-alone approach with her caucus. "As for Republicans, we're going to be pushing for more practical solutions to innovate a cleaner energy future, strengthen our supply chains, and capture all of the advantages of our abundant resources — including clean coal, hydro power, nuclear technologies, and clean natural gas. An 'all of the above' strategy is how we will win the future, beat China, and protect American jobs."
The Ripon Society is a public policy organization that was founded in 1962 and takes its name from the town where the Republican Party was born in 1854 – Ripon, Wisconsin. One of the main goals of The Ripon Society is to promote the ideas and principles that have made America great and contributed to the GOP's success. These ideas include keeping our nation secure, keeping taxes low and having a federal government that is smaller, smarter and more accountable to the people.