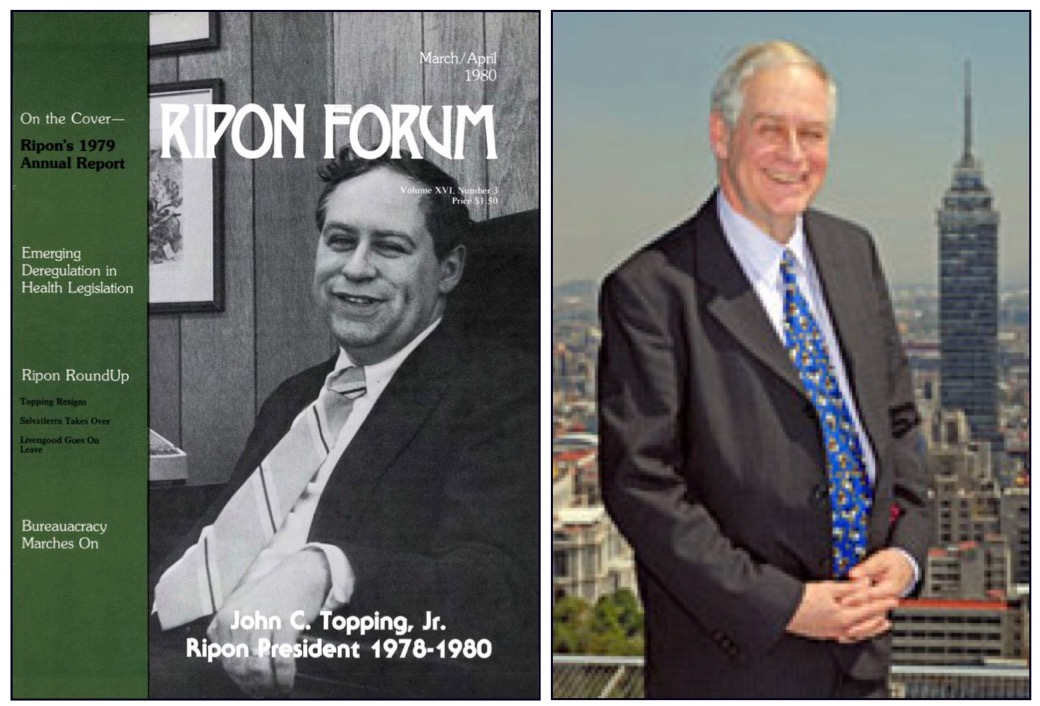 WASHINGTON, DC – On Tuesday, March 9, The Ripon Society lost a founding member and past President of the organization when John Topping Jr. of Bethesda, Maryland passed away at the age of 78. John was one of the original founding members of The Ripon Society on the campus of Harvard University in 1962 and helped to revive the organization in 1981. Those who knew him said he relished announcing that the once small-time Ripon Society of Cambridge, Massachusetts had become a national organization.
He began his lifetime of public service by earning his bachelor's degree from Dartmouth College followed by a law degree from Yale University. His education led him to serve in the U.S. Air Force as a Judge Advocate General's Corps (JAG) Officer. His Air Force colleagues, many of whom remained life-long friends, fondly recall Sunday brunch conversations with John at the Andrews Air Force Base Officers Club discussing future career plans to help make the world a better place.
Following his service in the Air Force, John continued his life of public service by working in a number of roles. He worked as Staff Director of the President's Advisory Council on Minority Business Enterprise and as Chief Counsel of the U.S. Commerce Department's Office of Minority Business Enterprise. In his role as Staff Director at the Environmental Protection Agency's Office of Air & Radiation, John was one of the first to call for strong steps to cut down involuntary exposure to cigarette smoke.
In 1986, John founded the Climate Institute, the first international organization to address climate change, where he served as President until his passing. John served as Editor for portions of a First Assessment Report by the Intergovernmental Panel on Climate Change (IPCC) and was the lead author of the impacts on human settlement, industry, and transport sections. For his efforts on this front, John was recognized by the IPCC with a certificate for contributing to the award of their Nobel Peace Prize of 2007. In addition to contributing to numerous publications and writings, he was also the co-author of the Clean Air Handbook on U.S. air pollution law and editor of two volumes on climate change. In 2002, John was recognized for his contributions to the Environment as the first recipient of Dartmouth's Dr. Martin Luther King Jr. Social Justice Award for Lifetime Achievement."
Beyond his public service outside of politics, he also spent countless hours helping to improve the Republican Party by offering new policy ideas, writing strategy papers, and connecting the Party to the academic world. John developed a reputation for his tireless yet joyful demeanor and approach to his work and the causes he cared deeply about. He leaves behind the legacy of a common sense approach to good governance and a lifetime of public service. He will be dearly missed.