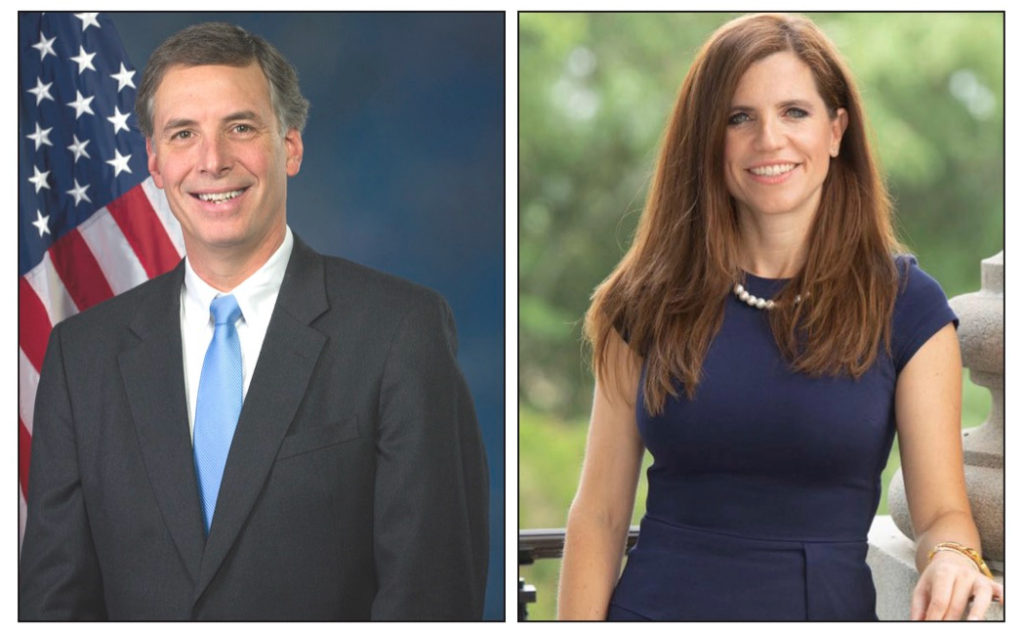 Rice & Mace Discuss Agenda in Congress & the Road Ahead for Republicans This Year
WASHINGTON, DC — The Ripon Society hosted a virtual meeting this past Thursday with U.S. Rep. Tom Rice of South Carolina and the newest member of the Palmetto State delegation, U.S. Rep. Nancy Mace. The two members discussed not only the agenda in Congress, but the road ahead for Republicans this year.
"My whole focus in Congress is on American competitiveness," Rice stated, kicking off the discussion. "Just a year ago, we had 4% unemployment nationwide. Every county in my district, which includes three of the poorest counties in South Carolina, had sub-5% unemployment. The poorest county in the state, Marion County, which had 9.6% unemployment when Donald Trump took office, got as low as 3.8% unemployment.
"People had opportunities who had never had opportunities before. My biggest problem was that I had employers calling me and asking what they were supposed to do to find employees. And then came COVID. Without COVID, I'm quite confident that Donald Trump would have been reelected in a landslide and everybody would have had more money."
With Democrats now in control of both Congress and the White House and the pandemic continuing to hold the economy back, Rice expressed concern that a return to liberal economic policies could inhibit future economic growth.
"We had eight years of stagnation under Obama-Biden," he noted, "and people were very frustrated at the end of Obama's second term. I believe one of the main reasons for that frustration was that, coming out of financial crisis, there should have been a snapback. Instead, we grew government, we raised taxes, and we stifled what should have been a sharp recovery."
Rice, who worked as a CPA and tax attorney prior to his election to Congress and serves on the Ways & Means Committee today, said he sees parallels with the policies Democrats are putting in place today — particularly the $2 trillion plan that was just passed and signed onto law.
"With this pandemic," he stated, "we have already seen a sharper snapback than anything we ever saw under Obama-Biden. The reason is that we had these pro-growth policies in place and the Democrats were unable to change them. What concerns me now is that we're having another term of Obama-Biden. This bill certainly represents a growth in entitlements, a growth in government, and a growth in taxes. And I hope that doesn't stifle the recovery to come."
Mace agreed, and began her remarks by explaining the reason she ran for Congress in the first place.
"I ran on being an independent voice and an independent conservative who respected the Constitution and would do the right thing — even when it meant going against members of my own party sometimes," she explained.
"And despite the challenges that we've had as a party and as a nation over the last eight weeks, I'm working extremely hard and I'm trying to be the independent conservative that I promised I would be and that I've always been. I want to be a strong voice for our party. And I want to make sure that we have younger voices and a more diverse party for our party's future, because we're dependent on that."
Mace, a single mother who was the first woman to graduate from the corps of cadets program at the Citadel, served two years in the State Legislature prior to her election to the House, where she is now a member of the Committees on Transportation & Infrastructure, Oversight & Reform, and Veterans' Affairs.
"My message to everyone is that I am literally willing to work with anyone who's willing to work with me," she said of her Committee assignments and new roles and responsibilities on Capitol Hill. "We have so much work to do. I have been discouraged over the last few weeks because of the partisan divide. A lot of folks talk about unity when they go on and do interviews. It sounds good, but are we really doing that behind the scenes? The $2 trillion package is an example of that."
Following their opening remarks, Rice and Mace took a number of questions, including one about the insurrection at the U.S. Capitol on January 6th and the role of Donald Trump in the Republican Party in the weeks and months ahead.
"I voted with Donald Trump 94% of the time," Rice stated. "I helped draft his most important achievements — the tax reform package and trade reform. The small business portions of the tax reform act were done at my urging. The fact that small businesses retain the right to write off their interest expense on their loans was done at my insistence. So I'm proud of those achievements. The reason I backed Donald Trump was because I ran on American competitiveness and creating jobs, and Donald Trump did the same thing. He didn't call it American competitiveness. He called it 'Making America Great Again.' But tax reform, trade reform, regulatory reform, infrastructure — all these things were on my list of to-do's. I helped him pull those off. And I'm proud of the result of it.
"But January 6th was too much for me to bear in terms of whether it's okay for a President to set a mob upon the Congress to enforce his will. We might as well not have a legislative branch. The Founders foresaw that each branch of the government, in order to protect concentration of power too much in one area, would jealously defend their prerogative. I thought that what the President did was certainly a huge violation of the separation of powers. I couldn't ignore it, which is where my impeachment vote came from. And that really is my only difference with the President. Certainly, I didn't like a lot of his rhetoric, but in terms of his policy or positions, we were very much in line."
As for Trump's role in the party going forward?
"I hope that he will be a positive influence going forward," he stated. "I personally don't believe he can win the Presidency again. I'm quite certain that he could win the Republican nomination. I think that's a slam dunk. But I think that the 74 million people he got was before January 6th. I think a lot of Main Street Republicans — like those who are members of the Ripon Society — were horrified by what happened on January 6th. I just don't see his base growing from that."
Mace struck a similar note.
"If we continue to make our parties about one person and not about the American people," she stated bluntly, "then we're going to continue to fail the American people. [Trump] galvanized millions of Americans four years ago because he gave millions of people who thought they didn't have a voice or a vote, he gave them that voice. And that's where our focus should really be. We've got to find a way to be talking about the policy, not the person, and try to let people understand that we understand why he was so successful and we embrace that because it was good for the country."
"Our country needs leadership now more than ever if we're going to talk about unity — and that goes for both the left and the right. It's really important that we understand that there are certain things that are happening with legislation that's getting pushed through the House that is not being done in a bipartisan way. We're seeing the dismantling of our Constitution and our freedoms. This is not a Republican or Democrat issue. It's an American issue. And I'm trying to change the conversation and change the message to be about the American people, because that's what matters right now, more than anything."
The Ripon Society is a public policy organization that was founded in 1962 and takes its name from the town where the Republican Party was born in 1854 – Ripon, Wisconsin. One of the main goals of The Ripon Society is to promote the ideas and principles that have made America great and contributed to the GOP's success. These ideas include keeping our nation secure, keeping taxes low and having a federal government that is smaller, smarter and more accountable to the people.