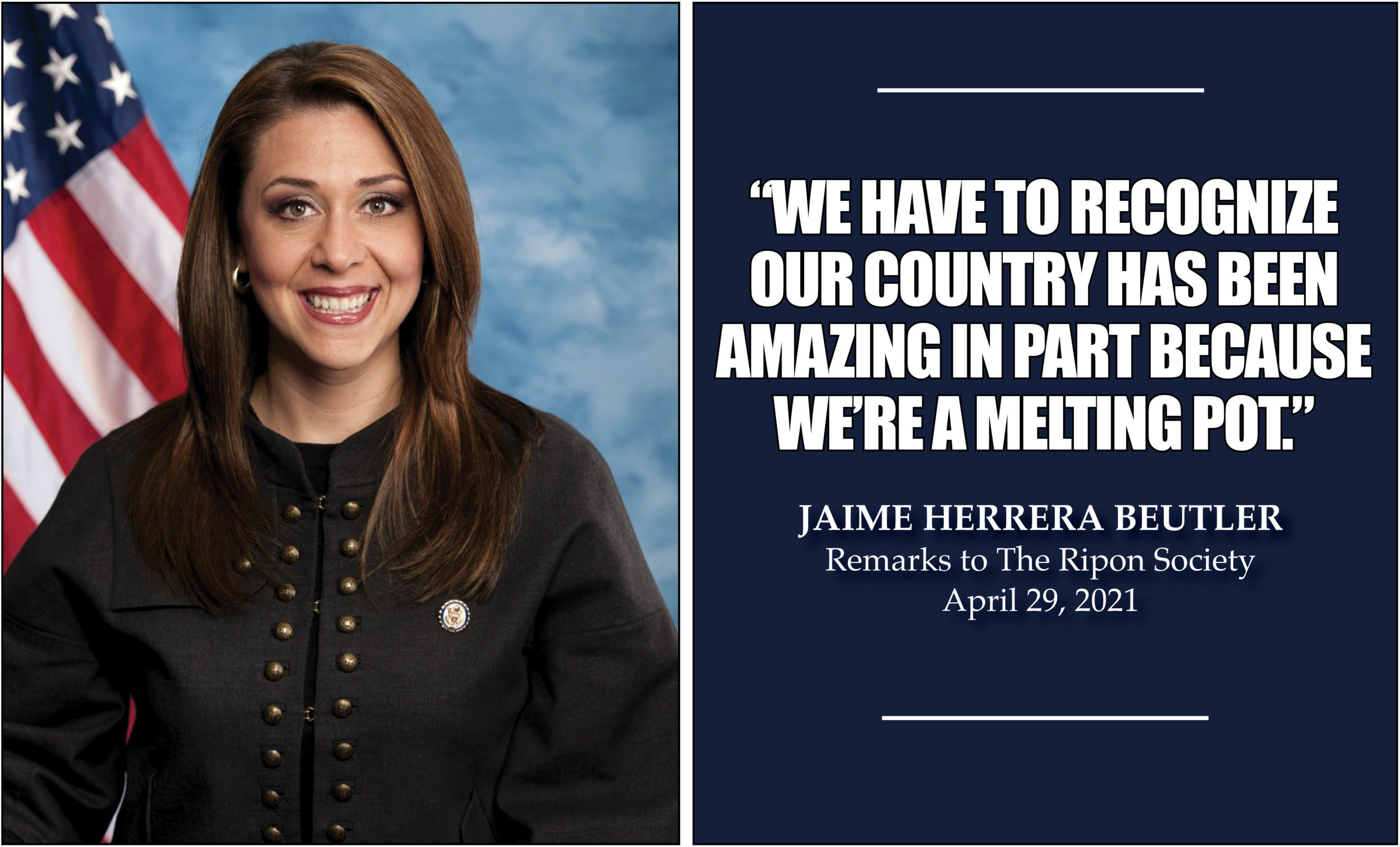 "We have to recognize our country has been amazing in part because we're a melting pot."
WASHINGTON, DC — In remarks this past Thursday before a virtual meeting of The Ripon Society, U.S. Rep. Jaime Herrera Beutler (WA-3) expressed hope that Republicans and Democrats in Congress can reach agreement on a plan to reform immigration and strengthen border security in the coming year.
"We're seeing challenges down on our Southern border, with illegal crossings going through the roof in the past few months," she stated. "With that surge, we've seen spikes in human trafficking and child labor. When solving this problem, the biggest key is making sure we are respectful, compassionate, and fair. We need to look at doing this in a fair and equitable way that also respects the rule of law.
"Both sides really use this issue as a political football, and they do it because both sides think they get a political kick out of it. But if we're willing to put aside some of that rhetoric on both sides, I think we can come to some reasonable, fair solutions when it comes to our border.
"We have to recognize our country has been amazing in part because we're a melting pot. That's why having fair and just immigration policy is critical for us as a nation."
Herrera Beutler was elected to Congress in 2010 and is the first Hispanic in history to represent Washington state on the federal level. In the years since her election, both Democratic and Republican Presidents have signed legislation she has authored into law, helping her to not only earn the ranking as Washington state's most effective Member of Congress, but earn a reputation as a leader who is willing to work across the aisle to solve the challenges facing American families.
She touched on one of these challenges — surprise billing for new mothers — in her remarks.
"When a woman gives birth," Herrera Beutler observed, "she may forget to fill out health insurance forms on time to add the child to her health insurance plan. If she does that, she's in trouble — a lot of trouble. Unfortunately, the way the system works now, if a mom or dad misses that window, and the expenses weren't anticipated, they are going to be on the hook for those bills."
To help solve this problem, Herrera Beutler — who also founded and co-chairs the Maternity Care Caucus — has co-authored the No Surprise Bills for New Moms Act, which she reintroduced last month with California Democrat Katie Porter (CA-45).
"This legislation basically requires that all health plans and insurers cover those newborns under the mother's coverage for 30 days after birth," she stated. "It's very simple. After the birth of my first one, I was really focused on her in the NICU. I wasn't even out of the hospital in 30 days, let alone looking at the bills. So, this legislation would say that the kids are put on the roll first 30 days and then it establishes a uniform 60-day enrollment period for all plans and insurers after that first 30 days. It simply gives parents sufficient time to enroll their newborns in coverage and handle any enrollment issues that could arise."
Beyond the well-being of moms and children across the country, Herrera Beutler stated that she is also focusing on the health of Americans as a whole, especially during the COVID-19 pandemic.
"COVID has changed us all undeniably. One of the biggest keys I believe in returning to normal — and that's my goal—is access to vaccines. In Congress, I've helped with crafting health spending portions of the COVID bill that include money for research and development and manufacturing and distribution of vaccines across the country. And that's helped us get to a place where we now have several highly effective vaccines.
"We're finally beginning to have that increased access. My hope is that, as this has all become more available, we're going to see everyone take advantage of these vaccines, because ultimately we all want to get past this pandemic and move on."
Following her opening remarks, Herrera Beutler took a number of questions, including one about President Biden's proposed infrastructure package. She said that the key area of disagreement between the President and Congressional Republicans can be summed up in one word—scope.
"I was at the summit two weeks ago in Annapolis hosted by Maryland Governor Larry Hogan with members of the Problem Solvers Caucus, a bipartisan group of senators, and the governors of Louisiana, Pennsylvania, and Virginia," she recounted. "The goal of it was to determine if we as a group agree on a scope. Can we agree on what transportation means? And those discussions will directly inform our conversations with the White House. I think there is a recognition that other areas need investment or solutions and innovation, such as broadband, but what we're really trying to say is let's bring the scope of this down to what transportation infrastructure really is: roads, bridges, waterways, etc.
"I expect that Nancy Pelosi will offer up a giant pie-in-the-sky proposal in the House that will make it hard for some of us to support it. And then they'll whittle that down in the Senate because Joe Manchin and others believe this needs to be more limited. Then we might get a second bite at the apple in the House, but we'll see if President Biden really wants to step in and truly make it a bipartisan process. It remains to be seen whether the President truly believes that or not."
Finally, Herrera Beutler was asked about her vote earlier this year to impeach former President Donald Trump — she is one of only ten Republicans to do so.
"Overall, I think my vote has been positive," the Washington lawmaker stated. "That doesn't mean a lot of people agree with it. When you look at the Conference vote that we had a few months ago regarding Liz Cheney, I made the point during that conference that this isn't about Liz Cheney. This is about we, as a Conference, determining our destiny.
"Who are we going to be? Are we going to be about one personality? That, I would argue, is dooming us to be a minority party. Or are we going to be a united Republican majority that is dedicated to the ideals of limited government, low taxation, and individual liberty? All those things made me be part of the Republican Party in the first place.
"I think most folks just want us to move forward, and if you're going to move forward in good faith, let's all work together as a team. I would say there are enough problems that are being thrown our way from the Left, so there's no reason to pick fights amongst ourselves."
The Ripon Society is a public policy organization that was founded in 1962 and takes its name from the town where the Republican Party was born in 1854 – Ripon, Wisconsin. One of the main goals of The Ripon Society is to promote the ideas and principles that have made America great and contributed to the GOP's success. These ideas include keeping our nation secure, keeping taxes low and having a federal government that is smaller, smarter and more accountable to the people.