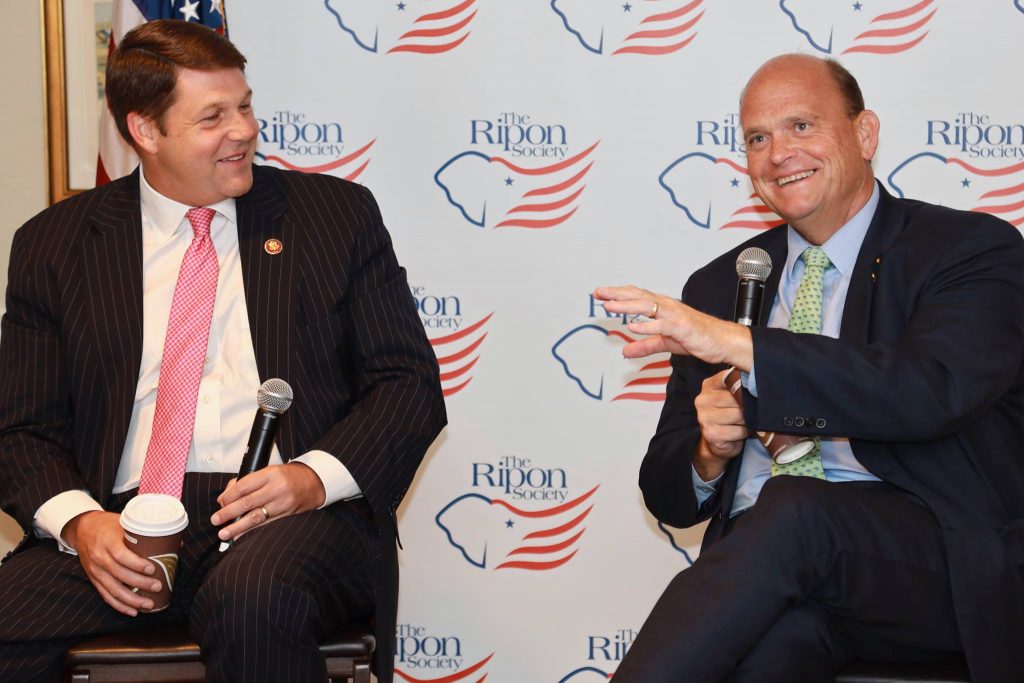 Reed & Arrington Assess Prospects for Infrastructure Agreement
WASHINGTON, DC – Two Republican leaders of the Ways & Means Committee appeared this past Thursday before a breakfast meeting of The Ripon Society and the Franklin Center, delivering remarks not only about the bipartisan agreement reached on a plan to rebuild America's infrastructure, but about the prospect that Democrats will try to push through a tax increase as part of a subsequent reconciliation bill.
The leaders were Tom Reed and Jodey Arrington. Arrington represents the 19th District of Texas in the U.S. House and serves on the Ways & Means Subcommittees on Trade, Select Revenue, and Social Security. Reed represents New York's 23rd District and serves as the Ranking Member on the Ways & Means Subcommittee on Social Security. He is also a leader and founder of the Problem Solvers Caucus, which played a key role in bridging the partisan divide during infrastructure negotiations in recent weeks.
He touched on this role in his opening remarks to kick off the discussion.
"We had a great victory yesterday," Reed stated. "We got 67 Senators to come together on our bipartisan infrastructure deal that was months in the works … I'm very optimistic that we'll get this $1.3 trillion deal done. You're going to have a lot of rhetoric and you're going to have a lot of political theater…but at the end of the day, we all know we have to get it signed into law."
"The President supports it, pushing it, and he's going to use his pulpit to help get it done. And when you have all the levers of power, and you have stakeholders that have put you there to deliver, they will want and demand that this gets done. Oh and by the way, its good policy and needed for the long-term security of all Americans. Not a bad alignment of interest to see this to the finish line."
According to Reed, the outlook for the $3.5 trillion spending package that Democrats plan to consider following the infrastructure plan is far from certain – and more controversial.
"The key thing to watch is that the Speaker is going to try to weaponize the reconciliation bill, so that they can guarantee that they have a budget or at least a shell, to just hit that 50-vote threshold," he said. "That's going to be a real battle on their side. Will they cave and weaponize a $3.5 trillion opportunity? Or will they hold firm so they don't have to get to that? Either way with the tax increases alone the Democrats are requiring in the $3.5 trillion package, Republicans, including myself, will be united against such extreme proposals."
"There is a tremendous pushback on the $3.5 trillion package. Obviously from Republicans, but also Democrats," Reed stated. "In my opinion, it's one of the reasons why, if you look at the Committee itself, we haven't had a lot of markups and hearings as only those items that are real will go through the process and the political pitfalls that come with such actions."
Reed also predicted that any Democrat effort to raise the corporate tax rate might also include a sleight of hand – one that may cost oil and gas producers in the end.
"If they raise the corporate rate, I will tell you a little secret," the New York Republican stated. "They're going to put so many credits, revised depreciation schedules and other things, that the effective rate will stay exactly the same, or close to it. They're going to take their pound of flesh out on guys the Democrats detest, like oil and gas. They're going to get their agenda accomplished by using the tax code in a big part to do it."
Arrington agreed.
"I think it's going to be difficult for the Democrats to land the plane on their multi-trillion dollar "re-imagine the government" [bill] and its role in the lives of its citizens," he stated bluntly. "And that's what it is — the most radical reimagination of the federal government.
"They bit off more than they can chew. Maybe it is part of the chum that they throw to the left, but I think there's a little bit of Pelosi legacy. Let's go out with a bang, because I don't think she's coming back. I think she recognizes that. She's smart enough to understand that. But I think there are enough folks there in the middle — reasonable, moderate Democrats — who will not go down that lane. And they will if they take this vote as it is."
Arrington also had some pointed words for some of the specific provisions in the reconciliation plan and how they would impact the folks he represents back in West Texas.
"Being from the food, fuel, and fiber capital of the world," he said, "we're very uncomfortable with what the supercharged death tax would do to family farming and independent oil and gas producers and family-owned enterprises of all kinds. As I told Secretary Yellen, this will be the largest scale liquidation and fire sale of farming and ranching assets and operations in the history of the United States of America. That's a fact."
The result, Arrington warned, would be devastating for the economy.
"This is about America," he declared. "It's about competing with China and not giving them the keys. I think that's the real story for me on fossil fuels. This really does give the keys to China, because nothing works without conventional fuels. The cost that's going to be heaped on our economy and on our consumers is going to be tremendous."
The Ripon Society is a public policy organization that was founded in 1962 and takes its name from the town where the Republican Party was born in 1854 – Ripon, Wisconsin. One of the main goals of The Ripon Society is to promote the ideas and principles that have made America great and contributed to the GOP's success. These ideas include keeping our nation secure, keeping taxes low and having a federal government that is smaller, smarter and more accountable to the people.