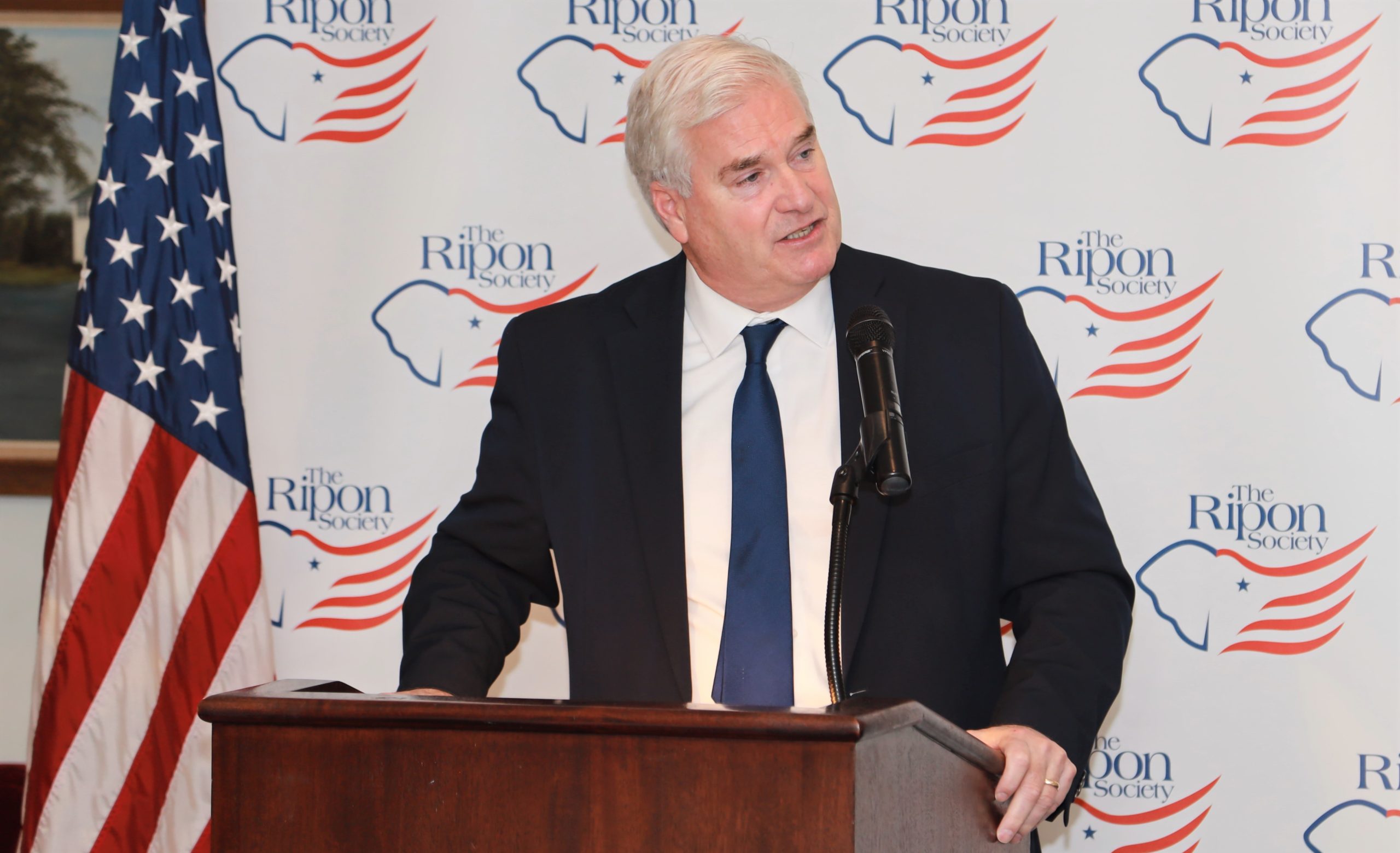 Emmer Discusses Lessons of Virginia and GOP Message Heading into the Mid-Terms Next Year
WASHINGTON, DC – With the 2022 mid-term elections now one year away, The Ripon Society held a breakfast discussion on Thursday with the individual leading the Republican charge to take back the majority in the House of Representatives.
That leader is U.S. Rep. Tom Emmer (MN-06), who is serving his second term as Chairman of the National Republican Congressional Committee (NRCC). He discussed the top issues for voters, this week's election results in Virginia, and the prospects of winning back the House. He began by discussing the likeliest seats to flip next November.
"We're on offense all over the country," Emmer stated. "At the beginning of this cycle, we began by targeting the top 29 seats that were probably the most important. Why are these 29 seats most important? Because those are seats that Donald Trump either won last fall or he came within a close margin of five points or less."
"We came within five seats of taking back the majority last year and making history. There were about 152 million votes cast in U.S. House races across the country last fall, and the difference between the 213 we won and the 218 we needed was a whopping 30,751 votes. That's how close it was.
"We later expanded the list to 57 in light of what we're seeing across the country, including our battleground polling… Now, we've expanded it to 70."
According to Emmer, Republicans have all the momentum heading into next year—and this should worry Democratic candidates.
"It's going to be the right environment at the right time, especially if their party continues down this crazy path that they've chosen with their agenda. My statement to every one of my colleagues on the other side of the aisle, to every one of them on that target list, is this: When you're home over Thanksgiving, you should really consider retiring or being prepared to lose when you come back next fall."
"You win elections with great candidates. You will see, if you haven't already, that we've got candidates filed all across this country. There's already 850-some Republican candidates filed for the House in almost 390 of the 435 districts. We are on pace to break the record that we set last cycle for women that are running. We're on pace to destroy the record we set last cycle for candidates from minority communities that are running."
With regard to the top issues amongst voters next year, Emmer sees community safety, the role of parents, and the economic fallout from Democrats' big government spending as the most salient.
"I've said this to groups for the last several months, and clearly the Democrats aren't listening, you need to take notice when you see a 'defund the police' city electing a former cop as its mayor, when you see a city like McAllen, Texas electing a Republican as its mayor for the first time in 80 years, and when you see what happened Tuesday night in Virginia. I used to say before the Youngkin victory, 'If you're not paying attention to 200 parents showing up at a Loudoun school board meeting, you're not paying attention.'
"Everything Democrats are doing suggests inflation is going to get worse."
After Tuesday's election in Virginia for governor, where Republican Glenn Youngkin won by two and a half points in an increasingly Democratic state, Emmer says Democrats are not listening to what voters are telling them and are doubling down on their rhetoric of expanding the federal government and giving bureaucrats more authority.
"The reaction by half or better of the Democratic caucus in Congress is, 'We didn't lean in strong enough. We are not fighting hard enough for our socialist values.'"
The Ripon Society is a public policy organization that was founded in 1962 and takes its name from the town where the Republican Party was born in 1854 – Ripon, Wisconsin. One of the main goals of The Ripon Society is to promote the ideas and principles that have made America great and contributed to the GOP's success. These ideas include keeping our nation secure, keeping taxes low and having a federal government that is smaller, smarter and more accountable to the people.