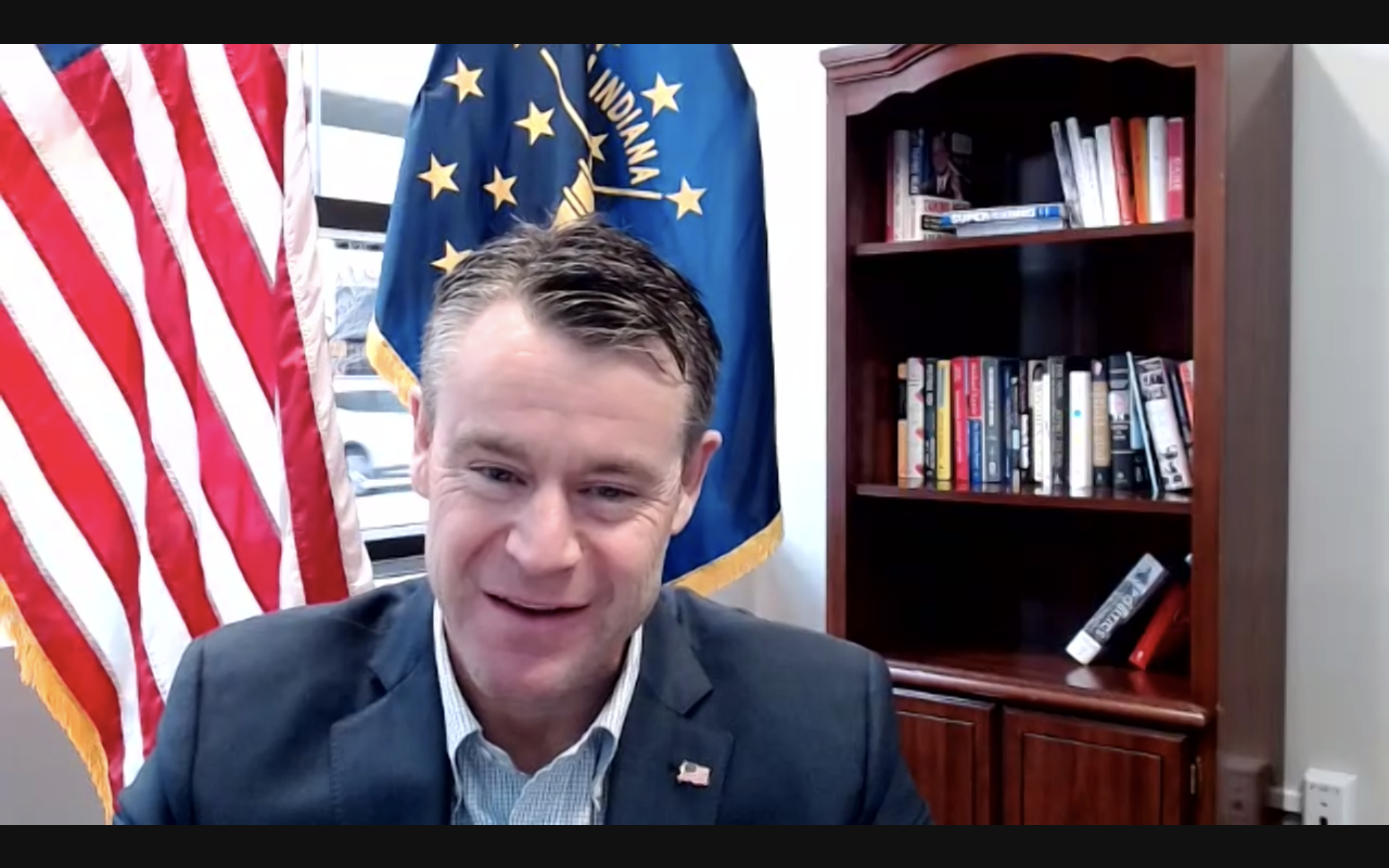 Young Expresses Optimism About GOP Prospects in the Year Ahead
WASHINGTON, DC – In remarks this past Thursday before a virtual meeting of The Ripon Society, U.S. Sen. Todd Young (R-IN) expressed optimism about Republican prospects in 2022, saying that with Democrats focusing on a far left, budget-busting agenda, the GOP has a real opportunity to be viewed as the "party of practical solutions" in the year ahead.
"It's no secret that the American people are hurting as a result of the Biden-Harris Administration's agenda," the Senior Senator from Indiana stated. "Inflation is at an all-time high. Government spending is out of control. There is a crisis at our Southern border. Violent crime continues to plague our major metropolitan areas. The Chinese Communist Party continues to expand its illiberal sphere of influence across the world.
"These are major, major challenges just viewed in isolation. But viewed collectively, it is almost breathtaking the extent to which our country has experienced headwinds since the Biden-Harris Administration came into office. In fact, it's difficult right now to identify one thing that's going well for the Administration."
Young was elected to the Senate in 2016 after serving three terms in the House. He is a member of the Finance Committee, the Foreign Relations Committee, the Commerce, Science & Transportation Committee, and the Committee on Small Business and Entrepreneurship.
He is also the former Chairman of the National Republican Senatorial Committee, where he worked to make sure the GOP was not just viewed as the party of "no."
"In order to reach our full potential as a party, we have to be about more than opposition," Young said. "We have to be a party that offers real, constructive, creative solutions to the problems Americans face. Sometimes — and I should underscore this — that requires changing our agenda as a party. When Ronald Reagan campaigned for President in 1980, he didn't run on a 1940s-era agenda.
"We are now more than 40 years removed from 1980. It is time for our party to rethink certain facets of our agenda — because of globalization, because of urbanization, because of the fourth industrial revolution, and so forth. It will take a new generation of leaders and leadership to meet this moment. With the other party trapped in a bubble of ideology, we have an opportunity as Republicans to offer these creative, smart solutions — many of which will have bipartisan appeal."
According to Young, offering these kinds of solutions is something he has tried to do since his election to the Senate.
"Whether it's proposing innovative ways for students to go to college debt free, creating a conservative alternative for family leave, incentivizing innovation and R&D here in the U.S., or addressing what many have rightly called an affordable housing crisis, I — along with others — have sought to make the GOP the party of solutions, rather than just being the sum of our many grievances, resentments, and objections.
"One of the things I'm most proud of is my work to address the threat of the Chinese Communist Party. China is working around the clock to out-grow, out-innovate and out-compete the United States of America. We cannot afford to let China win this race. As I mentioned when I spoke to the Ripon Society last year, this is why I introduced bipartisan legislation to go on offense with China. The Endless Frontier Act, also known as the United States Innovation and Competition Act. This plan would launch the United States into the next frontier of innovation."
Following his opening remarks, the Hoosier State lawmaker was asked a number of questions, including one about areas of bipartisan cooperation in the Senate this year.
"I do see some opportunities," he stated. "One of the areas that certainly comes to mind is retirement security. That's something that both Republicans and Democrats on the Finance Committee have supported. I've certainly been supportive. I have a few bills. Senator Portman has a fairly consequential suite of bills that he's worked on in a bipartisan way.
"Another area of course is foreign policy. The world is a very dangerous place. I see some opportunities as it relates to China, perhaps supporting Taiwan in different ways that are worthy of our attention and support.
"There are also some tax provisions we can look at, as there is always optimization that can occur within the tax code."
Young was also asked whether he thought the USICA would be enacted this year.
"The main thing that's keeping the Administration from focusing their attention on the USICA is their fixation on Build Back Better," he stated bluntly. "They're reluctant to move on from Build Back Better because it's been the signature legislative initiative of the Biden Presidency."
Finally, Young was asked about lessons he learned from his tenure as NRSC Chair and where he sees the Republican Party heading.
"Being NRSC Chair taught me that candidates really matter," he said. "The electorate pays attention to issues, but they also pay quite a bit of attention to candidates. They look at the persona of a candidate and the words a candidate uses. In the end, it's about hiring a person to represent them in Washington. I know that seems just so foundational and fundamental, but we can forget that sometimes. It's not just about a person with a red or a blue jersey. It's not how a lot of people think. They want to like someone. They want to be comfortable with them. They want to respect them."
As for the future of the GOP, Young returned to the point he made in his opening remarks — it is time for the party to change.
"I would like to see our party take the spirit of Ronald Reagan, or the spirit dare I say of Margaret Thatcher. During that time period, around 1979 and 1980, the world had changed around the American people, around the British people, and around much of the West. Reagan and Thatcher said, 'We need to change policies because the world has changed.' Conservatism, properly understood, is about a very slow and incremental sort of change. Reagan and Thatcher said, 'We don't have time for that. We have an Evil Empire. We have some ossified companies and burdensome regulations, and we need more robust competition. We have also have blue collar workers who feel left behind.'
"They went out and they appealed in that moment of history to new parts of the electorate. We need to do the same thing today. We need to rethink some of our agenda and help everyone feel like they can play a meaningful part in this 21st century economy. We don't need to harness envy, anger, and resentment. That may work in the short term, but it is not a path to building a long-term sustainable majority."
The Ripon Society is a public policy organization that was founded in 1962 and takes its name from the town where the Republican Party was born in 1854 – Ripon, Wisconsin. One of the main goals of The Ripon Society is to promote the ideas and principles that have made America great and contributed to the GOP's success. These ideas include keeping our nation secure, keeping taxes low and having a federal government that is smaller, smarter and more accountable to the people.