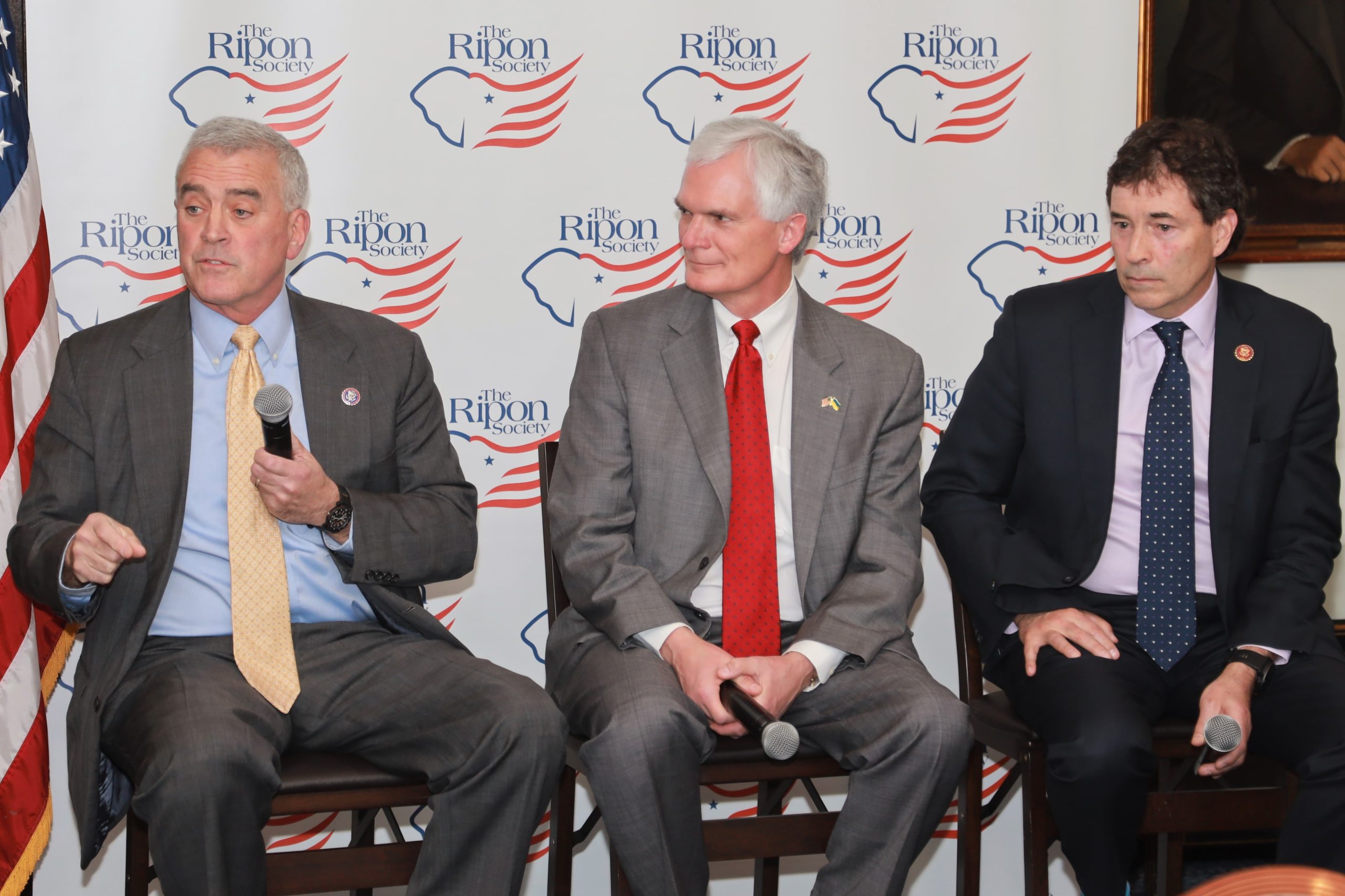 Ohio Reps. Latta, Wenstrup & Balderson Discuss Russia's Invasion of Ukraine and Some of the Key Challenges Facing the People They Represent Back Home
WASHINGTON, DC — The Ripon Society held a dinner discussion Tuesday evening with three leaders of the Ohio delegation of the U.S. House of Representatives, who discussed not only Russia's invasion of Ukraine, but some of the key challenges facing the people they represent back home.
The leaders were U.S. Reps. Brad Wenstrup (OH-2), Troy Balderson (OH-12), and Bob Latta (OH-5), who kicked things off by discussing the importance of affordable and dependable energy to companies within his district.
"One of the things that we have to have in my district is energy – and I mean a lot of it," Latta stated. "I have a steel mill. I have float glass. I have the largest food processing plant in the world in my district. I have probably the largest pre-manufactured furniture maker in the country located in the district. I've got the Central Foundry in Defiance from General Motors. We use a lot of energy."
According to Latta, who is a senior member of the Energy and Commerce Committee, when the U.S. became the largest oil and natural gas producing country a few years ago, companies began to explore moving their operations to U.S. soil.
"These companies told me that they wanted to come to the United States to build their plants here even though they might have cheaper labor where they're from because they didn't have any natural resources of any kind. They said that they would much prefer to pay a higher wage in the United States and bring those plants here, but we're going to see that all end if we don't get this back on track."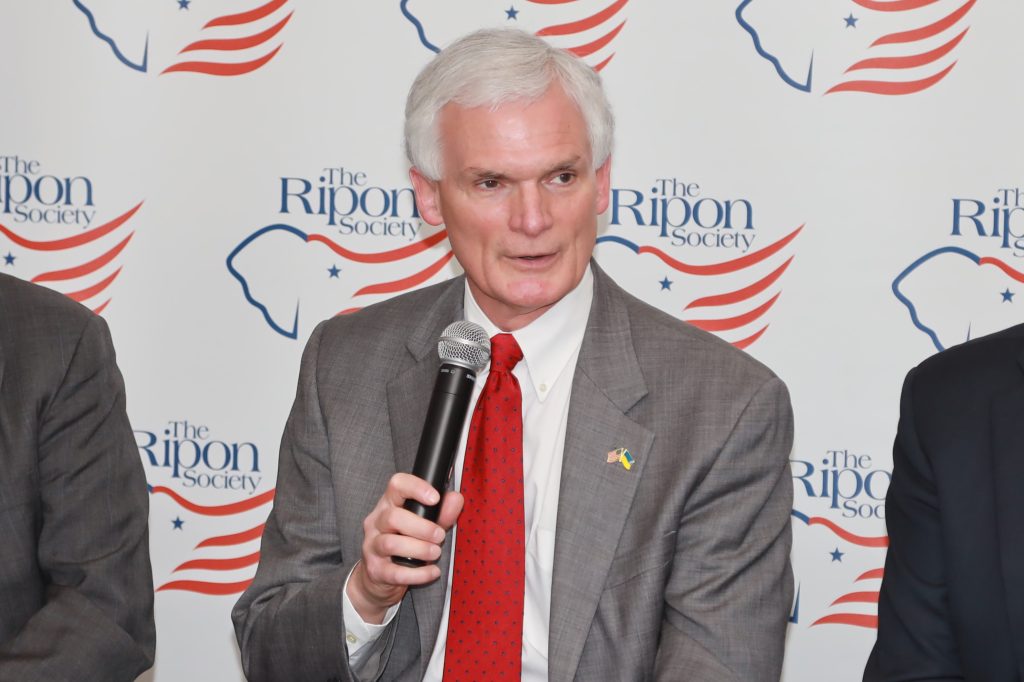 Wenstrup, who serves on the Ways and Means Committee, gave his remarks next, explaining that the United States' reliance on China in our supply chain is a tremendous liability that must be addressed.
"We need to continue to make sure that we bolster our supply chain, and what we can't do on our own we have to do with our allies. That's the only way I think we're going to feel secure as a nation. We learned that the hard way.
"We now have a president that wants to do 'Build Back Broke,' increase taxes, and make us less competitive in the world. This ignores the lesson we learned from COVID – we need to shore up our domestic supply chain. If you would have told me when I was in Iraq that my medical supplies, my protective equipment, and my pharmaceuticals relied on China, I would have said, 'How did we ever get here?' Especially in our military. We've got a lot of making up to do and I think Ohio can be a key part of that."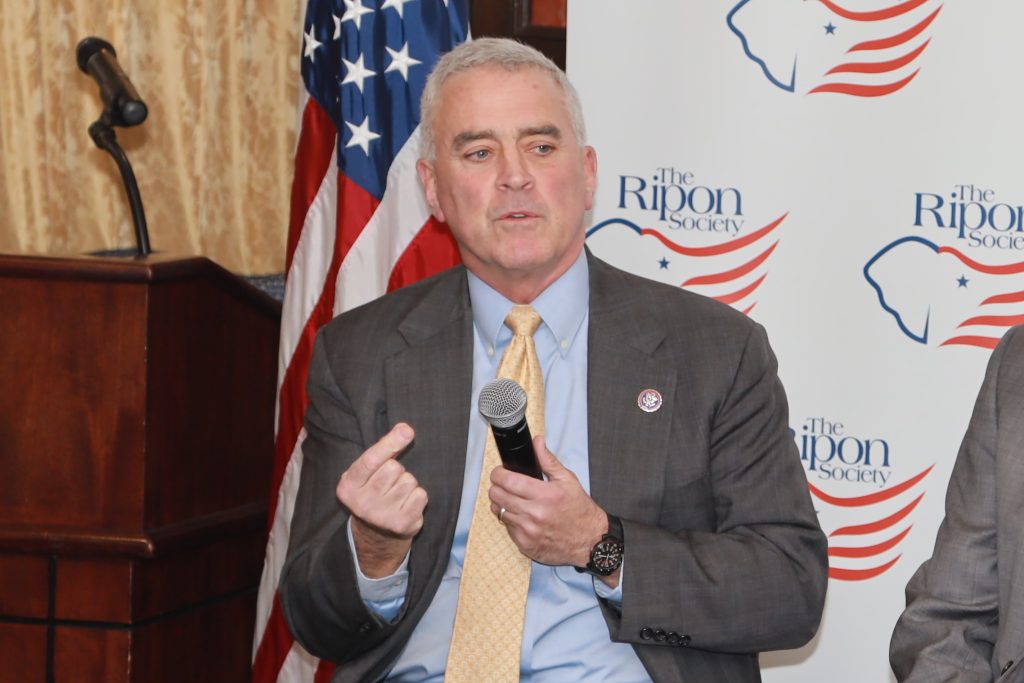 Balderson went next, pointing out that inflation and the rising cost of living is a primary concern for his constituents.
"My mother is 82 years old. It's fun to hear her stories of going to the grocery store because everyone knows who she is, so they say, 'Tell Troy we can't get meat anymore. Tell Troy we can't do this. Tell Troy we can't do that, we can't get this, this is too high. Gas is too high.'"
Balderson says he hears the same feedback when he heads to the grocery store, bringing up a recent interaction he had while shopping back home.
"This gentleman came up to me and said, 'You're that Congressman,'" Balderson recounted. "He said to me, 'Would you tell President Joe Biden to quit taking my money so I can keep it and spend it?' That's a real thing that happens out there, and it's what the district is talking about."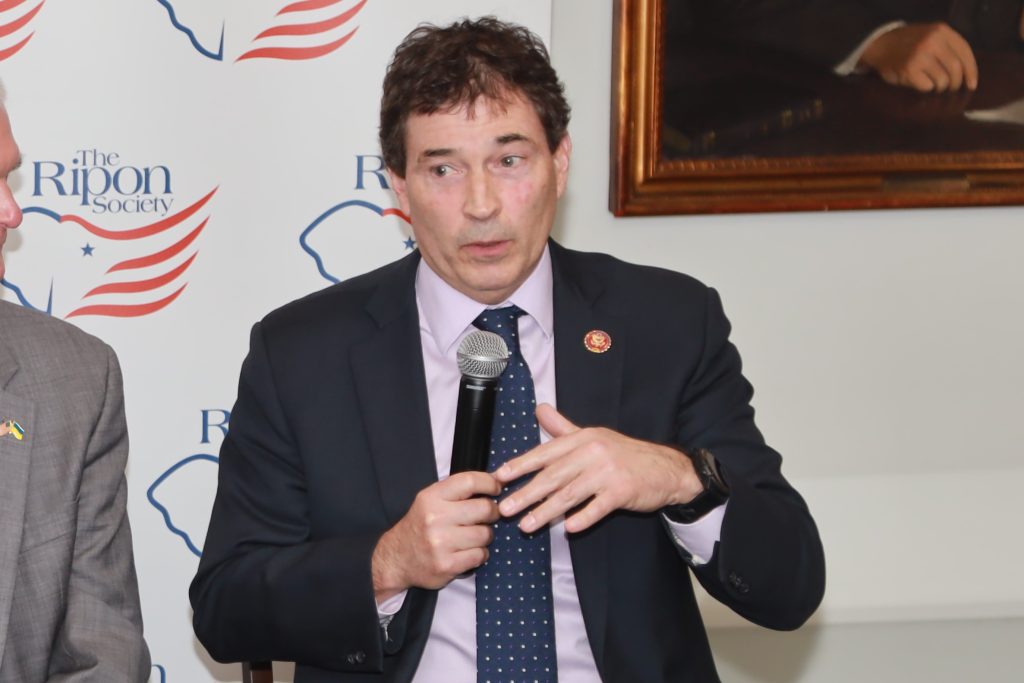 The three-member panel then took questions from the audience, including what their thoughts were on the latest developments in Ukraine. Wenstrup, a member of the House Permanent Select Committee on Intelligence, fielded the question first.
"This is probably the most horrific thing we have seen since the evil that existed during World War II," Wenstrup said, "especially with the attacks on innocent people, civilians. It's a total violation of the Geneva Convention. I think that, in one way or another, there is something that's not registering correctly with the leader of Russia. In many ways, I don't blame the Russian people, because they only get one story and Putin is very good at making things up and selling a different story. What he hopes to gain is beyond my imagination. It's almost to me that he is reacting with paranoia as though Ukraine, NATO, and just about everyone else is about to try and take over Russia, which is not the case. He planned this out and he's working on it with China. I don't really know how this will end, but I do know this, Ukrainians do not want to be Russians."
Latta agreed and pointed out the fact that Vladimir Putin's leadership of Russia and the Russian people is becoming more totalitarian with each passing day.
"This guy is evil. He's a dictator. You may have seen that Russian news reporter, who probably did the bravest thing I've seen anybody do in my entire life. Brave because she knows what's probably going to happen to her when she jumped in front of that camera with that sign. The Russians are being held back and are becoming more cut off from the rest of the world.
"Putin has his finger on the button. As Brad said, this guy is dangerous. And he's saying, 'I don't care if I invaded this country, if you give them any help, we might go to the nuclear option.'"
Finally, Balderson was asked about the progress of the CHIPS Act, which would allocate tens of billions of dollars to support domestic semiconductor production, and the broader piece of legislation to boost American competitiveness. Chip maker Intel recently announced plans to construct a $20 billion manufacturing facility in Balderson's district outside of Columbus, OH.
"The Europeans just did their own Chips Act. It started at $52 billion, go figure, the same amount as ours. They've lowered theirs now to $49 billion. And there's a good chance that they might beat us. That can't happen. This is America and that cannot happen.
"I communicated with Joyce Beatty (OH-3) two Fridays ago on just how important this is and what it means. She specifically said the Speaker wants this done too. And I said, 'Okay, well, let's go.'"
To view the remarks of Latta, Wenstrup, and Balderson before The Ripon Society's dinner meeting on Tuesday, please click on the link below:
The Ripon Society is a public policy organization that was founded in 1962 and takes its name from the town where the Republican Party was born in 1854 – Ripon, Wisconsin. One of the main goals of The Ripon Society is to promote the ideas and principles that have made America great and contributed to the GOP's success. These ideas include keeping our nation secure, keeping taxes low and having a federal government that is smaller, smarter and more accountable to the people.