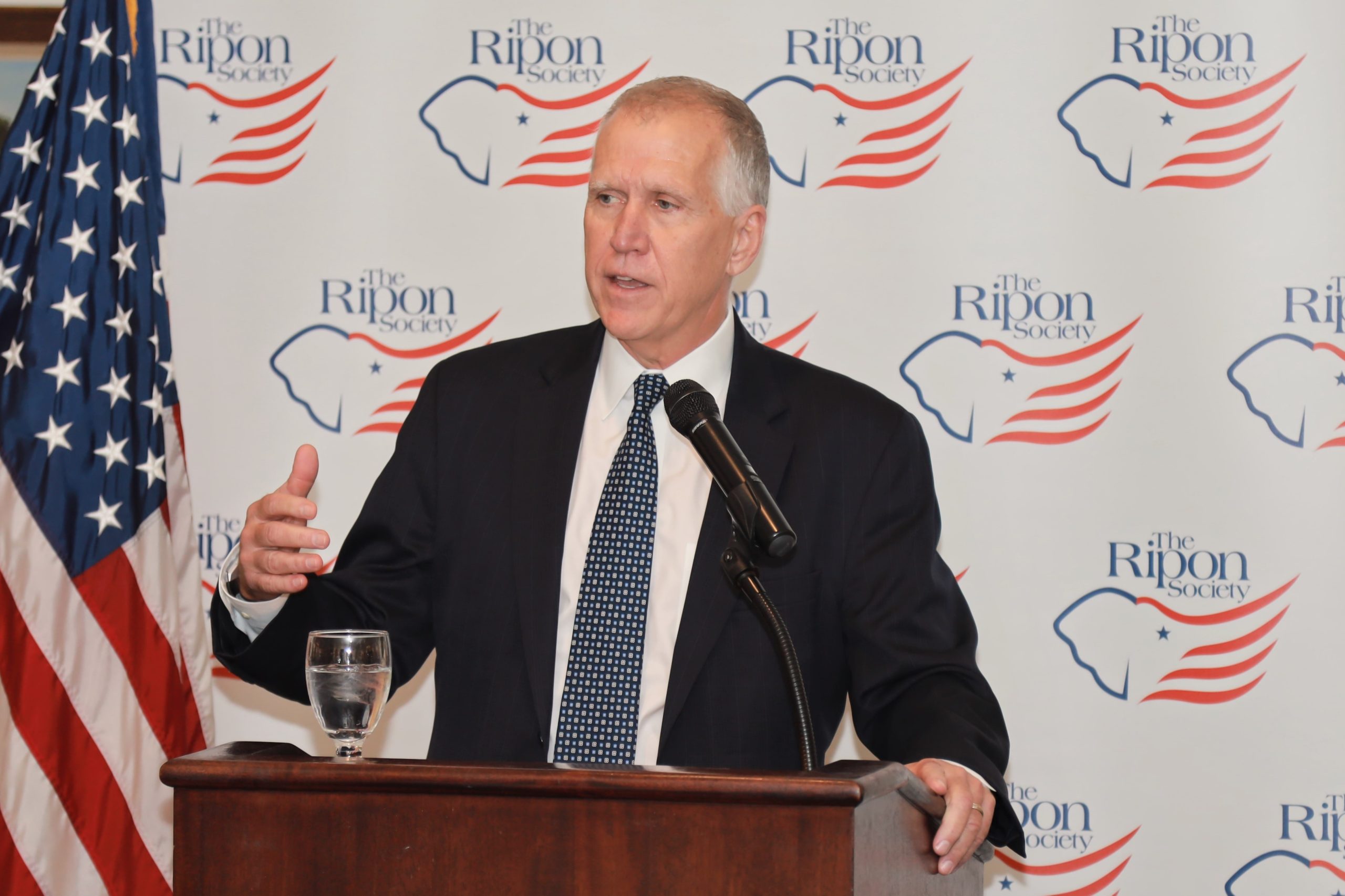 Tillis Discusses the Latest in Ukraine and Underscores the Need to Fight Inflation
WASHINGTON, DC — This past Thursday, The Ripon Society held a luncheon discussion with U.S. Senator Thom Tillis (R-NC). In his remarks, he discussed the current situation in Ukraine, praised the unity of NATO countries, and talked about other key issues facing Americans here at home.
"Vladimir Putin has got to be fuming right now," Tillis stated, "because when he thought about amassing troops at the border, he had planned out this concept where he would obtain air superiority within the first forty-eight hours and take all the ground he wanted to take within about ten or twelve days.
"Many of these troops had no earthly idea why they were at the border, and the majority thought they were there for exercises. Putin thought NATO was in a position where it would be difficult to have any coordinated and swift response. He thought that businesses would not rethink their presence in Russia. He was wrong on all those points."
Tillis, who serves on the Commission on Security and Cooperation in Europe and sits on the Senate Committee on Armed Services, reiterated his satisfaction with NATO's response to the Russian invasion. He also praised Germany's response, with them stepping up and beginning to pull their weight in the alliance.
"I do believe the sanctions that we put into place were smart, and I'm thrilled to see that the German Chancellor lived up to what he suggested he was going to do when I had dinner with him last month. I love the fact that Germany is putting a hundred billion dollars more in their defense budget, and they're committed to the 2% contribution to NATO. I like the way that we are speaking with one voice."
"If NATO continues to execute, and I think that they will, and if other nations around the globe continue to limit Russia's ability to fund this war by limiting the import of Russian energy, I think at some point he will have to decide whether to just take it for what it is – an embarrassing defeat – or have to answer to the Russian people, who are going to suffer through this process as well."
With regards to the recent U.S. ban on importing Russian oil, Tillis explained that the impact felt by the American people could have been minimized if the Biden Administration had not stymied American oil production over the past year.
"I do think that we need to put pressure on the Administration to be honest about energy production in the United States. For an Administration official to say that there are some 9,000 oil leases already approved and all we need is to have them produce what they've been approved to produce, we know that that's nonsense. We know that there are a number of things that are in place that would not make any businessperson decide to invest billions of dollars with all the uncertainty in regulations that we have today. Why on Earth are we taking our energy superiority, the most powerful weapon we have, off the table? It is just absurd to me."
Moving on to his role on the Senate Committee on Banking, Housing, and Urban Affairs, Tillis brought up cryptocurrency and the growing need to implement common sense and forward-thinking regulatory policy.
"Cryptocurrency is something that I think, over time, we're going to have to figure out. It's here now, it's here to stay, and it should be here… But I think we've got to figure out how it interplays with our financial systems, the movement of capital, and a number of other things as we move forward. The real risk, which we want to avoid, is overreaching on regulation. At the same time, we have to ask about what makes sense over time, and make sure that we educate our members so that they understand the consequences of getting it wrong."
Tillis was then asked to address the current state of inflation in America. Earlier that day, it was announced that the Consumer Price Index rose by an annualized rate of 7.9% in February – a four-decade high.
"The President's State of the Union address had a warm bipartisan reception to what he said about Ukraine. I wish that he had continued in that vein with regard to inflation, saying, 'Inflation is real. Don't dismiss it. Don't pretend that energy prices are only going up because Putin invaded Ukraine. Understand that we've got some structural problems that we need to fix…'
"If I were the President's speechwriter, I would say that we have to get domestic energy production back on track and provide certainty to make sure that it is something that has additional strategic value beyond the immediate need to reduce the cost of energy. We should be talking about policies that make sense and encourage businesses to come back to the United States, like getting Endless Frontiers or America COMPETES worked out and implemented."
Tillis, who underscored just how damaging inflation is on the country's middle and working class, explained that the Administration should put Build Back Better aside and focus instead on stimulating economic growth and getting people back to work.
"We need to figure out why we have seven to eight million jobs still open. It's great that we have new entrepreneurs and other business activity, but we have businesses out there that are suffering and are at risk of going out of business. Even when we get those seven million people back to work, we're not going to have enough workers, highly-skilled and low-skilled, to fill them all.
"Let's figure out better policies for guest workers. Let's welcome more people into this country to work, contribute to our economy, and still touch base back at home. Let's talk about the real problem that we have at the border with four times more crossings last year, two million between February and December, than the year before, and likely to have about the same number this year. Let's talk about rising crime and how we can work together and get rid of the 'defund the police' nonsense, which most people probably regret ever trying to make that stick, and get back to something that actually addresses safety. Let's figure out how people can gain back some of those wage gains that have all been lost to inflation over the past year and a half. Let's work together."
To view Tillis' remarks before The Ripon Society's luncheon meeting on Thursday, please click on the link below:
The Ripon Society is a public policy organization that was founded in 1962 and takes its name from the town where the Republican Party was born in 1854 – Ripon, Wisconsin. One of the main goals of The Ripon Society is to promote the ideas and principles that have made America great and contributed to the GOP's success. These ideas include keeping our nation secure, keeping taxes low and having a federal government that is smaller, smarter and more accountable to the people.