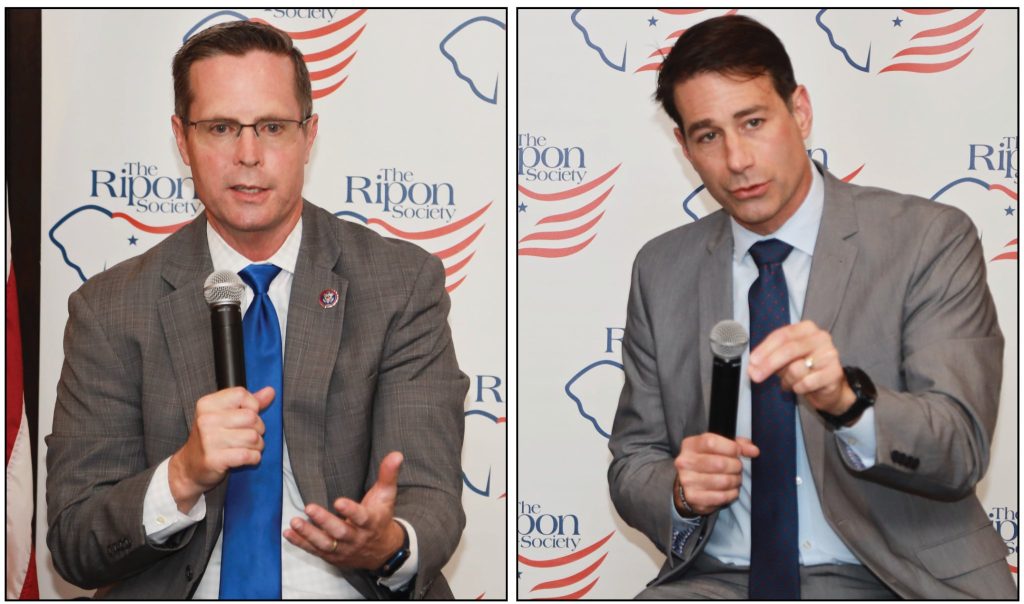 Davis & Graves Work to Make Sure Infrastructure Dollars are Well Spent
WASHINGTON, DC – Nearly six months after the enactment of legislation to rebuild and invest in America's aging infrastructure, The Ripon Society held a breakfast discussion yesterday morning with two leaders in Congress who are working to make sure the bill is being implemented in a way that does the most good and gives taxpayers the biggest bang for their buck.
The leaders were Rodney Davis and Garret Graves. Davis represents the 13th District of Illinois in the U.S. House and serves as the Ranking Member of the Transportation & Infrastructure Subcommittee on Highways and Transit, while Graves represents the 6th District of Louisiana in the House and serves as the Ranking Member of the T&I Subcommittee on Aviation.
Graves spoke first.
"We can fight over a lot of things, but infrastructure's not one," he said. "Look at the devastating impact on the supply chain. Part of this is a result not just of our lack of investment in infrastructure, but also the way that we actually plan — that is, the way that we do pre-construction engineering and design activities in infrastructure. The good news is that we did an infrastructure bill. The bad news is that the bill, in my opinion, has money that is poorly prioritized. And you're going to see it poorly executed.
"With regard to next year, I think that you're going to see really aggressive oversight over that legislation to make sure that the dollars are put in the right buckets and that we're truly prioritizing it correctly. Just to give you an example: 13 percent of all the funds went to the state of California. Nothing against California, but the reality is that they're not using a real transparent, metrics-based process. What Buttigieg did when he took the reins of the agency is that he came out and said, 'We're going to use climate change. We're going to use environmental justice, racial equity, enhancing union opportunities, and addressing historically underserved communities.'
"Look, I don't have a problem with any of these things necessarily — maybe the union ones. But just have transparent metrics on how you're going to do this … I think that they've done a flawed job prioritizing the funds, and so I'm really looking forward to working with Rodney and some of our other folks next year on aggressive oversight over that legislation."
The Louisiana lawmaker also took a moment to discuss the focus of his subcommittee, aviation, and how it is one area where America retains a global advantage – at least, he said, for now.
"Aviation is one spot where we're actually a little bit further ahead than the rest of the world," Graves observed, "but we are quickly losing our advantageous position. We're going from approving one 737 a week into a scenario where we're going to see 5,000 drones come out in a week. The FAA's organizational structure — their regulatory structure — cannot facilitate the onslaught of volume and technology that we're going to see, which is going to cause us to cede our aviation leadership role in the United States to countries in the Middle East, Europe, Australia, New Zealand. All these countries are trying to lean forward."
In response, Graves said he believes it is time for Congress to act.
"We're going to be working on a larger FAA re-authorization bill next year," he noted. "One thing that I would like to do is try and grab a couple of rifle-shot drone one-man systems provisions and begin moving those a little earlier, having to do with type certification, beyond visual line of sight, and things like FAA reorganization structure.
Davis agreed.
"We're going to address at the policy level some of the things that, as Garret said, can hold American innovation back," he stated.  "We've got an administration that tries to do what they can to increase the bureaucracy. We had the One Federal Decision Act that was part of the big infrastructure bill to limit all the environmental review processes to less than two years. It's not like it can't be done. All our competitors are doing it.
"They rolled out some proposed rules and regulations last night, and they're a disaster. They're an absolute disaster. At the same time, you have Chairman DeFazio saying to the Administration to get that money out, because some fantasy that Republicans are going to claw it back exists in his head. It's not congruent to what the Administration is doing. And in the end, politically, it advantages us, but it hurts the country. When you have laws that were passed even though we might not have supported them, we ought to make sure that they're implemented correctly."
Davis also made a point of commenting on Graves' last point regarding U.S. leadership on aviation and the role of the federal government in that regard.
"You mentioned drones," the Illinois Republican stated. "I remember debating Peter during the FAA reauthorization, because I passed an amendment that said any drone technologies of 4.4 pounds or less should not be subject to FAA authorization and FAA approval. Well, the FAA basically wrote the rule to where they still have jurisdiction over drones that small. So, we've got to watch that agency. And as Garret said, we are going to utilize our oversight responsibilities very effectively."
Following their opening remarks, Davis and Graves took a number of questions, including one about the causes of inflation and what Congress and the Biden Administration should be doing to get skyrocketing prices under control.
"One of the most pervasive influences [on inflation] is energy," Graves said. "You've seen just extraordinary prices. Just last night, the Administration announced that they are not going to hold a lease sale for offshore energy, where we currently produce about 18 percent of all the oil, and four to five percent of all the natural gas. They're not going to hold one. This is the first administration in modern history that has not had a single lease sale."
The result, he added, has been to throw a wrench in the ability of companies to accurately budget and prepare for the future.
"You're looking at a 10-year strategy or beyond, and you've got these wild changes," he observed. "You've got people who are running agencies saying, 'We're not going to produce energy on our lands or waters. That is such a disruptive approach. Do I think that there is a contribution from the return of the economy as COVID begins to appear to wane? Yes. Is there increased economic activity and demand? Yes. But I think that the greatest impact is energy prices, and I have never seen such inexperienced and flawed strategies on energy in my entire life."
"And that's not a political statement. I have never seen such stupid policies on energy. And not just making a mistake, as we all do, and then fixing it, but doubling and tripling down on the same dumb things."
Davis echoed his colleague's remarks.
"Garret's absolutely right when it comes to the lack of a focus from this Administration on addressing energy issues," he stated. "The Far Left that this Administration kowtows to is running the show when it comes to supposedly dealing with the inflationary issues and economic issues. They try to gaslight the American people into thinking there's no problem, but we know there's a problem.
"Every family knows there's a problem when they go to the gas pump or when they go to the grocery store. My wife commented to me just a few weeks ago, 'This cart used to cost a hundred dollars. It now cost $200.' That's real money having a real impact on American families. And they don't care."
To view the remarks of Davis and Graves before The Ripon Society's breakfast meeting yesterday morning, please click on the link below:
The Ripon Society is a public policy organization that was founded in 1962 and takes its name from the town where the Republican Party was born in 1854 – Ripon, Wisconsin. One of the main goals of The Ripon Society is to promote the ideas and principles that have made America great and contributed to the GOP's success. These ideas include keeping our nation secure, keeping taxes low and having a federal government that is smaller, smarter and more accountable to the people.