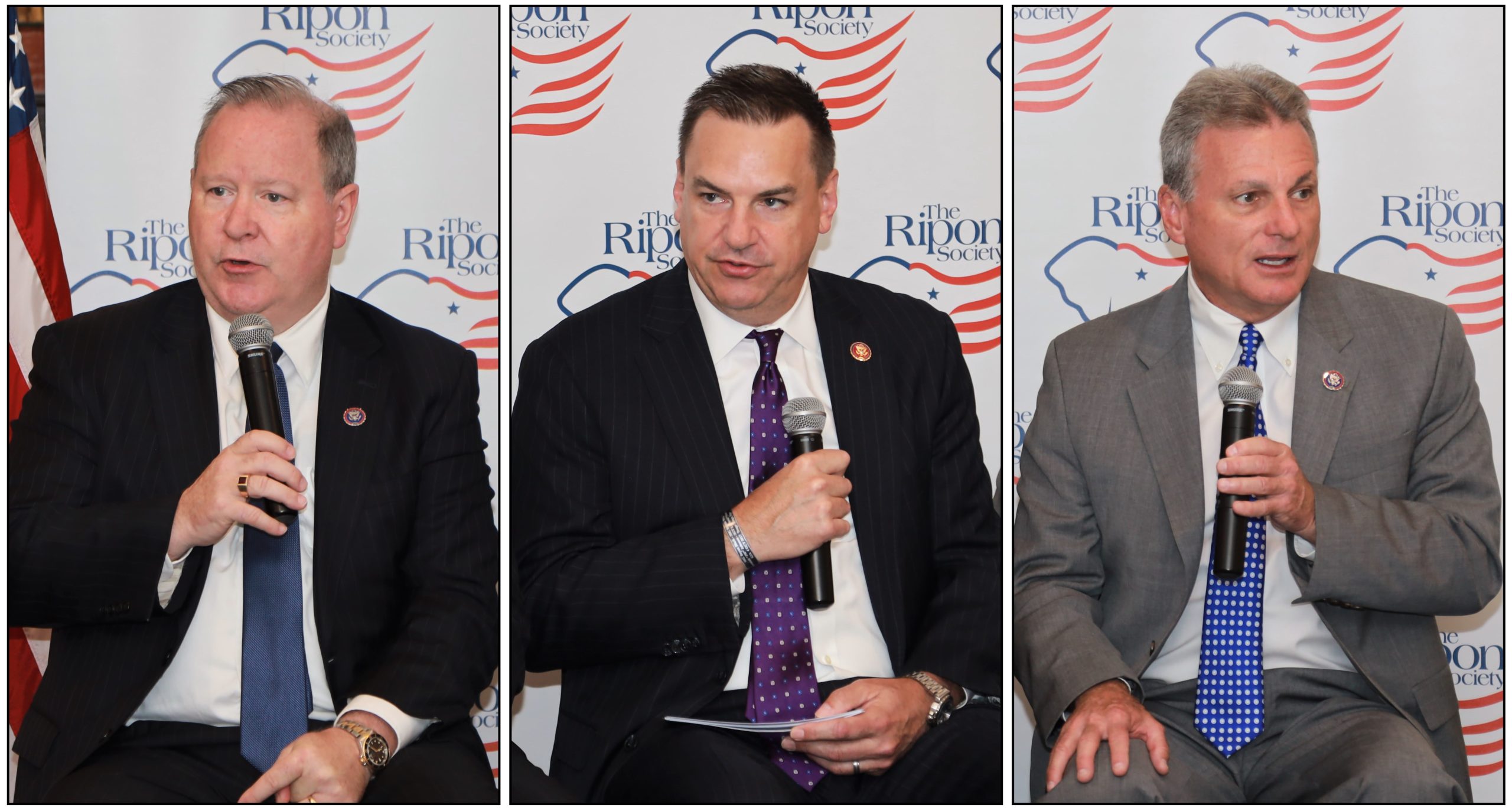 Bucshon, Hudson & Carter Discuss Lessons Learned from Covid-19 & the Need to Prepare for the Next Pandemic
WASHINGTON, DC — With life in America slowly getting back to normal in the wake of the COVID-19 pandemic, The Ripon Society held a breakfast discussion this past Thursday morning with three leaders of the House Energy & Commerce Committee who are focused not only on the lessons learned over the past two years, but what Congress should do to make sure the country is prepared for future pandemics down the road.
The leaders were U.S. Reps.: Larry Bucshon (IN-8), who spent 15 years as a practicing physician before his election and now serves as Chair of the GOP's Healthy Future Task Force Subcommittee on Doctor/Patient Relationships; Richard Hudson (NC-8), who serves as Secretary of the House Republican Conference and is also the Chair of the Healthy Future Task Force Subcommittee on Security; and, Earl L. "Buddy" Carter (GA-1) who owned his own pharmacy for 32 years prior to his election and now serves as Co-Chair of the Community Pharmacy Caucus.
Bucshon kicked off the discussion by touching on some of the successes and failures of the past years and one of the unfortunate by-products of the pandemic — namely, how the public's trust in government has been further eroded.
"At the end of this, we're going to have to help our public health institutions regain the trust of the American people," the Indiana lawmaker stated. "From my perspective, the actions taken by the CDC seem to be inconsistent and changing all the time. I can tell you that the people I represent have lost confidence in that institution, which is really a big shame because, as a doctor, it has been historically looked to worldwide for health-related issues."
According to Bucshon, this erosion of trust has also had another consequence — and that is to drive down the rate of vaccination, something he said is particularly true in his home state. "The vaccination rate in Indiana is still very low," he said. "And it's primarily because of the lack of confidence in the government."
Moving forward, Bucshon said, the message of the past two years should be clear:
"We have to make investments in our public health infrastructure to make sure the next time we're ready to tackle this type of problem."
Hudson agreed and opened his remarks by talking about his role as Chair of the Healthy Future Task Force Subcommittee on Security and the Subcommittee's main goal between now and the end of the year.  "My Subcommittee has the goal to be mission ready for the next health care threat," he stated matter-of-factly.  "Our focus is on supply chains and Chinese accountability, pandemic preparedness, and public health security."
Beyond these three areas, the North Carolina Republican added, the Subcommittee is also focused on another threat facing Americans that has only gotten worse over the past two years.

"Fentanyl is also a big priority for us," he said. "We did a lot of work on opioids a few years ago, and I think a missed opportunity this Congress is not having done more oversight over that. Opioid usage has shot through the roof during the pandemic and is something we're not really focusing on. It should be."
"We're seeing deaths in every neighborhood in America, and it's only getting worse. At the Southern border, we captured enough fentanyl to kill every American seven times over. That's what we caught…How much got by that we don't know about? That's what scares me."

Carter concurred and pointed to the precarious state of America's supply chain and dependence on foreign countries for essential medicines and medical supplies as priorities that must be addressed sooner rather than later.

"We knew that we were too dependent on other countries like China and India for our pharmaceutical needs," he stated. "We realized that when suddenly we couldn't get some of those pharmaceuticals, because 90% of all the antibiotics in this world are made in China, and when we had trouble getting PPE.

"I am leading a piece of legislation called the MADE in America Act, which tries to repatriate some of those pharmaceutical manufacturers who have gone overseas primarily because of labor costs."

Carter is also trying to overhaul how the U.S. stockpiles medicine and medical supplies for public health emergencies.

"Currently, we have national stockpiles," he noted. "We should continue to have those. But I've introduced legislation that would create state-level stockpiles. It would be a pilot program that will give grants to the states if they create their own stockpile to compliment the federal stockpiles. Not to replace the federal stockpiles, but to complement. That will help us to be better prepared in the future with that.

"These things are extremely important. If we do not learn our lessons from this, then shame on us."

Following their opening remarks, Bucshon, Hudson, and Carter were asked a number of questions, including one about the most important lesson that they believe has been learned from the COVID-19 pandemic.

"Telehealth has become an integral part of our health care system," Carter explained. "Also, look to the success of Operation Warp Speed. We shouldn't rest on those laurels. We should still be prepared. But we now know that we can respond quickly if we set our mind to it through public-private partnerships."

Hudson agreed with his colleague, and also pointed to creating a clear and concise leadership framework for public health emergencies going forward.

"The lesson learned is that we needed a better command-and-control for pandemics," he said. "We need to look at having White House-level leadership overseeing things and saying, 'Here is your job. You go do this. You go do that.' Assigning the different components in government, making sure it is coordinated, changing when we need to stop and go the other direction. We need much better command-and-control."

Bucshon reiterated his earlier sentiments and said that the trust in America's public health agencies must be restored.

"The pandemic showed us that some of our core institutions like CDC and FDA are not necessarily what we thought from a leadership perspective," he stated. "I think the idea of having the CDC Director be Senate confirmed is great. We need to make sure these core institutions are doing the things that they're supposed to be doing. We also need to try to keep the politicians out of these core institutions as much as possible, like the CDC, which is supposed to be about science and facts."
To view Bucshon, Hudson & Carter's remarks before The Ripon Society's breakfast meeting on Thursday, please click on the link below:
The Ripon Society is a public policy organization that was founded in 1962 and takes its name from the town where the Republican Party was born in 1854 – Ripon, Wisconsin. One of the main goals of The Ripon Society is to promote the ideas and principles that have made America great and contributed to the GOP's success. These ideas include keeping our nation secure, keeping taxes low and having a federal government that is smaller, smarter and more accountable to the people.