Also, a look at the Battle for the House & Senate, and an in-depth report on unchecked proxy voting in the 117th Congress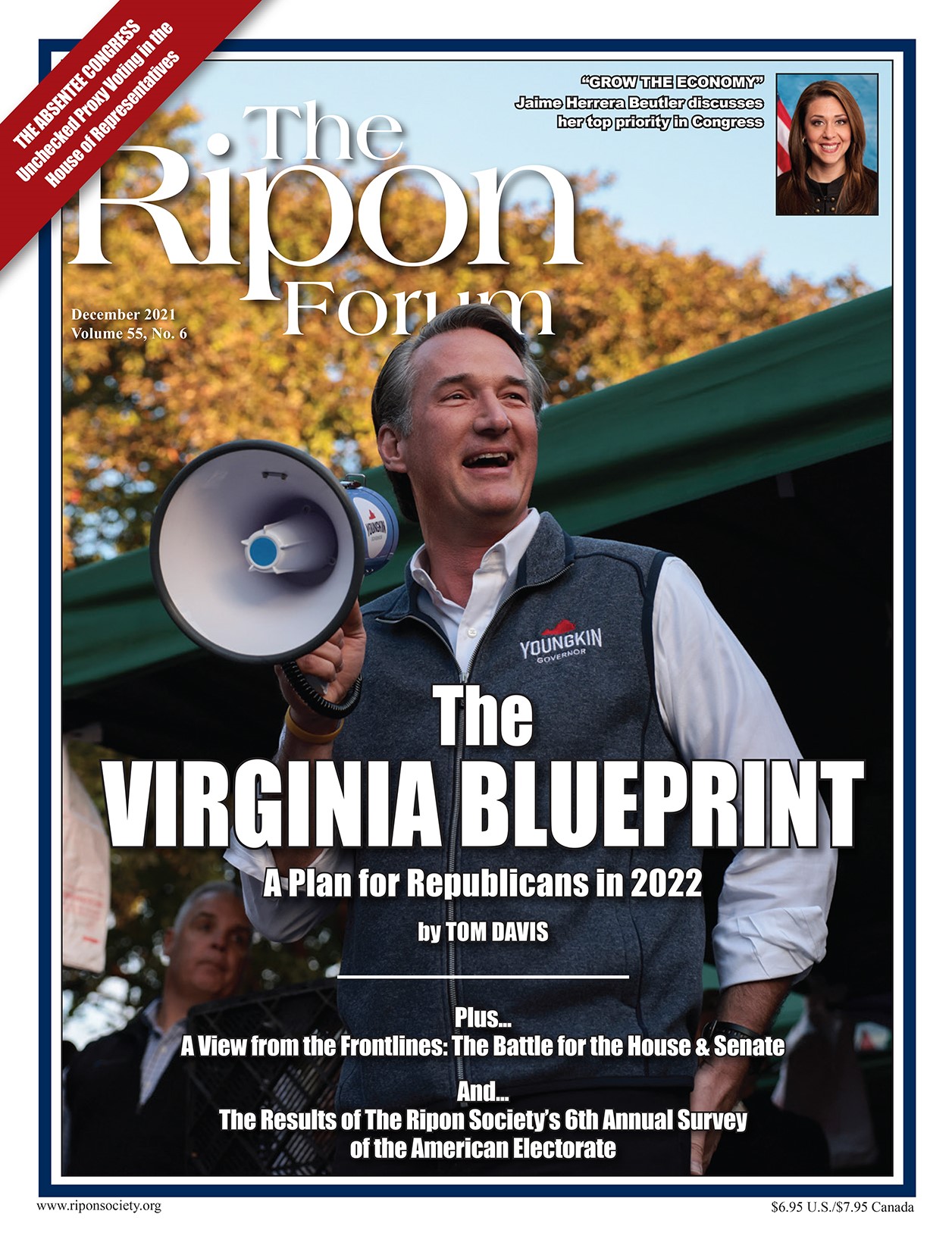 WASHINGTON, DC — With the mid-term elections less than a year away, the latest edition of The Ripon Forum examines the road ahead for Republicans and some of the key challenges facing both political parties – and the nation – heading into 2022.
Leading the Forum's coverage is an essay by former Congressman Tom Davis examining Glenn Youngkin's recent election as the 74th Governor of Virginia.  Davis, who represented the 11th District of Virginia in the U.S. House and also served as Chair of the NRCC, argues that Youngkin's victory provides the GOP with a blueprint to run on in next year's campaign.
"Elections are about the future," Davis writes, "and Glenn Youngkin epitomized a post-Trump party and post-COVID governance.  He navigated the Trump factor brilliantly in a state Trump not only lost by 10 percentage points, but where he is still upside down in the polls … Beyond that, Youngkin's dominating performance in rural Virginia demonstrates that Republican strength in rural areas is not merely a Trump phenomenon, but a manifestation of rural America's antipathy to a Democratic party controlled by coastal elites."
Looking ahead to next year, Davis was optimistic about Republican prospects, but had a word of warning for his GOP colleagues, as well. "Republicans are positioned for a great mid-term election with one note of caution," he wrote. "Many voters are angry and are not enamored with Republicans and our agenda. They only want to use us to balance government. Our challenge is not to make ourselves the issue."
Davis' cautious optimism about next year's campaign is shared by Parker Poling and Kevin McLaughlin. Poling is the former Executive Director of the NRCC, while McLaughlin served as her counterpart as Executive Director of the NRSC.  Each has penned separate essays in this latest edition assessing the battle for control of the House and Senate next year.
"Both redistricting and the political environment are winds at Republicans' backs at the current moment," Poling writes of GOP prospects to recapture the House. "Republicans need to continue their strong fundraising and develop and articulate a message that appeals to the broad middle of the electorate."
McLaughlin struck a similar note.  "Republicans have the winds at our back in the quest to take back the Senate majority in 2022 and are well positioned to gain the one seat needed to do so, if not many more," he writes.  Cautioning against overconfidence, he also adds: "Despite all that we have going for us, the last thing Republicans can do is rest on our laurels."
The political environment and GOP prospects in 2022 are further explored by veteran strategists Ed Goeas & Brian Nienaber in an essay analyzing the results of The Ripon Society's 6th Annual National Survey, which were released this past week.
In addition to examining next year's campaign, this latest edition of the Forum also includes an in-depth report on "The Absentee Congress: Unchecked Proxy Voting in the House of Representatives."  Authored by Stephen Jackson & Kyle Chance of The Ripon Society, the report examines every proxy vote cast in the 117th Congress through the Friday after Thanksgiving, November 26th.  The results are rather eye-opening.
"Perhaps the most jarring outcome of perpetual proxy voting is some Members have taken to practically never coming back to Washington – sometimes not showing up for months on end," Jackson and Chance write.  "Some Members of Congress may be genuinely concerned about the pandemic, deciding to protect themselves by not travelling more than necessary. But for others, this reasoning seems to fall apart when looking at what they are up to while votes are taking place.
"For example, despite submitting to the Clerk of the House a letter stating he could not be present that day due to the 'ongoing public health emergency,' Rep. Rush was able to travel back to Washington on November 15th, where he attended a White House bill signing. There, he was able to have a maskless selfie, albeit outside, with Secretary of Transportation Pete Buttigieg. Despite making it back to the nation's capital that day, he was still absent from the House floor that day for votes. Moreover, photos and videos he has posted on social media make clear that he has not refrained from attending in-person events, both indoor and outdoor, while he is at home.
"And Rep. Rush is not alone. Other Members have chosen to vote by proxy under the guise of pandemic safety in order to attend local events, such as Rep. Grace Meng (D-NY-6) attending ribbon cuttings and Rep. Donald Payne, Jr. (D-NJ-10) posing for photo-ops in their districts on the same day they proxy voted."
In addition to the report on proxy voting, the latest edition of the Forum also includes an op-ed authored by Troy Cribb of the Partnership for Public Service examining the critical role that federal Inspectors General play. With billions scheduled to be spent on infrastructure, Cribb argues that Congress needs to do more to ensure that IGs are able to work independently and free from interference from agency and executive branch leadership.
In other pieces for this edition, Mike Gonzalez of the Heritage Foundation examines the results of this year's election and explains why, given the fact that Hispanic voters are increasingly voting for Republicans, demography is not destiny for the GOP.
With ranked choice voting being adopted by New York City and other cities and towns across America, Gary Bartlett of the Ranked Choice Voting Resource Center and Nick Murray of the Maine Policy Institute debate whether it is a passing fad or growing success story.
This edition of The Ripon Forum also includes a tribute to Judy Van Rest, a veteran policy professional and longtime member of the Forum's editorial board who passed away last month at the age of 75.
And in the latest Ripon Profile, Congresswoman Jaime Herrera Beutler explains why growing the economy is one of her top priorities on Capitol Hill.
The Ripon Forum is published six times a year by The Ripon Society, a public policy organization that was founded in 1962 and takes its name from the town where the Republican Party was born in 1854 – Ripon, Wisconsin. One of the main goals of The Ripon Society is to promote the ideas and principles that have made America great and contributed to the GOP's success. These ideas include keeping our nation secure, keeping taxes low and having a federal government that is smaller, smarter and more accountable to the people.