The Ripon Forum
Volume 55, No. 6
December 2021
Unchecked Proxy Voting in the House of Representatives
by STEPHEN JACKSON & KYLE CHANCE
Proxy voting gives Members of Congress the ability to designate one of their colleagues to vote on their behalf. This was first introduced in the House of Representatives back in May of 2020 as a temporary measure. At the time, Speaker Nancy Pelosi said it was essential for Congress to avoid cross-country travel and limit gathering in the confines of the Capitol building to slow the spread of COVID-19. On the other side of the Capitol, under both Republican and Democrat control, the Senate never adopted a proxy voting policy during the pandemic.
In mid-December of 2020, safe and effective vaccines first became available to Members of Congress. And by May of this year, CNN reported that all House Democrats were vaccinated. Yet, the "temporary" ability to vote remotely by proxy has remained in place. Speaker Pelosi has extended the rules permitting proxy voting every couple of months, most recently through the end of 2021.
To better understand the extent of proxy voting in the House, we logged every proxy vote cast in the 117th Congress through the Friday after Thanksgiving, November 26, 2021. From this, it is apparent that some Members of Congress have used this capability more than others – including a handful of Members who have not cast a vote on the House floor in nearly eleven months.
Pelosi's Majority by Proxy
The beginning of the 117th Congress was historic because the Democrats had only a nine-seat majority. Democrats have not begun a term with a majority this slim since the 46th Congress in 1877. This majority would shrink down to as little as six seats in the first few months of the year through the passing of one Democratic Congressman and by a handful of others resigning to fill positions in the Biden Administration. With little room to operate, it was imperative for Speaker Pelosi to ensure the numbers remained on her side.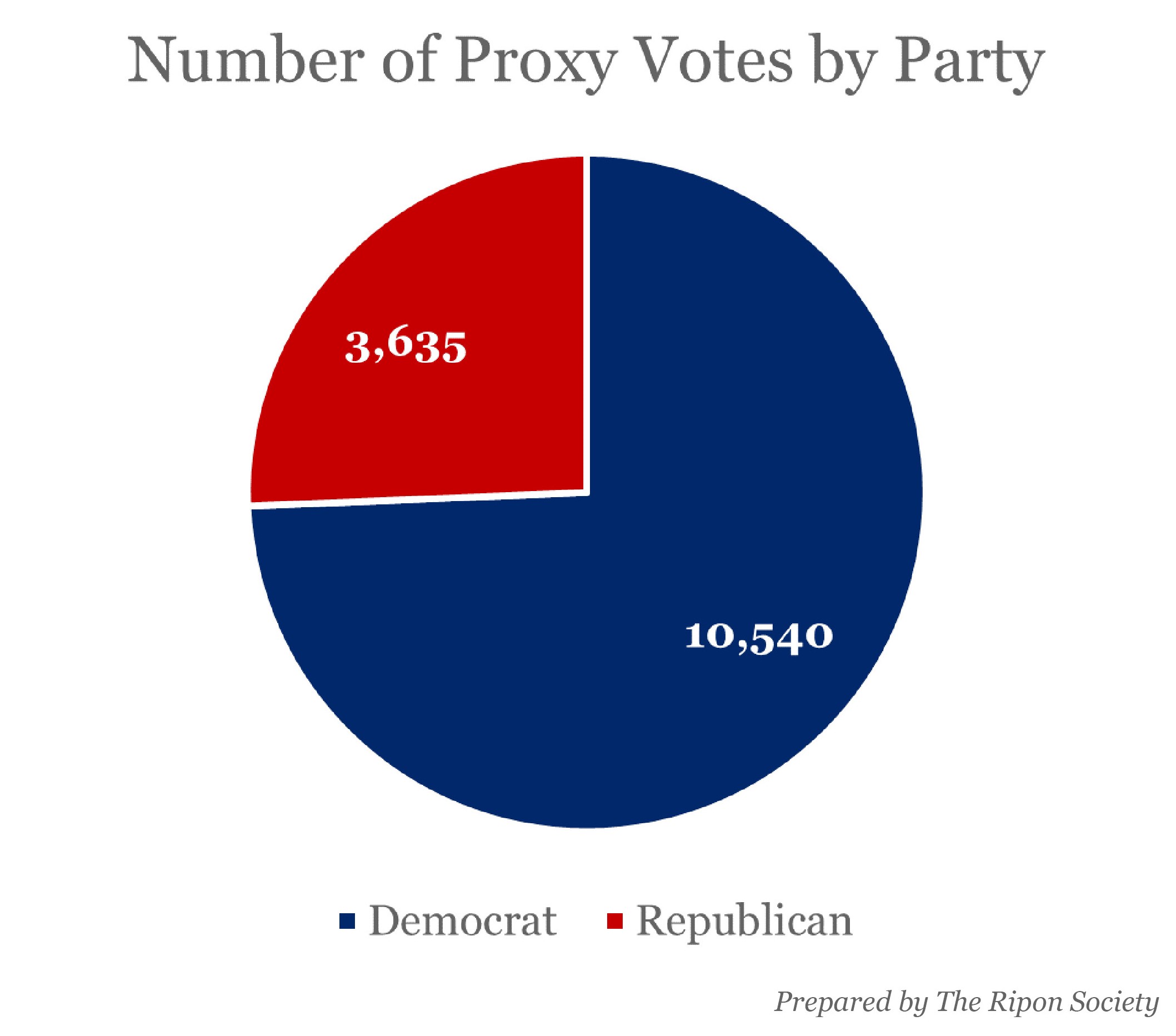 Before proxy voting, congressional leadership needed to navigate the inevitable obstacles of Representatives falling ill or becoming unable to travel. Votes which were expected to be close would be delayed until a missing Representative arrived in Washington, D.C.
Long term absences, such as by the late-Congressman Walter Jones, Jr. (R-NC-3) who missed 150 votes in the four months before he died in February of 2019, would alter the voting calculus in the chamber. In fact, earlier this year, Rep. Alcee Hastings (D-FL-20) was absent for over three months before he passed in April. But, with proxy voting now available, he was still able to cast his vote in Washington eighty-six times while battling pancreatic cancer from his home in Florida. What otherwise would have been a setback to Speaker Pelosi's narrow whip count was instead a reliable vote for her and the Democratic Caucus.
How impactful has proxy voting been in the House this year? On average there were 37.9 proxy votes – 28.2 by Democrats and 9.7 by Republicans – cast during each of the 375 votes we analyzed. In fact, 32.8% of those 375 votes were decided by a margin smaller than the net number of Democrat-cast proxy votes. In other words, Democratic proxy voting swung the results nearly a third of the time.
Absent Members
Perhaps the most jarring outcome of perpetual proxy voting is some Members have taken to practically never coming back to Washington – sometimes not showing up for months on end.
Rep. Al Lawson (D-FL-5) and Rep. Frederica Wilson (D-FL-24) have not voted in-person since January 11th, and Rep. Bobby Rush (D-IL-1) has not voted on the House floor since January 13th. After proxy voting the first quarter of the year, Rep. Ann Kirkpatrick (D-AZ-1) has not voted in person since April 19th, about a month after she announced she wasn't seeking reelection.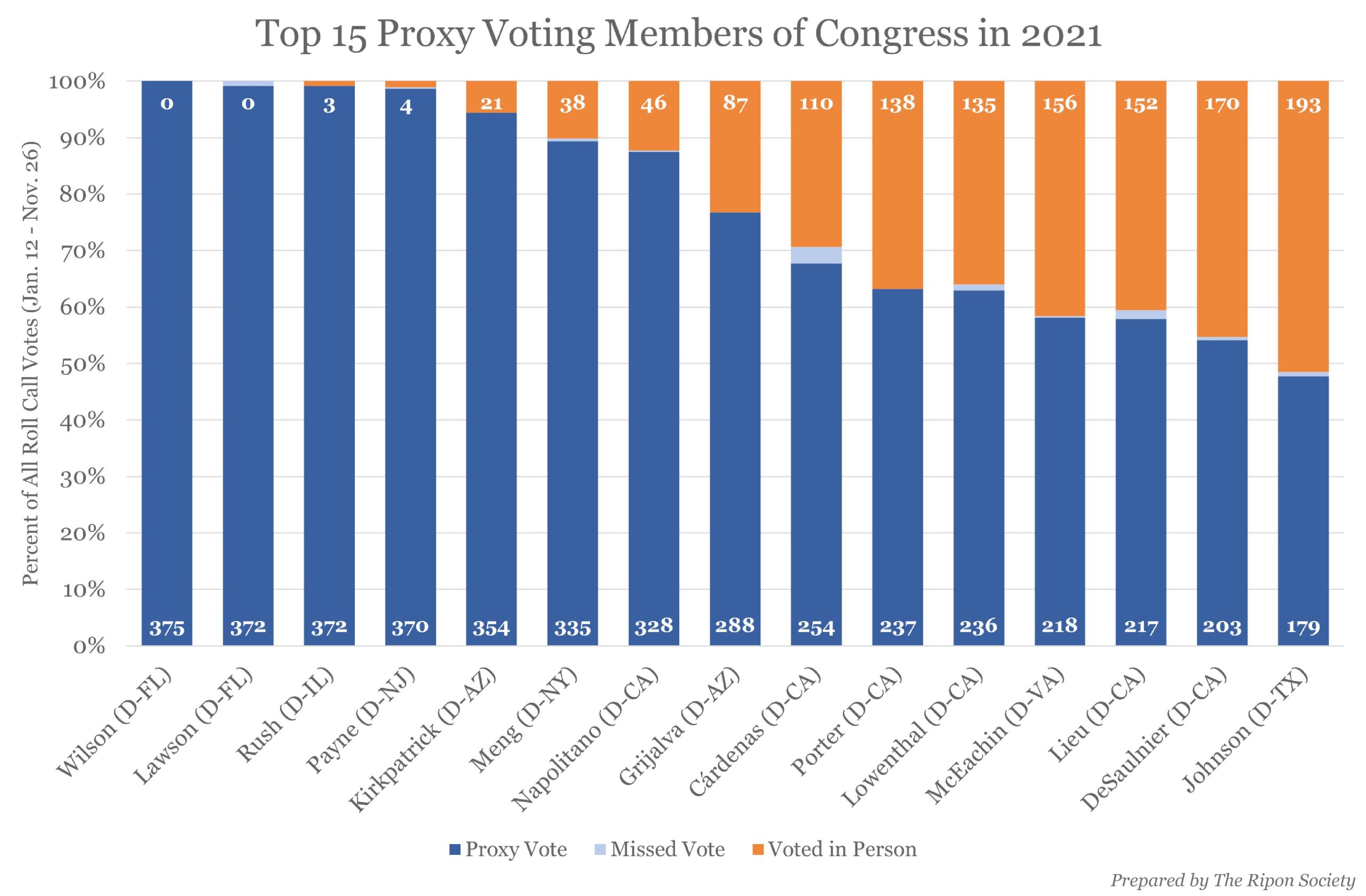 While Republicans are not proxy voting to the same extent as the Democrats, the top three GOP Members proxy voted about a third of the time over the course of the 375 roll call votes – Rep. Greg Steube (R-FL-17), Rep. Vern Buchanan (R-FL-16), and Rep. Brian Babin (R-TX-36).
Some Members of Congress may be genuinely concerned about the pandemic, deciding to protect themselves by not travelling more than necessary. But for others, this reasoning seems to fall apart when looking at what they are up to while votes are taking place
For example, despite submitting to the Clerk of the House a letter stating he could not be present that day due to the "ongoing public health emergency," Rep. Rush was able to travel back to Washington on November 15th, where he attended a White House bill signing. There, he was able to have a maskless selfie, albeit outside, with Secretary of Transportation Pete Buttigieg. Despite making it back to the nation's capital that day, he was still absent from the House floor that day for votes. Moreover, photos and videos he has posted on social media make clear that he has not refrained from attending in-person events, both indoor and outdoor, while he is at home.
And Rep. Rush is not alone. Other Members have chosen to vote by proxy under the guise of pandemic safety in order to attend local events, such as Rep. Grace Meng (D-NY-6) attending ribbon cuttings and Rep. Donald Payne, Jr. (D-NJ-10) posing for photo-ops in their districts on the same day they proxy voted.
Even among Members who come to Washington every week the House is in session, it appears many like to create their own long weekends by showing up a day or two late or leaving a day or two early. Members proxy vote more often on Mondays, Fridays, and Saturdays compared to other days of the week – with nearly two times as many Members proxy voting on Fridays compared to Wednesdays.
Not all Members who vote by proxy do so simply to avoid travelling to Washington. Rep. Colin Allred (D-TX-32), for example, utilized proxy voting for three months this year when his son was born. And Rep. Elise Stefanik (R-NY-21) used proxy voting for the latter part of August into October after having her first child on August 27th.
Also, not every Member is voting by proxy at the same rate. Half of all proxy votes cast can be attributed to just 38 individuals. And 106 Members have not voted by proxy at all this year – 83 Republicans and 23 Democrats.
But, with 2022 and the midterm election just around the corner, it is important to point out that proxy voting, as it currently exists in the House, can easily be taken advantage of as Members hit the campaign trail next year. If left in place as is, it is possible for legislators to host fundraisers across the country and campaign back home rather than coming to work in Washington.
Recommendations
Speaker Pelosi has renewed the "temporary" capability to proxy vote several times since its inception last year. And though initially stated to be a tool to protect the health of Members of Congress, it seems it has become a means for House Democrats to protect her majority and for rank-and-file Members to legislate at their leisure.
If Speaker Pelosi and Democratic leadership insist on keeping proxy voting in place, then a number of reforms should be enacted to prevent possible abuse going forward.
To dramatically increase transparency, the Clerk of the House should integrate all proxy vote data, including who cast proxy votes for whom, into the XML data it currently posts online for all floor votes. Congress should declare a handful of specific, extraordinary circumstances in which a Member can vote by proxy. Valid circumstances could include reasons such as parental leave, serious illness, and bereavement leave, similar to those outlined in the Family and Medical Leave Act. Additionally, Members should publicly submit a letter for every proxy vote they cast which includes this justification.
If proxy voting persists at the current scale, it will damage the foundation of the House and Congress as an institution. The current House schedule of four-day, three-night workweeks means legislators hardly spend enough time in Washington as it is.
Some point to Speaker Gingrich as the innovator of this truncated work calendar, built to ensure vulnerable Members have adequate time to fundraise and campaign. But the issues surrounding the House calendar are now a bipartisan problem as it has persisted under majorities held by both parties.
Former Congressmen point to the lack of interaction between Members as one of their frustrations with the institution and why they believe Congress is not working – and congressional scholars agree. Ultimately, proxy voting only exacerbates congressional dysfunction when it allows Members to leave town at their convenience – or avoid Washington altogether.
Stephen Jackson is the Director of Policy at The Ripon Society and Kyle Chance is the Deputy Editor of the Ripon Forum.
Proxy Voting during the 117th Congress
Proxy voting data from January 3 to November 26, 2021 — Roll Call votes 12-386.
Proxy voting was not implemented for Roll Call votes 1-11.
| Member of Congress | Party | State | District | Proxy Votes | Not voting | Voted in person |
| --- | --- | --- | --- | --- | --- | --- |
| Member of Congress | Party | State | District | Proxy Votes | Not voting | Voted in person |
| Adams, Alma S. | D | NC | 12 | 14 | 3 | 358 |
| Aderholt, Robert B. | R | AL | 4 | 60 | 8 | 307 |
| Aguilar, Pete | D | CA | 31 | 4 | 1 | 370 |
| Allen, Rick W. | R | GA | 12 | 0 | 9 | 366 |
| Allred, Colin Z. | D | TX | 32 | 113 | 0 | 262 |
| Amodei, Mark E. | R | NV | 2 | 62 | 7 | 306 |
| Armstrong, Kelly | R | ND | 0 | 18 | 28 | 329 |
| Arrington, Jodey C. | R | TX | 19 | 0 | 20 | 355 |
| Auchincloss, Jake | D | MA | 4 | 15 | 3 | 357 |
| Axne, Cynthia | D | IA | 3 | 41 | 1 | 333 |
| Babin, Brian | R | TX | 36 | 112 | 8 | 255 |
| Bacon, Don | R | NE | 2 | 2 | 1 | 372 |
| Baird, James R. | R | IN | 4 | 54 | 1 | 320 |
| Balderson, Troy | R | OH | 12 | 0 | 9 | 366 |
| Banks, Jim | R | IN | 3 | 10 | 17 | 348 |
| Barr, Andy | R | KY | 6 | 5 | 6 | 364 |
| Barragan, Nanette Diaz | D | CA | 44 | 144 | 8 | 223 |
| Bass, Karen | D | CA | 37 | 2 | 9 | 364 |
| Beatty, Joyce | D | OH | 3 | 32 | 3 | 340 |
| Bentz, Cliff | R | OR | 2 | 2 | 0 | 373 |
| Bera, Ami | D | CA | 7 | 20 | 1 | 354 |
| Bergman, Jack | R | MI | 1 | 6 | 5 | 364 |
| Beyer, Donald S., Jr. | D | VA | 8 | 11 | 2 | 362 |
| Bice, Stephanie I. | R | OK | 5 | 0 | 3 | 372 |
| Biggs, Andy | R | AZ | 5 | 0 | 5 | 370 |
| Bilirakis, Gus M. | R | FL | 12 | 26 | 4 | 345 |
| Bishop, Dan | R | NC | 9 | 1 | 5 | 369 |
| Bishop, Sanford D., Jr. | D | GA | 2 | 35 | 6 | 334 |
| Blumenauer, Earl | D | OR | 3 | 56 | 7 | 312 |
| Blunt Rochester, Lisa | D | DE | 0 | 0 | 1 | 374 |
| Boebert, Lauren | R | CO | 3 | 40 | 15 | 320 |
| Bonamici, Suzanne | D | OR | 1 | 8 | 0 | 367 |
| Bost, Mike | R | IL | 12 | 0 | 17 | 358 |
| Bourdeaux, Carolyn | D | GA | 7 | 14 | 0 | 361 |
| Bowman, Jamaal | D | NY | 16 | 69 | 5 | 301 |
| Boyle, Brendan F. | D | PA | 2 | 55 | 5 | 315 |
| Brady, Kevin | R | TX | 8 | 0 | 91 | 284 |
| Brooks, Mo | R | AL | 5 | 15 | 17 | 343 |
| Brown, Anthony G. | D | MD | 4 | 5 | 4 | 366 |
| Brown, Shontel M. | D | OH | 11 | 0 | 0 | 27 |
| Brownley, Julia | D | CA | 26 | 8 | 0 | 367 |
| Buchanan, Vern | R | FL | 16 | 125 | 9 | 241 |
| Buck, Ken | R | CO | 4 | 0 | 22 | 353 |
| Bucshon, Larry | R | IN | 8 | 11 | 11 | 353 |
| Budd, Ted | R | NC | 13 | 12 | 6 | 357 |
| Burchett, Tim | R | TN | 2 | 0 | 9 | 366 |
| Burgess, Michael C. | R | TX | 26 | 21 | 12 | 342 |
| Bush, Cori | D | MO | 1 | 29 | 4 | 342 |
| Bustos, Cheri | D | IL | 17 | 3 | 6 | 366 |
| Butterfield, G. K. | D | NC | 1 | 24 | 7 | 344 |
| Calvert, Ken | R | CA | 42 | 28 | 9 | 338 |
| Cammack, Kat | R | FL | 3 | 0 | 3 | 372 |
| Carbajal, Salud O. | D | CA | 24 | 2 | 0 | 373 |
| Cardenas, Tony | D | CA | 29 | 254 | 11 | 110 |
| Carey, Mike | R | OH | 15 | 4 | 1 | 22 |
| Carl, Jerry L. | R | AL | 1 | 14 | 3 | 358 |
| Carson, Andre | D | IN | 7 | 42 | 2 | 331 |
| Carter, Earl L. "Buddy" | R | GA | 1 | 4 | 47 | 324 |
| Carter, John R. | R | TX | 31 | 94 | 9 | 272 |
| Carter, Troy | D | LA | 2 | 6 | 2 | 245 |
| Cartwright, Matt | D | PA | 8 | 7 | 10 | 358 |
| Case, Ed | D | HI | 1 | 2 | 8 | 365 |
| Casten, Sean | D | IL | 6 | 7 | 1 | 367 |
| Castor, Kathy | D | FL | 14 | 14 | 5 | 356 |
| Castro, Joaquin | D | TX | 20 | 6 | 3 | 366 |
| Cawthorn, Madison | R | NC | 11 | 57 | 29 | 289 |
| Chabot, Steve | R | OH | 1 | 0 | 1 | 374 |
| Cheney, Liz | R | WY | 0 | 0 | 32 | 343 |
| Chu, Judy | D | CA | 27 | 3 | 2 | 370 |
| Cicilline, David N. | D | RI | 1 | 11 | 0 | 364 |
| Clark, Katherine M. | D | MA | 5 | 11 | 2 | 362 |
| Clarke, Yvette D. | D | NY | 9 | 10 | 9 | 356 |
| Cleaver, Emanuel | D | MO | 5 | 46 | 5 | 324 |
| Cline, Ben | R | VA | 6 | 0 | 3 | 372 |
| Cloud, Michael | R | TX | 27 | 0 | 25 | 350 |
| Clyburn, James E. | D | SC | 6 | 0 | 1 | 374 |
| Clyde, Andrew S. | R | GA | 9 | 0 | 17 | 358 |
| Cohen, Steve | D | TN | 9 | 68 | 1 | 306 |
| Cole, Tom | R | OK | 4 | 10 | 5 | 360 |
| Comer, James | R | KY | 1 | 26 | 3 | 346 |
| Connolly, Gerald E. | D | VA | 11 | 1 | 3 | 371 |
| Cooper, Jim | D | TN | 5 | 40 | 4 | 331 |
| Correa, J. Luis | D | CA | 46 | 9 | 1 | 365 |
| Costa, Jim | D | CA | 16 | 31 | 17 | 327 |
| Courtney, Joe | D | CT | 2 | 12 | 0 | 363 |
| Craig, Angie | D | MN | 2 | 10 | 2 | 363 |
| Crawford, Eric A. "Rick" | R | AR | 1 | 7 | 3 | 365 |
| Crenshaw, Dan | R | TX | 2 | 72 | 18 | 285 |
| Crist, Charlie | D | FL | 13 | 23 | 4 | 348 |
| Crow, Jason | D | CO | 6 | 0 | 1 | 374 |
| Cuellar, Henry | D | TX | 28 | 18 | 0 | 357 |
| Curtis, John R. | R | UT | 3 | 17 | 7 | 351 |
| Davids, Sharice | D | KS | 3 | 24 | 0 | 351 |
| Davidson, Warren | R | OH | 8 | 0 | 6 | 369 |
| Davis, Danny K. | D | IL | 7 | 7 | 11 | 357 |
| Davis, Rodney | R | IL | 13 | 0 | 19 | 356 |
| Dean, Madeleine | D | PA | 4 | 0 | 1 | 374 |
| DeFazio, Peter A. | D | OR | 4 | 111 | 10 | 254 |
| DeGette, Diana | D | CO | 1 | 8 | 3 | 364 |
| DeLauro, Rosa L. | D | CT | 3 | 0 | 3 | 372 |
| DelBene, Suzan K. | D | WA | 1 | 2 | 0 | 373 |
| Delgado, Antonio | D | NY | 19 | 0 | 0 | 375 |
| Demings, Val Butler | D | FL | 10 | 2 | 0 | 373 |
| DeSaulnier, Mark | D | CA | 11 | 203 | 2 | 170 |
| DesJarlais, Scott | R | TN | 4 | 66 | 6 | 303 |
| Deutch, Theodore E. | D | FL | 22 | 84 | 6 | 285 |
| Diaz-Balart, Mario | R | FL | 25 | 9 | 7 | 359 |
| Dingell, Debbie | D | MI | 12 | 20 | 2 | 353 |
| Doggett, Lloyd | D | TX | 35 | 47 | 5 | 323 |
| Donalds, Byron | R | FL | 19 | 26 | 15 | 334 |
| Doyle, Michael F. | D | PA | 18 | 24 | 22 | 329 |
| Duncan, Jeff | R | SC | 3 | 17 | 10 | 348 |
| Dunn, Neal P. | R | FL | 2 | 7 | 11 | 357 |
| Ellzey, Jake | R | TX | 6 | 0 | 1 | 131 |
| Emmer, Tom | R | MN | 6 | 11 | 18 | 346 |
| Escobar, Veronica | D | TX | 16 | 30 | 2 | 343 |
| Eshoo, Anna G. | D | CA | 18 | 14 | 4 | 357 |
| Espaillat, Adriano | D | NY | 13 | 9 | 4 | 362 |
| Estes, Ron | R | KS | 4 | 0 | 10 | 365 |
| Evans, Dwight | D | PA | 3 | 9 | 0 | 366 |
| Fallon, Pat | R | TX | 4 | 57 | 6 | 312 |
| Feenstra, Randy | R | IA | 4 | 0 | 0 | 375 |
| Ferguson, A. Drew, IV | R | GA | 3 | 6 | 1 | 368 |
| Fischbach, Michelle | R | MN | 7 | 0 | 0 | 375 |
| Fitzgerald, Scott | R | WI | 5 | 0 | 4 | 371 |
| Fitzpatrick, Brian K. | R | PA | 1 | 2 | 1 | 372 |
| Fleischmann, Charles J. "Chuck" | R | TN | 3 | 22 | 0 | 353 |
| Fletcher, Lizzie | D | TX | 7 | 34 | 2 | 339 |
| Fortenberry, Jeff | R | NE | 1 | 1 | 6 | 368 |
| Foster, Bill | D | IL | 11 | 2 | 1 | 372 |
| Foxx, Virginia | R | NC | 5 | 0 | 7 | 368 |
| Frankel, Lois | D | FL | 21 | 139 | 2 | 234 |
| Franklin, C. Scott | R | FL | 15 | 0 | 13 | 362 |
| Fudge, Marcia L. | D | OH | 11 | 11 | 14 | 36 |
| Fulcher, Russ | R | ID | 1 | 105 | 38 | 232 |
| Gaetz, Matt | R | FL | 1 | 86 | 14 | 275 |
| Gallagher, Mike | R | WI | 8 | 0 | 5 | 370 |
| Gallego, Ruben | D | AZ | 7 | 43 | 4 | 328 |
| Garamendi, John | D | CA | 3 | 21 | 4 | 350 |
| Garbarino, Andrew R. | R | NY | 2 | 38 | 7 | 330 |
| Garcia, Jesus G. "Chuy" | D | IL | 4 | 51 | 2 | 322 |
| Garcia, Mike | R | CA | 25 | 0 | 5 | 370 |
| Garcia, Sylvia R. | D | TX | 29 | 47 | 1 | 327 |
| Gibbs, Bob | R | OH | 7 | 23 | 21 | 331 |
| Gimenez, Carlos A. | R | FL | 26 | 18 | 0 | 357 |
| Gohmert, Louie | R | TX | 1 | 2 | 41 | 332 |
| Golden, Jared F. | D | ME | 2 | 1 | 25 | 349 |
| Gomez, Jimmy | D | CA | 34 | 13 | 5 | 357 |
| Gonzales, Tony | R | TX | 23 | 6 | 3 | 366 |
| Gonzalez, Anthony | R | OH | 16 | 52 | 9 | 314 |
| Gonzalez, Vicente | D | TX | 15 | 83 | 11 | 281 |
| Good, Bob | R | VA | 5 | 0 | 21 | 354 |
| Gooden, Lance | R | TX | 5 | 0 | 1 | 374 |
| Gosar, Paul A. | R | AZ | 4 | 60 | 6 | 309 |
| Gottheimer, Josh | D | NJ | 5 | 19 | 6 | 350 |
| Granger, Kay | R | TX | 12 | 35 | 11 | 329 |
| Graves, Garret | R | LA | 6 | 4 | 8 | 363 |
| Graves, Sam | R | MO | 6 | 32 | 4 | 339 |
| Green, Al | D | TX | 9 | 27 | 4 | 344 |
| Green, Mark E. | R | TN | 7 | 29 | 20 | 326 |
| Greene, Marjorie Taylor | R | GA | 14 | 22 | 8 | 345 |
| Griffith, H. Morgan | R | VA | 9 | 0 | 11 | 364 |
| Grijalva, Raul M. | D | AZ | 3 | 288 | 0 | 87 |
| Grothman, Glenn | R | WI | 6 | 0 | 5 | 370 |
| Guest, Michael | R | MS | 3 | 0 | 19 | 356 |
| Guthrie, Brett | R | KY | 2 | 0 | 0 | 375 |
| Haaland, Debra A. | D | NM | 1 | 8 | 2 | 56 |
| Hagedorn, Jim | R | MN | 1 | 57 | 22 | 296 |
| Harder, Josh | D | CA | 10 | 0 | 1 | 374 |
| Harris, Andy | R | MD | 1 | 0 | 8 | 367 |
| Harshbarger, Diana | R | TN | 1 | 20 | 4 | 351 |
| Hartzler, Vicky | R | MO | 4 | 16 | 19 | 340 |
| Hastings, Alcee L. | D | FL | 20 | 86 | 0 | 0 |
| Hayes, Jahana | D | CT | 5 | 4 | 0 | 371 |
| Hern, Kevin | R | OK | 1 | 4 | 6 | 365 |
| Herrell, Yvette | R | NM | 2 | 0 | 14 | 361 |
| Herrera Beutler, Jaime | R | WA | 3 | 21 | 3 | 351 |
| Hice, Jody B. | R | GA | 10 | 18 | 15 | 342 |
| Higgins, Brian | D | NY | 26 | 41 | 3 | 331 |
| Higgins, Clay | R | LA | 3 | 0 | 76 | 299 |
| Hill, J. French | R | AR | 2 | 0 | 6 | 369 |
| Himes, James A. | D | CT | 4 | 17 | 3 | 355 |
| Hinson, Ashley | R | IA | 1 | 0 | 0 | 375 |
| Hollingsworth, Trey | R | IN | 9 | 0 | 6 | 369 |
| Horsford, Steven | D | NV | 4 | 82 | 5 | 288 |
| Houlahan, Chrissy | D | PA | 6 | 5 | 3 | 367 |
| Hoyer, Steny H. | D | MD | 5 | 36 | 7 | 332 |
| Hudson, Richard | R | NC | 8 | 4 | 6 | 365 |
| Huffman, Jared | D | CA | 2 | 38 | 2 | 335 |
| Huizenga, Bill | R | MI | 2 | 0 | 7 | 368 |
| Issa, Darrell E. | R | CA | 50 | 33 | 24 | 318 |
| Jackson Lee, Sheila | D | TX | 18 | 23 | 9 | 343 |
| Jackson, Ronny | R | TX | 13 | 16 | 21 | 338 |
| Jacobs, Chris | R | NY | 27 | 22 | 8 | 345 |
| Jacobs, Sara | D | CA | 53 | 5 | 2 | 368 |
| Jayapal, Pramila | D | WA | 7 | 60 | 4 | 311 |
| Jeffries, Hakeem S. | D | NY | 8 | 0 | 1 | 374 |
| Johnson, Bill | R | OH | 6 | 5 | 2 | 368 |
| Johnson, Dusty | R | SD | 0 | 7 | 3 | 365 |
| Johnson, Eddie Bernice | D | TX | 30 | 179 | 3 | 193 |
| Johnson, Henry C. "Hank," Jr. | D | GA | 4 | 1 | 7 | 367 |
| Johnson, Mike | R | LA | 4 | 0 | 20 | 355 |
| Jones, Mondaire | D | NY | 17 | 29 | 5 | 341 |
| Jordan, Jim | R | OH | 4 | 0 | 19 | 356 |
| Joyce, David P. | R | OH | 14 | 4 | 3 | 368 |
| Joyce, John | R | PA | 13 | 11 | 2 | 362 |
| Kahele, Kaiali'i | D | HI | 2 | 47 | 3 | 325 |
| Kaptur, Marcy | D | OH | 9 | 7 | 5 | 363 |
| Katko, John | R | NY | 24 | 52 | 6 | 317 |
| Keating, William R. | D | MA | 9 | 31 | 7 | 337 |
| Keller, Fred | R | PA | 12 | 0 | 1 | 374 |
| Kelly, Mike | R | PA | 16 | 50 | 5 | 320 |
| Kelly, Robin L. | D | IL | 2 | 40 | 3 | 332 |
| Kelly, Trent | R | MS | 1 | 0 | 7 | 368 |
| Khanna, Ro | D | CA | 17 | 35 | 1 | 339 |
| Kildee, Daniel T. | D | MI | 5 | 7 | 0 | 368 |
| Kilmer, Derek | D | WA | 6 | 2 | 1 | 372 |
| Kim, Andy | D | NJ | 3 | 55 | 0 | 320 |
| Kim, Young | R | CA | 39 | 0 | 2 | 373 |
| Kind, Ron | D | WI | 3 | 55 | 1 | 319 |
| Kinzinger, Adam | R | IL | 16 | 20 | 55 | 300 |
| Kirkpatrick, Ann | D | AZ | 2 | 354 | 0 | 21 |
| Krishnamoorthi, Raja | D | IL | 8 | 38 | 1 | 336 |
| Kuster, Ann M. | D | NH | 2 | 34 | 4 | 337 |
| Kustoff, David | R | TN | 8 | 1 | 8 | 366 |
| LaHood, Darin | R | IL | 18 | 17 | 3 | 355 |
| LaMalfa, Doug | R | CA | 1 | 2 | 21 | 352 |
| Lamb, Conor | D | PA | 17 | 0 | 1 | 374 |
| Lamborn, Doug | R | CO | 5 | 19 | 11 | 345 |
| Langevin, James R. | D | RI | 2 | 118 | 1 | 256 |
| Larsen, Rick | D | WA | 2 | 19 | 4 | 352 |
| Larson, John B. | D | CT | 1 | 20 | 7 | 348 |
| Latta, Robert E. | R | OH | 5 | 44 | 0 | 331 |
| LaTurner, Jake | R | KS | 2 | 6 | 3 | 366 |
| Lawrence, Brenda L. | D | MI | 14 | 39 | 4 | 332 |
| Lawson, Al, Jr. | D | FL | 5 | 372 | 3 | 0 |
| Lee, Barbara | D | CA | 13 | 2 | 3 | 370 |
| Lee, Susie | D | NV | 3 | 22 | 5 | 348 |
| Leger Fernandez, Teresa | D | NM | 3 | 46 | 4 | 325 |
| Lesko, Debbie | R | AZ | 8 | 18 | 75 | 282 |
| Letlow, Julia | R | LA | 5 | 9 | 2 | 277 |
| Levin, Andy | D | MI | 9 | 20 | 1 | 354 |
| Levin, Mike | D | CA | 49 | 0 | 0 | 375 |
| Lieu, Ted | D | CA | 33 | 217 | 6 | 152 |
| Lofgren, Zoe | D | CA | 19 | 63 | 6 | 306 |
| Long, Billy | R | MO | 7 | 58 | 8 | 309 |
| Loudermilk, Barry | R | GA | 11 | 5 | 33 | 337 |
| Lowenthal, Alan S. | D | CA | 47 | 236 | 4 | 135 |
| Lucas, Frank D. | R | OK | 3 | 0 | 5 | 370 |
| Luetkemeyer, Blaine | R | MO | 3 | 27 | 15 | 333 |
| Luria, Elaine G. | D | VA | 2 | 0 | 2 | 373 |
| Lynch, Stephen F. | D | MA | 8 | 25 | 3 | 347 |
| Mace, Nancy | R | SC | 1 | 0 | 1 | 374 |
| Malinowski, Tom | D | NJ | 7 | 4 | 4 | 367 |
| Malliotakis, Nicole | R | NY | 11 | 0 | 3 | 372 |
| Maloney, Carolyn B. | D | NY | 12 | 70 | 4 | 301 |
| Maloney, Sean Patrick | D | NY | 18 | 2 | 2 | 371 |
| Mann, Tracey | R | KS | 1 | 3 | 0 | 372 |
| Manning, Kathy E. | D | NC | 6 | 3 | 3 | 369 |
| Massie, Thomas | R | KY | 4 | 0 | 2 | 373 |
| Mast, Brian J. | R | FL | 18 | 5 | 15 | 355 |
| Matsui, Doris O. | D | CA | 6 | 6 | 8 | 361 |
| McBath, Lucy | D | GA | 6 | 4 | 1 | 370 |
| McCarthy, Kevin | R | CA | 23 | 0 | 1 | 374 |
| McCaul, Michael T. | R | TX | 10 | 31 | 9 | 335 |
| McClain, Lisa C. | R | MI | 10 | 16 | 2 | 357 |
| McClintock, Tom | R | CA | 4 | 0 | 9 | 366 |
| McCollum, Betty | D | MN | 4 | 2 | 2 | 371 |
| McEachin, A. Donald | D | VA | 4 | 218 | 1 | 156 |
| McGovern, James P. | D | MA | 2 | 0 | 1 | 374 |
| McHenry, Patrick T. | R | NC | 10 | 93 | 25 | 257 |
| McKinley, David B. | R | WV | 1 | 0 | 2 | 373 |
| McMorris Rodgers, Cathy | R | WA | 5 | 63 | 10 | 302 |
| McNerney, Jerry | D | CA | 9 | 33 | 0 | 342 |
| Meeks, Gregory W. | D | NY | 5 | 33 | 8 | 334 |
| Meijer, Peter | R | MI | 3 | 6 | 1 | 368 |
| Meng, Grace | D | NY | 6 | 335 | 2 | 38 |
| Meuser, Daniel | R | PA | 9 | 3 | 11 | 361 |
| Mfume, Kweisi | D | MD | 7 | 67 | 8 | 300 |
| Miller, Carol D. | R | WV | 3 | 13 | 4 | 358 |
| Miller, Mary E. | R | IL | 15 | 0 | 20 | 355 |
| Miller-Meeks, Mariannette | R | IA | 2 | 4 | 8 | 363 |
| Moolenaar, John R. | R | MI | 4 | 5 | 0 | 370 |
| Mooney, Alexander X. | R | WV | 2 | 0 | 8 | 367 |
| Moore, Barry | R | AL | 2 | 6 | 14 | 355 |
| Moore, Blake D. | R | UT | 1 | 4 | 7 | 364 |
| Moore, Gwen | D | WI | 4 | 117 | 5 | 253 |
| Morelle, Joseph D. | D | NY | 25 | 62 | 2 | 311 |
| Moulton, Seth | D | MA | 6 | 148 | 0 | 227 |
| Mrvan, Frank J. | D | IN | 1 | 2 | 4 | 369 |
| Mullin, Markwayne | R | OK | 2 | 86 | 9 | 280 |
| Murphy, Gregory | R | NC | 3 | 0 | 10 | 365 |
| Murphy, Stephanie N. | D | FL | 7 | 0 | 18 | 357 |
| Nadler, Jerrold | D | NY | 10 | 21 | 10 | 344 |
| Napolitano, Grace F. | D | CA | 32 | 328 | 1 | 46 |
| Neal, Richard E. | D | MA | 1 | 33 | 7 | 335 |
| Neguse, Joe | D | CO | 2 | 17 | 0 | 358 |
| Nehls, Troy E. | R | TX | 22 | 35 | 7 | 333 |
| Newhouse, Dan | R | WA | 4 | 0 | 8 | 367 |
| Newman, Marie | D | IL | 3 | 11 | 2 | 362 |
| Norcross, Donald | D | NJ | 1 | 28 | 2 | 345 |
| Norman, Ralph | R | SC | 5 | 31 | 23 | 321 |
| Nunes, Devin | R | CA | 22 | 41 | 8 | 326 |
| Obernolte, Jay | R | CA | 8 | 8 | 4 | 363 |
| Ocasio-Cortez, Alexandria | D | NY | 14 | 57 | 6 | 312 |
| O'Halleran, Tom | D | AZ | 1 | 23 | 6 | 346 |
| Omar, Ilhan | D | MN | 5 | 42 | 4 | 329 |
| Owens, Burgess | R | UT | 4 | 29 | 3 | 343 |
| Palazzo, Steven M. | R | MS | 4 | 47 | 3 | 325 |
| Pallone, Frank, Jr. | D | NJ | 6 | 0 | 0 | 375 |
| Palmer, Gary J. | R | AL | 6 | 0 | 2 | 373 |
| Panetta, Jimmy | D | CA | 20 | 7 | 0 | 368 |
| Pappas, Chris | D | NH | 1 | 15 | 4 | 356 |
| Pascrell, Bill, Jr. | D | NJ | 9 | 26 | 8 | 341 |
| Payne, Donald M., Jr. | D | NJ | 10 | 370 | 1 | 4 |
| Pelosi, Nancy | D | CA | 12 | 0 | 0 | 52 |
| Pence, Greg | R | IN | 6 | 0 | 15 | 360 |
| Perlmutter, Ed | D | CO | 7 | 14 | 0 | 361 |
| Perry, Scott | R | PA | 10 | 0 | 17 | 358 |
| Peters, Scott H. | D | CA | 52 | 30 | 8 | 337 |
| Pfluger, August | R | TX | 11 | 1 | 13 | 361 |
| Phillips, Dean | D | MN | 3 | 2 | 4 | 369 |
| Pingree, Chellie | D | ME | 1 | 109 | 3 | 263 |
| Pocan, Mark | D | WI | 2 | 11 | 3 | 361 |
| Porter, Katie | D | CA | 45 | 237 | 0 | 138 |
| Posey, Bill | R | FL | 8 | 0 | 7 | 368 |
| Pressley, Ayanna | D | MA | 7 | 30 | 3 | 342 |
| Price, David E. | D | NC | 4 | 15 | 4 | 356 |
| Quigley, Mike | D | IL | 5 | 0 | 1 | 374 |
| Raskin, Jamie | D | MD | 8 | 0 | 5 | 370 |
| Reed, Tom | R | NY | 23 | 37 | 5 | 333 |
| Reschenthaler, Guy | R | PA | 14 | 46 | 4 | 325 |
| Rice, Kathleen M. | D | NY | 4 | 28 | 3 | 344 |
| Rice, Tom | R | SC | 7 | 36 | 3 | 336 |
| Richmond, Cedric L. | D | LA | 2 | 3 | 0 | 3 |
| Rogers, Harold | R | KY | 5 | 12 | 7 | 356 |
| Rogers, Mike D. | R | AL | 3 | 3 | 11 | 361 |
| Rose, John W. | R | TN | 6 | 0 | 20 | 355 |
| Rosendale Sr., Matthew M. | R | MT | 0 | 0 | 10 | 365 |
| Ross, Deborah K. | D | NC | 2 | 0 | 1 | 374 |
| Rouzer, David | R | NC | 7 | 0 | 5 | 370 |
| Roy, Chip | R | TX | 21 | 0 | 23 | 352 |
| Roybal-Allard, Lucille | D | CA | 40 | 103 | 5 | 267 |
| Ruiz, Raul | D | CA | 36 | 144 | 1 | 230 |
| Ruppersberger, C. A. Dutch | D | MD | 2 | 42 | 7 | 326 |
| Rush, Bobby L. | D | IL | 1 | 372 | 0 | 3 |
| Rutherford, John H. | R | FL | 4 | 0 | 3 | 372 |
| Ryan, Tim | D | OH | 13 | 56 | 5 | 314 |
| Salazar, Maria Elvira | R | FL | 27 | 29 | 7 | 339 |
| Sanchez, Linda T. | D | CA | 38 | 7 | 3 | 365 |
| Sarbanes, John P. | D | MD | 3 | 0 | 3 | 372 |
| Scalise, Steve | R | LA | 1 | 0 | 10 | 365 |
| Scanlon, Mary Gay | D | PA | 5 | 0 | 3 | 372 |
| Schakowsky, Janice D. | D | IL | 9 | 3 | 7 | 365 |
| Schiff, Adam B. | D | CA | 28 | 14 | 0 | 361 |
| Schneider, Bradley Scott | D | IL | 10 | 28 | 3 | 344 |
| Schrader, Kurt | D | OR | 5 | 2 | 10 | 363 |
| Schrier, Kim | D | WA | 8 | 3 | 1 | 371 |
| Schweikert, David | R | AZ | 6 | 0 | 1 | 374 |
| Scott, Austin | R | GA | 8 | 0 | 20 | 355 |
| Scott, David | D | GA | 13 | 18 | 8 | 349 |
| Scott, Robert C. "Bobby" | D | VA | 3 | 0 | 1 | 374 |
| Sessions, Pete | R | TX | 17 | 0 | 12 | 363 |
| Sewell, Terri A. | D | AL | 7 | 146 | 4 | 225 |
| Sherman, Brad | D | CA | 30 | 2 | 1 | 372 |
| Sherrill, Mikie | D | NJ | 11 | 19 | 21 | 335 |
| Simpson, Michael K. | R | ID | 2 | 1 | 34 | 340 |
| Sires, Albio | D | NJ | 8 | 156 | 11 | 208 |
| Slotkin, Elissa | D | MI | 8 | 52 | 2 | 321 |
| Smith, Adam | D | WA | 9 | 28 | 3 | 344 |
| Smith, Adrian | R | NE | 3 | 0 | 17 | 358 |
| Smith, Christopher H. | R | NJ | 4 | 6 | 10 | 359 |
| Smith, Jason | R | MO | 8 | 0 | 4 | 371 |
| Smucker, Lloyd | R | PA | 11 | 19 | 4 | 352 |
| Soto, Darren | D | FL | 9 | 4 | 3 | 368 |
| Spanberger, Abigail Davis | D | VA | 7 | 0 | 2 | 373 |
| Spartz, Victoria | R | IN | 5 | 5 | 1 | 369 |
| Speier, Jackie | D | CA | 14 | 68 | 15 | 292 |
| Stansbury, Melanie Ann | D | NM | 1 | 2 | 2 | 226 |
| Stanton, Greg | D | AZ | 9 | 33 | 0 | 342 |
| Stauber, Pete | R | MN | 8 | 9 | 5 | 361 |
| Steel, Michelle | R | CA | 48 | 13 | 5 | 357 |
| Stefanik, Elise M. | R | NY | 21 | 97 | 6 | 272 |
| Steil, Bryan | R | WI | 1 | 0 | 1 | 374 |
| Steube, W. Gregory | R | FL | 17 | 131 | 3 | 241 |
| Stevens, Haley M. | D | MI | 11 | 18 | 1 | 356 |
| Stewart, Chris | R | UT | 2 | 31 | 3 | 341 |
| Stivers, Steve | R | OH | 15 | 0 | 14 | 118 |
| Strickland, Marilyn | D | WA | 10 | 149 | 0 | 226 |
| Suozzi, Thomas R. | D | NY | 3 | 16 | 6 | 353 |
| Swalwell, Eric | D | CA | 15 | 82 | 4 | 289 |
| Takano, Mark | D | CA | 41 | 8 | 6 | 361 |
| Taylor, Van | R | TX | 3 | 0 | 0 | 375 |
| Tenney, Claudia | R | NY | 22 | 2 | 1 | 352 |
| Thompson, Bennie G. | D | MS | 2 | 47 | 1 | 327 |
| Thompson, Glenn | R | PA | 15 | 34 | 8 | 333 |
| Thompson, Mike | D | CA | 5 | 3 | 1 | 371 |
| Tiffany, Thomas P. | R | WI | 7 | 10 | 35 | 330 |
| Timmons, William R. IV | R | SC | 4 | 62 | 3 | 310 |
| Titus, Dina | D | NV | 1 | 50 | 5 | 320 |
| Tlaib, Rashida | D | MI | 13 | 21 | 2 | 352 |
| Tonko, Paul | D | NY | 20 | 18 | 1 | 356 |
| Torres, Norma J. | D | CA | 35 | 13 | 1 | 361 |
| Torres, Ritchie | D | NY | 15 | 31 | 5 | 339 |
| Trahan, Lori | D | MA | 3 | 64 | 2 | 309 |
| Trone, David J. | D | MD | 6 | 40 | 5 | 330 |
| Turner, Michael R. | R | OH | 10 | 0 | 8 | 367 |
| Underwood, Lauren | D | IL | 14 | 14 | 0 | 361 |
| Upton, Fred | R | MI | 6 | 0 | 0 | 375 |
| Valadao, David G. | R | CA | 21 | 1 | 6 | 368 |
| Van Drew, Jefferson | R | NJ | 2 | 20 | 8 | 347 |
| Van Duyne, Beth | R | TX | 24 | 10 | 2 | 363 |
| Vargas, Juan | D | CA | 51 | 43 | 5 | 327 |
| Veasey, Marc A. | D | TX | 33 | 10 | 4 | 361 |
| Vela, Filemon | D | TX | 34 | 62 | 27 | 286 |
| Velazquez, Nydia M. | D | NY | 7 | 27 | 4 | 344 |
| Wagner, Ann | R | MO | 2 | 42 | 2 | 331 |
| Walberg, Tim | R | MI | 7 | 0 | 2 | 373 |
| Walorski, Jackie | R | IN | 2 | 31 | 1 | 343 |
| Waltz, Michael | R | FL | 6 | 51 | 5 | 319 |
| Wasserman Schultz, Debbie | D | FL | 23 | 72 | 1 | 302 |
| Waters, Maxine | D | CA | 43 | 20 | 12 | 343 |
| Watson Coleman, Bonnie | D | NJ | 12 | 176 | 0 | 199 |
| Weber, Randy K., Sr. | R | TX | 14 | 0 | 21 | 354 |
| Webster, Daniel | R | FL | 11 | 0 | 46 | 329 |
| Welch, Peter | D | VT | 0 | 36 | 3 | 336 |
| Wenstrup, Brad R. | R | OH | 2 | 4 | 6 | 365 |
| Westerman, Bruce | R | AR | 4 | 0 | 5 | 370 |
| Wexton, Jennifer | D | VA | 10 | 2 | 0 | 373 |
| Wild, Susan | D | PA | 7 | 34 | 3 | 338 |
| Williams, Nikema | D | GA | 5 | 9 | 1 | 365 |
| Williams, Roger | R | TX | 25 | 0 | 26 | 349 |
| Wilson, Frederica S. | D | FL | 24 | 375 | 0 | 0 |
| Wilson, Joe | R | SC | 2 | 58 | 24 | 293 |
| Wittman, Robert J. | R | VA | 1 | 0 | 9 | 366 |
| Womack, Steve | R | AR | 3 | 0 | 0 | 375 |
| Wright, Ron | R | TX | 6 | 0 | 14 | 6 |
| Yarmuth, John A. | D | KY | 3 | 9 | 19 | 347 |
| Young, Don | R | AK | 0 | 79 | 35 | 261 |
| Zeldin, Lee M. | R | NY | 1 | 9 | 6 | 360 |