The Ripon Forum
Volume 47, No. 1
Winter 2013 Issue
by JARRAD HENSLEY
As Congress and the President try to reach a workable solution to the challenges facing America's immigration system, it is critical that the debate focus not just on the costs of illegal immigration, but the benefits of legal immigration and how the increase in the Hispanic American population is helping to keep some communities from literally fading away.
The numbers tell the story: after decades of immigrant and migrant geographic concentration around urban areas, recent data suggests that other regions of the country are benefitting from an influx of booming Hispanic population growth. In fact, according to the U.S. Department of Agriculture, the "non-metro population" in the U.S. increased by 4.5 percent between 2000 and 2010. Hispanics made up 45 percent of that growth – offsetting what would have otherwise resulted in net population losses during the same period.
As the map below illustrates, in many small communities, the increase in human capital is helping to lay the foundation for potential increased jobs and wages down the road. More jobs and higher wages mean that tax bases will start to expand and communities will start to grow. This is key, for the sad and often unspoken other half to the story is that young and intelligent professionals are leaving rural communities in droves to seek job opportunities elsewhere. A study released last summer by Cornell University Professor Daniel Lichter describes how some of the communities have attempted to reverse this brain drain.
"Population change rate for Hispanics, 2000-2010."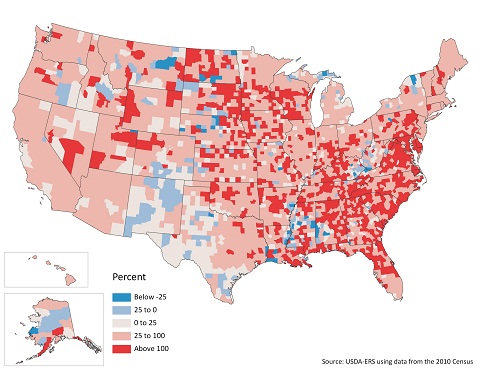 "Ideas as diverse as free land programs in Kansas, student loan forgiveness programs in West Virginia and Maine, programs such as the Cool Cities Initiative in Michigan and 'Come Back to Iowa, Please,'" Lichter writes, "have all been instituted as antidotes to out-migration. However, the jury is still out as to whether many of these have the intended effect of stemming population loss and/or retaining educated young adults."
While the impact these kinds of programs and policies have on rural communities is still being debated, the impact of immigration on many of these communities is becoming increasingly clear. In North Carolina, for example, a 2006 study found that Hispanics contributed more than $9 billion annually to the state's economy through the purchases they make. This same study found that the costs associated with the public services used by Hispanics were far less than the taxes they paid.
A 2008 study in Oregon took a different tack and focused on the economic impact of unauthorized workers. The study found that eliminating these workers would reduce state and local tax revenues by between $400 and $656 million per year, thereby also reducing funds for basic infrastructure needed in any prosperous community.
It's true that low-wage, low-skilled jobs aren't – and shouldn't – be the exclusive answer to an American economic recovery, but studies like these provide an important context that the current debate over immigration reform often lacks. They also further evidence that while securing our borders must be a consideration of any sound immigration policy, the economic security of America's rural communities is also at stake.   RF
---
Jarrad Hensley is Deputy Editor of The Ripon Forum.