The Ripon Forum
Volume 51, No. 5
November 2017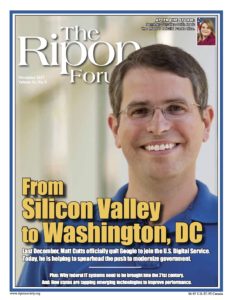 As this edition of The Ripon Forum was going to press, the Washington Post was reporting that the Republican candidate for the U.S. Senate in Alabama had allegedly once made inappropriate advances on several teenage girls.
It is another sordid story in what has become a politically sordid year.  From reports that Russia interfered in last year's presidential election to the reappearance of white supremacists marching across the South, the last 10 months in American politics have been a period that would make even the most diehard political junkies feel like they've had enough.
At the end of each of their broadcasts, NBC Nightly News airs a segment called, "Inspiring America."  The segment typically focuses on an American who is making a difference in some way in the life of his or her community or the life of our nation.  The segment is a good news story to say the least.  It's also an upbeat way to end what is typically a downbeat broadcast filled with a lot of bad news.
Given the fact that so much of this bad news seems to be connected to our nation's capital, it may seem funny to think that an Inspiring America segment could be set in Washington, DC.  After all, public trust in Washington is at an all-time low.  A Gallup survey from this past June found that the federal government's approval rating is currently lower than any other sector in the United States.  And yet amid these low ratings and behind the sordid headlines, there is actually a lot of inspiring work being done.
Case in point – less than 100 yards from the Northwest Gate of the White House, in a 19th century brownstone on Lafayette Square, is the unassuming headquarters of the United States Digital Service.  The USDS is a relatively new organization.  Borne out of the fiasco of HealthCare.gov, its job essentially is to modernize the federal government.  The USDS is populated with experts who know how to do just that – software engineers and computer hackers who gave up high paying jobs at tech companies and are now using their skills to make government work.  They are led by Matt Cutts, who left a successful career at Google last December and serves as Acting Administrator of USDS today.  We talk to Cutts in this latest edition of the Forum to find out not only more about the mission of his organization, but why he left Silicon Valley at a time when working for the government gets such a bad rap.  His responses are, well, inspiring.
Equally inspiring is the subject of our latest Ripon Profile – Jenniffer González-Colón.  González-Colón represents Puerto Rico in the U.S. House of Representatives.  On September 20, she was in Puerto Rico when Hurricane Maria hit.  She spent nine harrowing hours in a closet, riding out the storm with her brother.   In the seven weeks since, she has been spearheading the effort to help the island rebuild, lobbying for aid and relief here in Washington, and escorting congressional delegations to Puerto Rico so they can see the devastation for themselves.  At a time when Congress is held in low regard, the work of González-Colón is also inspiring.  Her story, along with the story of Matt Cutts, is a reminder that there are good people serving in government today.
The Ripon Forum has long believed that Americans deserve to have a government that works.  To that end, improving federal efficiency and giving people better value for their tax dollars have been recurring themes within our pages.  This edition is no different.  In addition to focusing on the work of Cutts and González-Colón, this edition also focuses on why the federal bureaucracy needs to be modernized, and how state governments are achieving that goal.
Other essays focus on reforming Congress so it works better, and why common ground must be found on health care and flood insurance.  This edition also includes insightful pieces from leading experts on tax reform, securing our electrical grid, and why lawmakers should tread carefully as they respond to Russian interference in the 2016 election.
Making government work better for the American people is clearly not the most exciting topic.  But amid all the distrust and sordid headlines, it's an important topic, and hopefully one that some people will find inspiring, as well.
As always, we hope you enjoy this latest edition of the Forum, and encourage you to contact us with any questions or comments you might have.
Lou Zickar, Editor
louzickar@riponsociety.org