The Ripon Forum
Volume 50, No. 1
February 2016
by KEN SMITH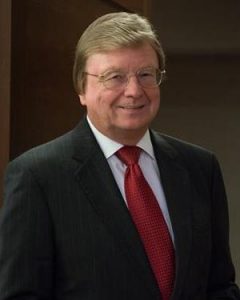 Here's something every policymaker concerned about educating and boosting employment for the most at-risk youth should know:  there is a program that works.  It's Jobs for America's Graduates (JAG).  JAG was founded in Delaware by Republican Governor Pete du Pont.  The results are amazing – yet JAG remains one of America's "best-kept secrets."
This year JAG celebrates its 35th Anniversary.  It has served more than one million of the nation's most at-risk and disadvantaged young people, with consistent and compelling results, including:
Dramatically increasing graduation rates to 90% or above;
Doubling the rates that poor and disadvantaged young people are able to secure jobs and tripling the rates that they secure full-time jobs; and,
Increasing the rates of both higher education enrollment and completion for this same population – the great majority of whom are first-generation college students.
In 1979, Governor du Pont assembled state leaders from business, labor, education, and the community to address consistent failures to either educate at-risk young people or prepare them well for college or employment.  Consistent with his reputation for frugal, effective government, du Pont wanted a program that worked and was cost-effective.  The result was Jobs for Delaware Graduates.  That model is now working in 1,000 locations in 32 states.
As the nation begins a major election year, we can be sure that almost all the candidates for every office will highlight important goals for education and jobs.
JAG is championed and led by a bipartisan group of Governors.  As JAG begins its 36th year, ten Governors now serve on the Board of Directors – the largest number of Governors to serve on any Board.  JAG is chaired by Republican Governor Phil Bryant of Mississippi, with Governor Steve Bullock of Montana (D), Governor Mike Pence of Indiana (R), and Governor Jay Nixon of Missouri (D) as Vice Chairs.  Reflecting the national public/private partnership of JAG, serving on the JAG Board of Directors today are the U.S. President of United Way Worldwide, former Governor of Michigan John Engler (R) (President of the Business Roundtable), the President of the National Urban League, and "C-suite" executives from leading Fortune 500 companies, such as AT&T, G.E., IBM, JPMorgan Chase, HCA, Archer Daniels Midland, Microsoft, among others.
As the nation begins a major election year, we can be sure that almost all the candidates for every office will highlight important goals for education and jobs.  It is our responsibility to encourage them to address the challenge for all of our young people by highlighting "what works" at scale and over time.  The economy needs these young people, and employers need them well prepared for the demanding economy ahead.
JAG offers a remarkable 35-year track record of success at true scale, over a long period of time, from the most rural areas (like the Mississippi Delta, northern New England, and Native American reservations in eastern Montana) to the most urban (downtown Chicago, Washington, DC, Atlanta, Phoenix, and South Central Los Angeles).
The JAG Model is remarkable in its simplicity and consistency.  The core offerings, whether in middle school, high school, or out-of-school/dropout recovery programs, use "Job Specialists" to ensure student success.  Those individuals are held personally accountable for students' success in school, on the job, and/or in college, through a critical component of the JAG program – 12 months of follow-up support for students after high school graduation.  The support of the U.S. public education system typically ends at high school graduation.  Under public and private sector leadership, Jobs for America's Graduates concluded that high school graduation is necessary, but not sufficient to accomplish the main objective: ensuring that students will get good quality jobs that can lead to future career and growth opportunities.  That is why the JAG program holds the Job Specialists accountable for student success in both high school graduation and employment after high school.
The JAG Model includes our National Employability Skills curriculum, with instruction on 37-88 Employment Competencies required by most small and medium-sized employers.  The JAG Model requires a class period a day for that instructional phase, which also builds a trusting relationship with the Job Specialist.  Keys to the program are the content, youth engagement, and activity-based learning under the supervision of the Job Specialist.  In addition, students participate in a number of national competitive events to further engage and motivate them and demonstrate their employability skills in real-time settings, with employers serving as judges.
JAG offers a remarkable 35-year track record of success at true scale, over a long period of time, from the most rural areas to the most urban.
Those competitive events are built into a second component of the program:  the JAG Career Association.  We believe that the JAG student organization is the "secret sauce" of our success.  The association is similar to Junior Achievement, vocational student organizations, Boys Clubs and Girls Clubs, but customized to fit this population – 90% of whom report that they had never been invited to join any club.  The JAG Career Association has terrific motivational and self-esteem building consequences.  Each chapter elects officers and organizes competitive events among themselves, schools in their area and state, and ultimately at the national level.
We are often asked, "What is the most important ingredient in the success of JAG?"  We have also asked our young people that question, and it is no surprise that they consistently answer "the Job Specialist."  They look to the Job Specialists as role models, mentors, and friends, but Specialists must also often be a "nag" – to ensure that students come to school, meet their educational requirements, and aid in external problems such as housing, healthcare, challenges at home, domestic violence, lack of transportation, etc.  When students are asked "What was the most important thing your Job Specialist did?," most often the answer is, "They listened to me."  It sounds simple, but has a tremendous impact.
The Bottom Line
After successfully serving more than one million youth, JAG believes that policy makers should consider the following points:
1) We do know what it takes to help even the highest-risk and most disadvantaged youth succeed both in school and on the job.  The nation has proven techniques to consistently and cost-effectively help even the most at-risk students succeed, both in school and on the job.
2) Consistent, sustained success is best achieved with the fully engaged support of both the public and private sectors, including their investments of time, talent, and treasure.  Many other programs have come and gone while JAG has persisted over the 35 years.  Most organizations do not last five years and very few make it to 10 years – yet JAG is about to enter its 36th year, growing and achieving some of its highest results.
3) Today, multiple sources of state and federal funding can be used.  The key is breaking down the many funding "silos" to support a statewide, coherent, and consistent strategy.  In addition to the 23 states that make direct appropriations, states regularly use TANF, SNAP, WIOA, Community Development Block Grants, and Perkins Act funding to finance their JAG programs.
The U.S. Chamber of Commerce conducted a random sample survey of the 5,000 employers across the nation who regularly hire JAG students.  The survey showed a 96% "customer satisfaction" rating among these employers.  They found JAG students to be much better prepared (having more of the employability skills described above), more customer service oriented, and more able to communicate, conceptualize, and show up for work on time – a clear definition of success.
In short, JAG is a uniquely American story of success for its most at-risk population – forged, tested, and proven at scale and over three decades of time by bipartisan national and state leaders, with the strong and engaged support of the private sector.
Ken Smith serves as President of Jobs for America's Graduates (www.jag.org).