The Ripon Forum
Volume 50, No. 3
July 2016
BILLY PITTS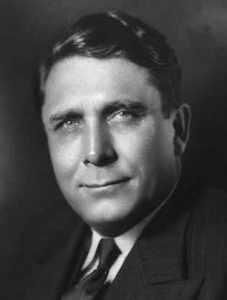 It was a race like no other.
The Republican establishment had supported several candidates as their nominee for President.
The early long shot was a well-heeled New York CEO of a major corporation who not only had never run for public office, but at one-time had supported Democrats and many of their social programs.
At first, he was just a minor blip in public polling.  But his candidacy was fueled by endless favorable media attention.  And after a protracted fight at the Republican National Convention, he was voted the Republican nominee.  The year was 1940.  The candidate was Wendell Willkie.
Given the "never before" quality of the 2016 presidential race, it's worth recalling that Republicans – and America – have seen their share of electoral drama before.  It's also worth recalling that much of this drama has occurred at party conventions, where candidates are considered, platforms are parsed, and rules are debated that have an impact beyond the convention's three or four days.
Given the "never before" quality of the 2016 presidential race, it's worth recalling that Republicans – and America – have seen their share of electoral drama before.
Take 1940.  After Willkie won the nomination following a protracted fight at the convention, the big question was who his running mate should be.  The New York businessman had apparently given the question very little thought.  Perhaps he recalled John Nance Garner's observation from eight years earlier that the office was "not worth a bucket of warm spit."  Whatever the reason, he delegated the decision to House Minority Leader Joe Martin.
Martin also served as Chairman of the Convention.  In what was likely one of the more intriguing decisions of his career, Martin selected Charles McNary as Willkie's running mate.  McNary not only served as Minority Leader of the U.S. Senate, but was also the leader of a "Stop Willkie" movement at the Convention.  Despite this earlier disloyalty, Willkie accepted Martin's recommendation, and McNary was officially selected as the Vice Presidential nominee on the first ballot.
The Willkie-McNary ticket would go on to lose the election to Franklin D. Roosevelt and his running mate, Henry Wallace, by a vote of 55-45%.  It would be another 12 years before Republicans won the White House.
During that time – and, in fact, over the next three decades – rules were adopted that formalized the nomination process at GOP conventions.  These rules shortened the length of nominating and seconding speeches. They also required two calls of the roll for each state during the Presidential and Vice Presidential nomination. The first call was intended to allow states to formally place names in nomination; the second call was intended to provide a vote to select the actual Presidential and Vice Presidential nominees.
At the 1972 convention, a new nomination requirement was added.  For the first time, any candidate for President was required to have the majority support from three state delegations in order to be formally nominated.  The rule was put in place at the time to prevent the anti-war candidate, Pete McCloskey from being nominated. There was no such requirement for the number two spot.
In 1976, the rules were changed again.  Three weeks before the Kansas City convention, then-candidate Ronald Reagan announced that he was selecting Pennsylvania Senator Richard Schweiker as his running mate.  Reagan's announcement was part of a gambit that included an attempt to change the rules to force Gerald Ford to announce his choice.  Ford had already tried to stack the deck against any opponent by adding rules that not only required formal nominations to have the support of five states, but also required delegates to abide by the results of their respective state primaries.  Reagan's rules gambit in response failed.  Ford captured the nomination and selected Senator Bob Dole over Nelson Rockefeller for Vice President. Many of the Reagan delegates were upset over their candidate's hard-fought loss.    To demonstrate their ire, they placed Jesse Helms' name in nomination, and voted for over 30 other people, as well.
When Reagan finally won the nomination in Detroit four years later, he chose George H. W. Bush of Texas. Many conservatives were still angry about Bush's primary run against their idol. To demonstrate their ire, when the balloting began for Vice President, a number of delegates did not vote for Bush. Rather, they threw their support behind Phil Crane, Jesse Helms, Jack Kemp, Henry Hyde and three other conservative favorites.
The rules governing political conventions have been used to obtain political ends in the past.  That is likely to continue in Cleveland.
At the 1984 convention in Dallas, unity prevailed as Republicans coalesced behind the reelection of Reagan and Bush.  The party adopted a rule that required a majority of five states to formally nominate both the candidates for President and Vice President. The rule for a first call of the roll of the states was also dispensed with, a practice that has continued at every convention since. A motion to suspend the rules was also adopted, allowing the delegates to vote for the nominees for both President and Vice President on the same ballot. This has never been done again.
In 1988, on the second day of the convention, George H.W. Bush announced that he had selected Senator Dan Quayle as the choice for his Vice President. His choice was unexpected, and there was talk of the possibility of a Jack Kemp candidacy for VP. A challenge never materialized, in large measure because the convention had adopted a temporary rule. The provision would allow a motion to nominate by acclamation if there was only one candidate who had demonstrated the required support of the majority of five states. No roll call was required, and Dan Quayle was chosen in a matter of minutes.
This temporary rule was made permanent in 1992, and every nominee since then has been unopposed and selected quickly as the nominee.
In 2000, Secretary of Defense Dick Cheney — one of the supporters of the acclamation rule in 1988 — was chosen by acclamation even before the convention had finally selected George W. Bush as their candidate for President.
In 2012, sweeping changes were adopted, including the new requirement that candidates for both President and Vice President must now demonstrate the support of eight states. These rules were made on behalf of the presumptive nominee, Mitt Romney, in large measure to prevent Ron Paul from being nominated. They also made any convention challenge to a second term bid more difficult.
Some have questioned whether future Republican conventions should continue with such requirements for formal nominations. This year in particular, many are questioning whether delegates should be bound to vote according to their respective state primaries.
While it remains to be seen how these questions will be answered, one thing is certain — the rules governing political conventions have been used to obtain political ends in the past.
That is likely to continue in Cleveland.
Billy Pitts is a former Officer and Assistant to the Chairman at past Republican Conventions and former top aide to the House Republican Leadership.  He currently serves as a member of The Ripon Forum's editorial board.