The Ripon Forum
Volume 51, No. 1
February 2017
There's a will, but is there a way?
by EMIL H. FRANKEL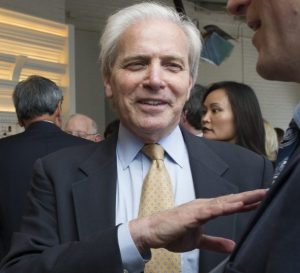 A trillion dollars.
That's how much Donald Trump has said that he wants to spend to rebuild America's aging infrastructure.
In making this a national priority, the new President is standing on the side of every American driver who has ever filled up his or her tank and wondered how his or her tax dollars were being spent.
Indeed, there is broad consensus – both in Washington and around the country — that the nation's infrastructure is deteriorating, and that our transportation facilities and systems in both rural and urban areas are either inadequate or severely congested.
Unfortunately, that is where the consensus has stopped.  There has been little agreement either about the level of government that should be responsible for making such a significant investment or — ultimately and more importantly – how our country is going to pay for it.
There is broad consensus – both in Washington and around the country – that the nation's infrastructure is deteriorating.
In Congress, there remains a strong contingent of conservative Republicans, particularly in the House of Representatives, who believe that federal transportation programs should be delegated or "devolved" to the states.   However, GOP leaders on this issue — such as U.S. Sen. Jim Inhofe (OK), the former Chair of the Senate Environmental and Public Works Committee (EPW), and U.S. Rep. Bill Shuster (PA), the current Chair of the House Committee on Transportation and Infrastructure — argue strongly that there is clear Constitutional authority, in the Interstate Commerce and Postal Roads clauses, for a continuing and significant federal role in this area.
However, the federal role and purpose in transportation needs to be more carefully defined and perhaps narrowed to meet 21st Century national goals.  Such a redefinition of the federal role and national purpose is a starting point in assuring taxpayers that there will be greater returns and significant benefits from a continuing federal role in this regard.
We also need greater clarity on the respective roles of the private and public sectors in making this enormous investment in the rebuilding and expansion of the nation's transportation system and other elements of our infrastructure.   In its most recent report card, the American Society of Civil Engineers (ASCE) identified a gap of over $2 trillion to bring America's infrastructure into a state of good repair.  The Ross-Navarro proposal, one of the several infrastructure proposals of the Trump campaign, suggested that much of this investment could come from private sources, stimulated by tax credits and other forms of tax and financial incentives that would leverage private investment in public infrastructure.
Certainly, there is a role for private investment in rebuilding America's infrastructure through public-private partnerships and federal guarantees and other credit enhancements for private loans.  However, almost certainly, private investments and financing will be reserved for only the largest and most complicated projects (which will benefit, perhaps even more, from private sector operational, budget, and technical skills) and where revenue streams (such as highway or bridge tolls or dedicated sales taxes) can be identified to service and repay private debt and to provide competitive returns to invested equity.  Such projects are likely, at best, to comprise 10 to 20 percent of the funding needed.   Moreover, it should be understood that in the case of projects largely dependent on private investment and financing, the public funding burden has merely been shifted from federal taxpayers, not to the private sector, but to state and local taxpayers in the former of new user fees and taxes.
We must accept that we will not be able to do everything, so we must be able to identify and target public investments on those projects that will bring the greatest economic returns and benefits.
In other words, in any large transportation and infrastructure program focused on bringing existing facilities to a state of good repair, the heaviest burdens will have to be borne by public funds.   And almost certainly, federal grants to states and local authorities will have to bear a significant portion of the funding requirements.
Despite the widespread call for a massive infrastructure investment program, it seems unlikely that a full $1 trillion federal program will be enacted, because of disagreement about the funding sources and Congress' determination that, if much of this investment is going to come from new spending, sources and budget "pay-fors" must be identified.  This will be a daunting challenge.
But America can, and should, make significant inroads in the huge infrastructure funding gap that ASCE has identified. However, we must accept that we will not be able to do everything, so we must be able to identify and target public investments on those projects that will bring the greatest economic returns and benefits.  Our first order of business, then, should be a reform of the planning and capital programming processes and institutions that make the decisions at the state and regional levels.  It is rare that the existing agencies develop comprehensive strategic investment programs or undertake benefit-cost analyses of competing projects or prioritize investments based on hard financial and economic analyses.
It is not for the federal government to make decisions about which are the most important infrastructure projects within states and regions.  Priority setting should be a state and local prerogative.   However, if federal funds or tax credits are to be utilized in such projects – as they almost certainly will have to be if we are to carry out an infrastructure investment program of the size and reach that has been discussed – then there is a clear national interest in making sure that a rational and analytically-driven investment decision-making process exists.
As we enter a period of significant public spending on the nation's infrastructure, our guiding principle should be that our investments must be "wise" – that is, directed to those projects and programs that will bring not just short-term construction and construction-related jobs, but long-term benefits in the form of a more productive economy, greater access to jobs and markets, and an improved quality of life for the American people.
Emil H. Frankel serves a senior fellow at the Eno Center for Transportation.  He previously served as Assistant Secretary for Transportation Policy at the U.S. Department of Transportation, and as Commissioner of Transportation for the State of Connecticut.