The Ripon Forum
Volume 48, No. 3
September 2014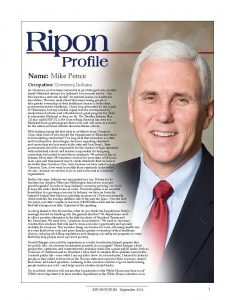 Name: Mike Pence
Occupation: Governor of Indiana
As Governor, you've been successful at providing private, market-based Medicaid reforms for Indiana's low-income adults. Can this become a national model?  As national leaders in healthcare innovation, Hoosiers understand that empowering people to take greater ownership of their healthcare choices is better than government-driven healthcare. I have long advocated for the repeal of Obamacare, but any sensible repeal must be accompanied by market-based reforms and a flexible block grant program for states to administer Medicaid as they see fit. The Healthy Indiana Plan 2.0, also called HIP 2.0, is the closest thing America has seen to a Medicaid block grant program that works and will serve as a model for the nation in future debates about heathcare reform.
With Indiana being the first state to withdraw from Common Core, what kind of role should the Department of Education have in formulating curriculum?  I've long held that education is a state and local function. Accordingly, decisions regarding standards and curriculum are best made at the state and local levels. State governments should be responsible for the creation of high standards with individual schools and teachers responsible for designing curriculum best suited to meet those standards. We achieved this in Indiana. More than 150 educators worked for more than 6,000 hours in an open and transparent way to create standards that we believe are better than Common Core. And, because we have opted out of Common Core, if we want to modify those standards in the future, we can – because we are free to do so and not bound to a national organization.
Earlier this year, Indiana was recognized as a top 10 state for its business tax climate. What can Washington learn from your pro-growth agenda?  In order to keep Indiana's economy growing, we work to keep the state's fiscal house in order. Fiscal discipline is an essential foundation to a growing economy. In Indiana, we have an honestly balanced budget that kept our spending increases at 2.5 percent annually, which matches the average inflation rate of the past ten years. Over the next two years, our state's surplus is in excess of $100 million each and has reserves that will average more than 12 percent of the spending.
Looking ahead to this November, what do you think the Republican Party's message should be heading into the general election? We Republicans need to offer a positive alternative to the failed policies of President Obama and the Democrats. We need to be "solutions conservatives." We need to showcase constructive solutions that will lead to more economic opportunity and upward mobility for everyone. This includes fixing our broken tax code, reforming health care in a way that lowers costs and gives families greater ownership of their healthcare choices, reducing job-killing regulations and changing our safety net programs in ways that truly help people move up out of poverty.
Ronald Reagan once said his experience as a radio broadcaster helped prepare him for public life. As a former broadcaster yourself, do you agree? I think Reagan's fresh perspective, optimism, and commitment to principle made him a great public leader, both as Governor of California and as President. I have tried to emulate those qualities since before I entered public life – even while I ran my radio show. As a broadcaster, I learned to listen to people as they called in from across the Hoosier state and expressed their concerns, shared their ideas, and asked questions. Listening to the common wisdom of good, hardworking people teaches you a lot – and helps you be a better elected leader.
Do you think America will see another broadcaster in the White House any time soon?  What's most important is to have another Republican in the White House sometime soon.