The Ripon Forum
Volume 50, No. 4
September 2016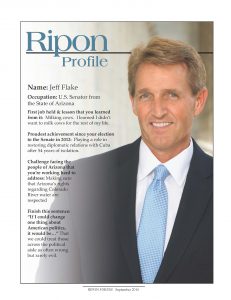 Name: Jeff Flake
Occupation: U.S. Senator from the State of Arizona
First job held & lesson that you learned from it: Milking cows. I learned I didn't want to milk cows for the rest of my life.
Proudest achievement since your election to the Senate in 2012: Playing a role in restoring diplomatic relations with Cuba after 54 years of isolation.
Challenge facing the people of Arizona that you're working hard to address: Making sure that Arizona's rights regarding Colorado River water are respected.
Finish this sentence: "If I could change one thing about American politics, it would be…" That we could treat those across the political aisle as often wrong but rarely evil.