The Ripon Forum
Volume 53, No. 4
September 2019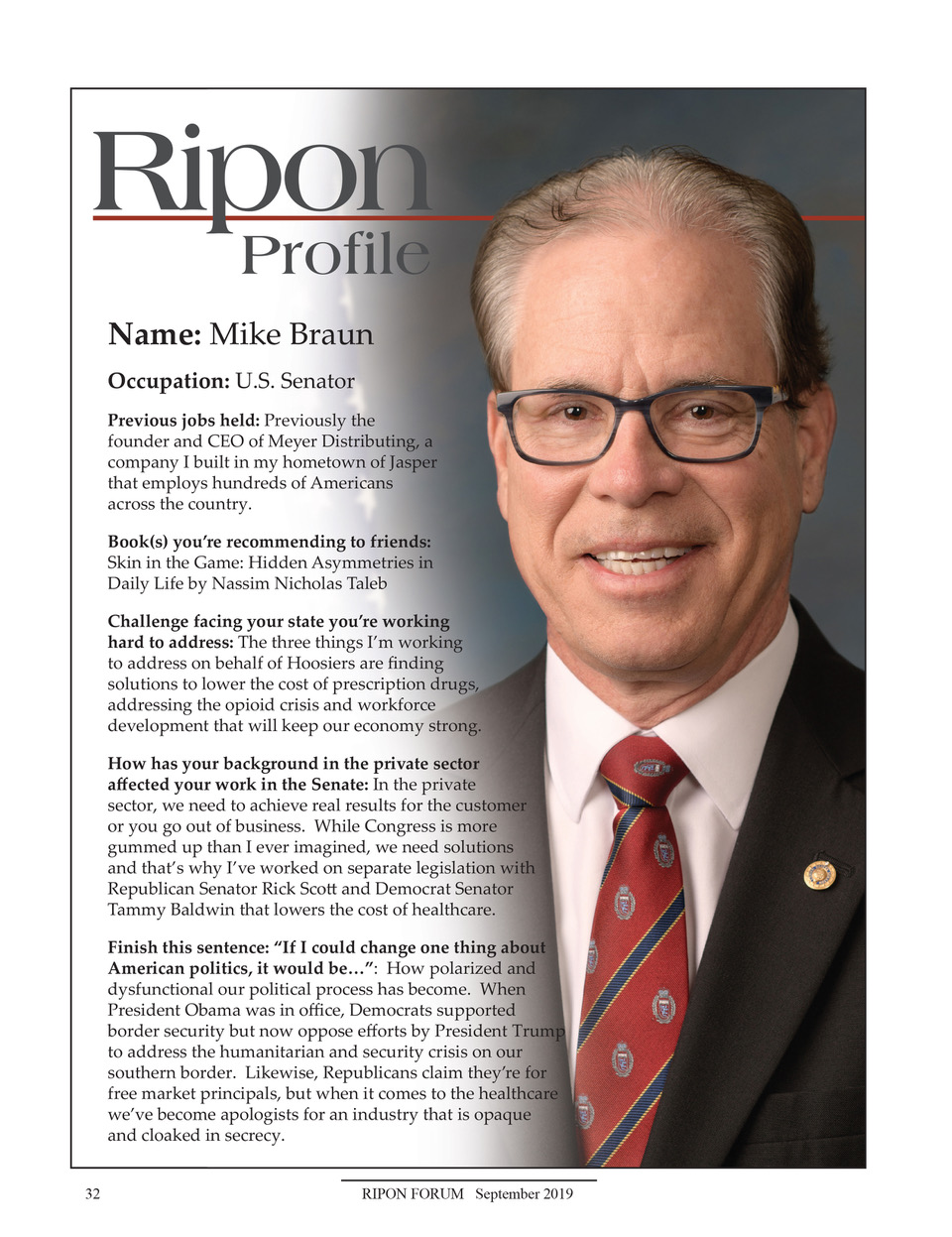 Name & occupation: Mike Braun, U.S. Senator (IN)
Previous jobs held: Previously the founder and CEO of Meyer Distributing, a company I built in my hometown of Jasper that employs hundreds of Americans across the country.
Book(s) you're recommending to friends: Skin in the Game: Hidden Asymmetries in Daily Life by Nassim Nicholas Taleb
Challenge facing your state you're working hard to address: The three things I'm working to address on behalf of Hoosiers are finding solutions to lower the cost of prescription drugs, addressing the opioid crisis, and workforce development that will keep our economy strong.
How has your background in the private sector affected your work in the Senate: In the private sector, we need to achieve real results for the customer or you go out of business. While Congress is more gummed up than I ever imagined, we need solutions and that's why I've worked on separate legislation with Republican Senator Rick Scott and Democrat Senator Tammy Baldwin that lowers the cost of healthcare.
Finish this sentence: "If I could change one thing about American politics, it would be…": How polarized and dysfunctional our political process has become. When President Obama was in office, Democrats supported border security but now oppose efforts by President Trump to address the humanitarian and security crisis on our southern border. Likewise, Republicans claim they're for free market principals, but when it comes to the healthcare we've become apologists for an industry that is opaque and cloaked in secrecy.