The Ripon Forum
Volume 53, No. 6
November 2019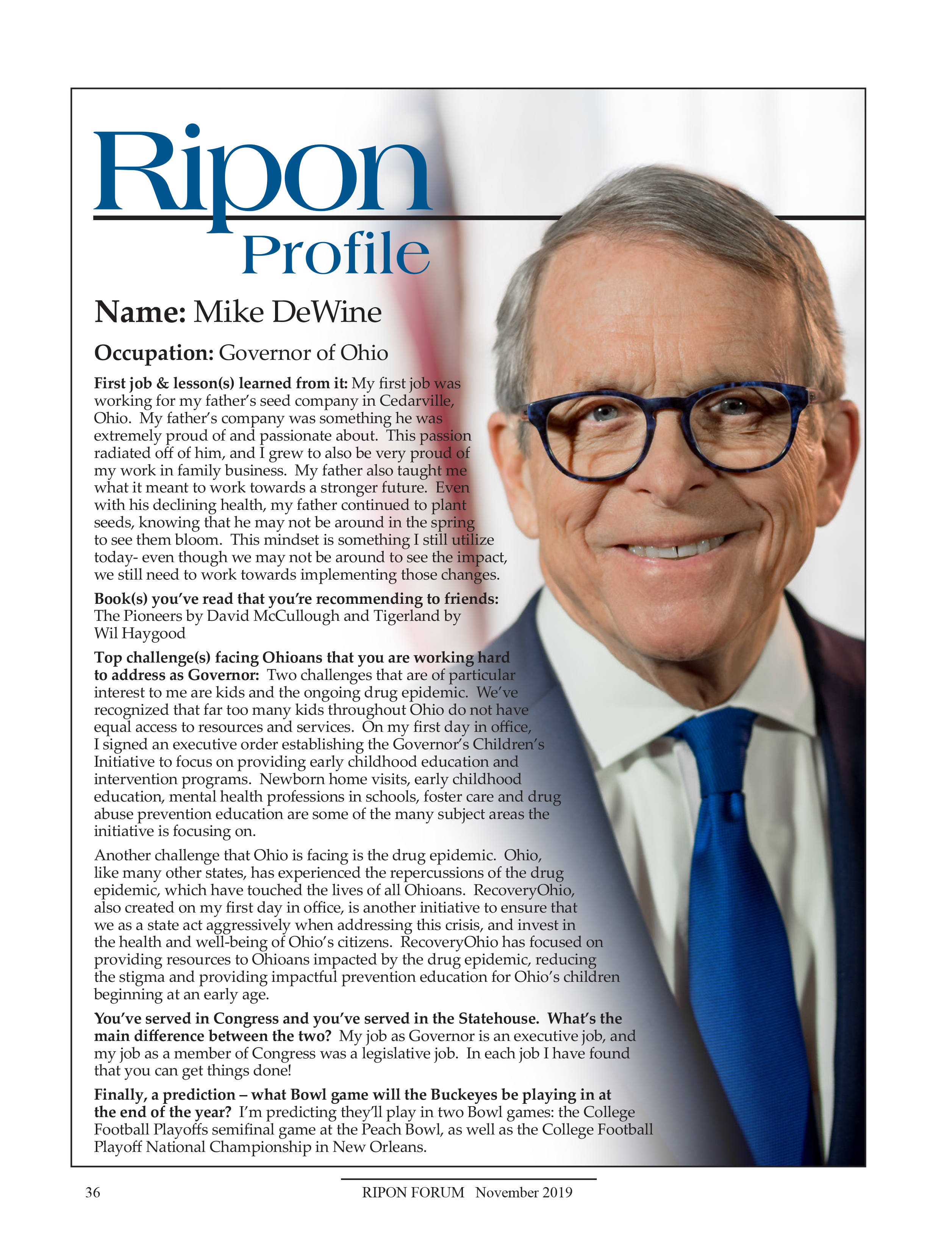 Name & occupation:Mike DeWine, Governor of Ohio
First job & lesson(s) learned from it: My first job was working for my father's seed company in Cedarville, Ohio. My father's company was something he was extremely proud of and passionate about. This passion radiated off of him, and I grew to also be very proud of my work in family business. My father also taught me what it meant to work towards a stronger future. Even with his declining health, my father continued to plant seeds, knowing that he may not be around in the spring to see them bloom. This mindset is something I still utilize today- ever though we may not be around to see the impact, we still need to work towards implementing those changes.
Book(s) you've read that you're recommending to friends: The Pioneers by David McCullough and Tigerland by Wil Haygood
Top challenge(s) facing Ohioans that you are working hard to address as Governor: Two challenges that are of particular interest to me are kids and the ongoing drug epidemic. We've recognized that far too many kids throughout Ohio do not have equal access to resources and services. On my first day in office, I signed an executive order establishing the Governor's Children's Initiative to focus on providing early childhood education and intervention programs. Newborn home visits, early childhood education, mental health professions in schools, foster care and drug abuse prevention education are some of the many subject areas the initiative is focusing on.
Another challenge that Ohio is facing is the drug epidemic. Ohio, like many other states, has experienced the repercussions of the drug epidemic, which have touched the lives of all Ohioans. RecoveryOhio, also created on my first day in office, is another initiative to ensure that we as a state act aggressively when addressing this crisis, and invest in the health and well-being of Ohio's citizens. RecoveryOhio has focused on providing resources to Ohioans impacted by the drug epidemic, reducing the stigma and providing impactful prevention education for Ohio's children beginning at an early age.
You've served in Congress and you've served in the Statehouse. What's the main difference between the two? My job as Governor is an executive job, and my job as a member of Congress was a legislative job. In each job I have found that you can get things done!
Finally, a prediction – what Bowl game will the Buckeyes be playing in at the end of the year? I'm predicting they'll play in two Bowl games: the College Football Playoffs semifinal game at the Peach Bowl, as well as the College Football Playoff National Championship in New Orleans.