The Ripon Forum
Volume 39, No. 6
November-December 2005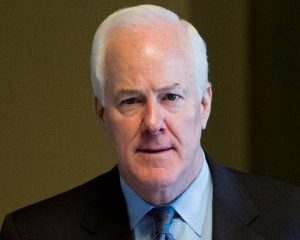 JOHN CORNYN
It is no longer a question of whether we will reform our immigration laws, but rather when and how. There has been a 30 percent increase in illegal immigration since 2000, and there are an estimated 10 to 12 million undocumented workers currently in the United States. A recent report by the Pew Hispanic Center reveals that illegal immigration exceeds legal immigration. Most alarmingly, information suggests terrorists and other criminals are aware of the holes in our system and may look to exploit these weaknesses. Below I outline principles of comprehensive immigration reform that are based on the rule of law, fair treatment of all immigrants, and the need for both enforcement and improved avenues for legal immigration.
Principle #1: Regain Control of the Borders
The truth is that we have not devoted the funds, resources, or manpower to enforce our immigration laws or protect our borders. Regaining control over the immigration system starts by controlling the border. We must authorize additional Customs and Border Protection officers and additional funds for cameras, sensors, and unmanned aerial vehicles. We must also find ways to streamline the removal of aliens apprehended along the border. Reducing the number of days that each alien is detained prior to removal will maximize use of our limited resources: detention beds, facilities, and detention officers.
Principle #2: Remove Criminal Aliens Already in the U.S.
We must also strengthen interior enforcement and ensure that criminal aliens are identified and deported. Right now, there are close to 500,000 absconders – aliens who were ordered deported and never left the U.S. – and tens of thousands of them are criminal aliens. We must not only increase the number of agents, but we must authorize the detention beds, trial attorneys, judges and facilities that make the removal process function. One approach is to expand a program that identifies criminal aliens while they are still serving time in state and local jails. Another way to make better use of our resources is to allow for state and local police – voluntarily – to assist federal officials with enforcement of immigration laws.
Regaining control over the immigration system starts by controlling the border.
Principle #3: Eliminate the Magnet of Illegal Employment
For decades, experts from both political parties have concluded that the single most effective way to reduce illegal immigration is to remove the magnet of illegal employment. Despite years of consensus, current employment verification laws are unworkable and unenforceable. An employer must review some combination of 27 different documents to determine whether a new worker is legal. Document fraud and identity theft have contributed to the problem, making it easier for unscrupulous employers to look the other way and hire unauthorized workers. While it may be counterintuitive to some, the answer is to make it easier, not tougher, on employers: a simple electronic verification system would provide immediate confirmation of whether a worker is legal. If a merchant can swipe a card to determine whether a credit card number is valid, certainly the federal government can develop a system that allows employers to verify whether a new hire is authorized to work.
Principle #4: Support and Improve Legal Immigration
Immigration reform must further the goals of America and serve the needs of our economy. The vast majority of undocumented workers come to the U.S. to fill jobs that U.S. workers are unavailable to fill, and we must provide secure, workable avenues to enter the country. We must welcome legal immigrants, and shut the door on those who seek to do us harm or violate our laws. It is time for a new temporary visa category that allows foreign workers to enter the country for a short period of time and then requires the worker to return home. It should create financial incentives for circular migration, including a temporary worker investment fund that vests only when the worker returns to his or her home country. Most importantly, it must be workable: current visa categories are burdened with onerous government regulations and requirements and do not reflect the realities of the workplace and the modern economy.
We must welcome legal immigrants, and shut the door on those who seek to do us harm or violate our laws.
Principle #5: Transitioning Undocumented Workers into a Legal Status
While the vast majority of undocumented workers come to the U.S. solely to provide for their families, they should not be rewarded with a different, easier path to a green card and citizenship. Doing so is a disservice to legal immigrants who follow the law and will only lead to illegal immigration in years to come. Under current law, however, illegal aliens who leave the country are ineligible to reenter for up to 10 years. A fair and reasonable solution is to lift those legal bars to reentry and then grant non-criminal, undocumented workers a period of time – up to five years – in which to depart and return in legal status. During that five-year period, they should be able to work and travel, so there would be no disruption to businesses or families. When they depart, they should be immediately eligible to return on a temporary worker visa (including the new visa category we must create) or, if eligible, on a green card. A recent Pew Hispanic Survey study showed that approximately 80 percent of undocumented workers would sign up for the program – not surprising when you consider that undocumented workers around the country go to work every day without the protection of U.S. laws, fearful that they could be deported at any time.
Principle #6: Addressing the Costs of Illegal Immigration
For far too long, the costs of illegal immigration have fallen on our state and local law enforcement agencies. Meanwhile, hospitals face immense financial burdens because of un-reimbursed care. Immigration reform must not only reimburse state and local agencies for the costs they incur, but it must find ways to eliminate those burdens in the first place. One way to address the health care costs would be to require all temporary workers to have a minimum level of health insurance coverage, which could be provided by the countries that send workers or by employers who choose to provide such coverage.
Conclusion
Immigration reform ultimately must be about improving legal immigration, not about creating a new process that only benefits illegal aliens. If all immigrants must abide by the rule of law and are treated equally, then we can reach a consensus on ways to improve the legal process so that it meets the needs of society, the economy, and our national security.
U.S. Sen. John Cornyn, R-Texas, is Chairman of the Senate judiciary Committee's Immigration, Border Security and Citizenship subcommittee. Earlier this year, he introduced the Comprehensive Enforcement and Immigration Reform Act of 2005, a bill that will restore integrity to the immigration system.