The Ripon Forum
Volume 42, No. 2
April - May 2008 Issue
At a Crossroads of a Deadend?
by STANLEY CARLSON-THIES
"Ten years ago, who would have believed we would be researching how faith-based groups serve the community? We hardly even knew they existed!"
Two internationally known American scholars of nonprofit organizations were talking. I just happened to be nearby to overhear it, during a break in a meeting on how social service organizations created by religious communities embody and maintain their faith inspiration.
Of course, faith-based organizations were not absent a decade ago nor were they always ignored, but their extensive service in our society was not well understood and their vital roles in responding to need was often not seen. But no one can ignore or overlook religious social services now. The faith-based initiative—a signature commitment of the Bush presidency that has greatly expanded action started during the previous administration—has brought them to the foreground. No new presidency will overlook service rendered by faith-based organizations.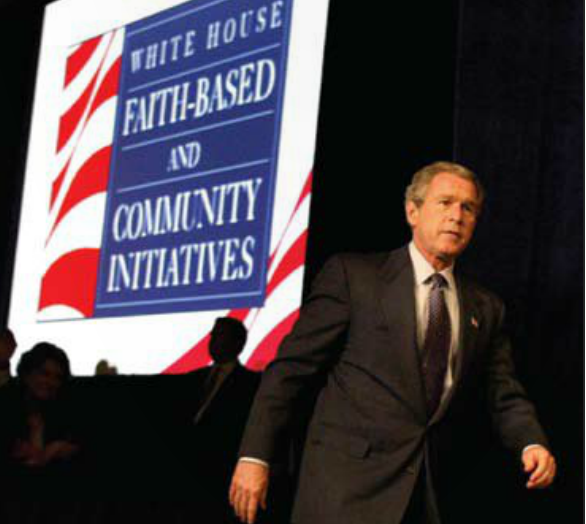 Care for neighbors sparked by humanitarian or religious motivation is characteristic of American society, as noted long ago by Alexis De Tocqueville. Our national leaders have counted on it and celebrated it. Presidents have enlisted it: JFK's Peace Corps, Bush 41's Thousand Points of Light, Bill Clinton's AmeriCorps. And religious as well as secular nonprofits have long been part of the public social safety net. The faith-based initiative, though, brought and wrought two great innovations.
The first is scale, or prominence. President Bush put it this way while still on the campaign trail in 1999: when government is responsible to provide a helping hand, "we will look first to faith-based organizations, to charities, and to community groups." These groups—their services, their way of assisting, their passion, location, spirit—ought to be central, not marginal, in our nation's public strategy of responding to need and strengthening neighborhoods and families. To that end, the administration has invested much in training that improves the capacity and impact of such groups, and enacted legislation to stimulate greater private giving to charities. Such action strengthens civil society itself and its compassionate action independent of government.
It's the other focus that has drawn the most attention and controversy: working to increase the number of grassroots groups, including organizations with an obvious faith motivation, that receive government funds to provide social services. For to enable expanded partnerships, the Bush administration has set about redesigning the operational rules of the federal government, changing them to accommodate the distinctive characteristics of faith-based and smaller nonprofit organizations. This is the second great innovation: rather than require those groups to assimilate to the government style, the government's style itself has been modified. An early report from the White House, "Unlevel Playing Field," detailed fifteen ways that federal rules unjustifiably, and usually unintentionally, obstructed partnerships between federal programs and the faith-based and secular grassroots organizations that can be the major, or only, or best, sources of uplift for the distressed and poor in many places. The Bush administration has undertaken a determined effort to eliminate those barriers and to show, with pilot programs, how small groups can be safely and fruitfully connected to big government.
No new presidency will overlook service rendered by faith-based organizations.
A vital part of the rules redesign has been to push back secularizing federal requirements. These changes have generated most of the heated opposition. Yet they broadly correspond to the Supreme Court's shift from strict separationism to a requirement of equal treatment, and constitute the implementation and expansion of the Charitable Choice principles signed into law by President Clinton and hailed by Democratic candidate Al Gore in the 2000 election. Most important: forcing the government to respect the religious freedom faith-based organizations is an essential way to compel governmental respect for the independence and uniqueness of its nonprofit partners.
Unfinished Revolution
The White House Office of Faith-Based and Community Initiatives recently released "The Quiet Revolution," an overview of goals and achievements. There is much to celebrate. For example, the Compassion Capital Fund has invested federal dollars to expand the ability of private groups to operate effective programs. Ready4Work is an innovative pilot program that builds partnerships between government services, large nonprofits, and networks of small faith-based and secular groups to help ex-prisoners establish a new way of life. Through the Access to Recovery program, many states have created voucher-based drug treatment systems that enable addicts to choose among secular and faith-integrated services to help them kick, and remain free of, illegal drugs. The PEPFAR program—the major US commitment to fighting the AIDS epidemic in Africa—relies on indigenous religious and secular grassroots organizations so that help will come from trusted organizations rooted in the places of need.
To spearhead such operational change and ensure that the focus is on better government results, not mere political agendas, eleven federal departments or agencies and the Corporation for National and Community Service have created their own faith-based offices. Thirty-five states, and some 100 cities, have also created specific offices or positions to evaluate government rules, devise ways to better utilize the passion and energy of community volunteers and organizations, and to create bridges between government programs and civil society action.
Yet, change has only just begun. In many inner cities, it's a handful of African-American churches and a scattering of other programs and institutions that are beacons of hope and sources of positive energy and example. Those leaders and struggling programs are still mostly neglected, starved of resources, hardly touched by the changes made in Washington and state capitols. Much additional work, added resources, a firm political commitment, and new policymaking creativity will be needed to effectively connect the vastness of government to those fragile "neighborhood healers."
The Next President . . .
The idea of government partnership with civil society in aid of the needy is appealing and popular. Making it actually happen, when faith-based organizations comprise such a large and vital part of civil society, has proven controversial to some. Deliberately turning to inner-city congregations — albeit as part of a broad strategy of collaboration with grassroots groups; promulgating administrative regulations that explicitly protect the religious identity of grantee organization s — although the religious freedom of beneficiaries is also for the first time explicitly protected; defending the freedom of faith-based organizations to select staff committed to the their religious identity — even though this is a freedom protected in the 1964 Civil Rights Act and upheld by the courts . . . these and other specific measures have met resistance and sometimes fierce opposition.
Will the next president have the courage to continue the hard work of forcing the government to create a hospitable environment for faith-based compassionate action? Or will he or she merely invite faith-based organizations to partner, while permitting backsliding to secularizing requirements?
The faith-based initiative is indeed at a crossroads. The way forward requires a vigorous commitment to genuine equal opportunity, and thus to safeguarding the religious freedom of faith-based organizations.
–###–
Stanley Carlson-Thies is the Director of Social Policy Studies at the Center for Public Justice. He served with the White House Office of Faith-Based & Community Initiatives from its inception in February 2001 until mid-May 2002.