The Ripon Forum
Volume 46, No. 4
Fall 2012 Issue
by KAY BAILEY HUTCHISON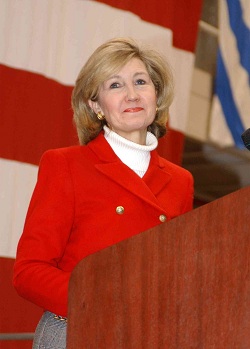 Leaving the Senate after 19 years is bittersweet. I will miss fighting for my principles and the sense of fulfillment that public service brings. But I believe in term limits and believe we must make way for the next generation of leadership for our country. 
As I make my exit, I am aware of how much remains to be done and the scope of the challenges my colleagues and incoming senators face: keeping the country from falling off the fiscal cliff, devastating unemployment, a stagnating economic recovery, Social Security and Medicare programs in need of reform. They are all important, and all will take work. But none are insurmountable. Some of the brightest people I know serve in Congress, and the collective capacity to find real solutions is great. It will, however, take collaborative effort. 
Each of us was elected by a majority of constituents who expect that we will represent a core set of values and use this framework to achieve results. When I first entered the Senate, members of both parties were open to compromise and regularly reached across the aisle. No one found themselves accused of betraying party principles for daring to negotiate basic pieces of legislation – like the farm, aviation or highway bills – that keep the country functioning. 
If there is one message the American people have sent, loudly, clearly and repeatedly, it is that they are tired of partisan bickering. They want Congress to come together and get things done.
 If there is one message the American people have sent, loudly, clearly and repeatedly, it is that they are tired of partisan bickering.
Cooperation on issues does not mean compromising values. I have stuck to the conservative principles I was raised with: fiscal restraint, limited government, encouraging the free market and protecting Second Amendment rights, to name a few. This has not stopped me from working with colleagues on bills such as NASA and FAA reauthorization, the Homemaker IRA – which let stay-at-home spouses contribute to a traditional IRA, something they had not previously been allowed to do – and legislation to allow single-gender education options in public schools. I have championed a strong national defense and support for our military quality of life and care for veterans in a bipartisan effort. 
As I leave the Senate, I leave this note to my colleagues: America has faced seemingly insurmountable problems throughout our history. But our leaders have found ways to resolve their differences and forge positive results. You, the elected representatives of today, are just as smart, creative and patriotic as our ancestors and must take the mantle of responsibility to keep America strong.   RF
---
Kay Bailey Hutchison is the senior United States Senator from Texas. She is retiring at the end of the 112th Congress after 19 years in office.