The Ripon Forum
Volume 46, No. 1
Winter 2012 Issue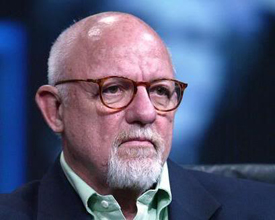 Ed Rollins is perhaps best known these days as the campaign manager for Mike Huckabee's and Michele Bachmann's recent presidential campaigns.
But his pedigree in Republican Party politics goes back much further – to the Reagan Administration, where he served as political director at the White House, and as the manager of the 1984 campaign which produced a landslide victory and won President Reagan a second term.
THE FORUM contacted Rollins recently to talk to him about the years immediately following this second term. In many respects, it was the halcyon age of Republican Party politics – a time when the GOP was not only basking in the glow of a President who had rescued the party from oblivion, but was looking for a successor who would expand the coalition he had built.
For Republicans, the 1988 campaign was about selecting Ronald Reagan's heir apparent. For Ed Rollins, that meant signing on with a 51-year old Congressman from Buffalo, New York.
THE FORUM asked Rollins about this decision, the campaign that ensued, and the legacy of the man he and many others viewed as the future of the GOP – Jack Kemp.
∗∗∗∗∗∗∗∗∗∗∗∗∗∗∗∗∗∗∗∗
---
RF: Set the stage for us if you will – you went from being President Reagan's top political aide to the Chairman of an underdog presidential campaign. You could have had your pick of any job or any candidate in the world. What was it that drew you to Jack Kemp? 
ER: I liked George H.W. Bush, but I just didn't have the feeling in my gut that he really believed in much of the Reagan agenda: lower taxes, a strong national defense, elimination of burdensome government regulations, or that he had an agenda – that is, the vision thing — for a third term, following his service as Vice President during Ronald Reagan's two terms.
Kemp was a big idea guy. He had great appeal to young voters. Jack was always about broadening the base of the Party. He did this by reaching out to African Americans, Hispanics, and blue collar workers. I always knew his election possibilities were an uphill battle, but I wanted — as did he — to make the Republican Party a party for working people, not just Wall Street and country club Republicans. He also had great energy and empathy for the little guy that appealed to me.
 "Jack was always about broadening the base of the Party. He did this by reaching out to African Americans, Hispanics, and blue collar workers."
RF: What was he like as a candidate – his strengths and weaknesses – and what was the main message of his campaign? 
ER: He was a great retail campaigner. He loved people, and it showed. He wasn't as disciplined as he needed to be when he made speeches. He would have so many things in his head that a speech could be about five things or 40, and he could also go on too long. But then he could give a speech that would bring the house down.
He was an avid learner. He always had a book in his hand and was forever sharing whatever he had just learned. Like many candidates, he hated making fundraising calls. He inspired a loyalty among his troops like few others.
RF: Why ultimately do you think he failed to catch on and had to withdraw from the race?
ER: In 1988, if you admired and agreed with Reagan, you were for Bush; if you didn't, you were for Dole. There really wasn't any space for Kemp.
There is also is a stature gap with a member of Congress running for President. Voters can see a Vice President moving up; they can see a Senator or Governor running for President. But not a House member.
RF: Why is his legacy important today? What does being a "Kemp Republican" mean to you? 
ER: A Kemp Republican to me is someone who cares deeply about working people, minorities, and the elderly. Someone who is conscious enough to know that economic policy has to look out for the aforementioned people as well. He always believed a rising tide lifted all boats.
He was for a strong national defense and was a great friend of the State of Israel. He believed in a policy of addition — meaning every day, you have to expand the base of the party, not narrow it.
 "Jack was always about broadening the base of the Party. He did this by reaching out to African Americans, Hispanics, and blue collar workers."
RF: Who in your opinion are some of the Republicans today who are most likely to carry on the Kemp mantle of inclusion, opportunity and reform?
ER: Certainly Paul Ryan comes to mind.
RF: Finally, a question related to your background and the politics of today. Both you and Kemp have working class roots – your Dad was an electrician, Kemp's was a truck driver. Ronald Reagan had a similar background as well, as does John and numerous other Republicans today. Yet the party's reputation is one of being elitist and out of touch with the lives of the working class. How do Republicans shake this label and once again forge a connection with blue collar Americans?
ER: If we are only the party of Wall Street and country clubbers, we will quickly become irrelevant. We have to understand what is going on in the lives of working people today and address their concerns.
That includes issues like the uncertainty of the job market, the future costs of education for their kids, how we address the concerns of our returning military veterans — many of whom come from blue collar families — and safety in the streets of their neighborhoods and in the workplace.   RF