The Ripon Forum
Volume 0, No. 0
Nov - Dec 2008 Issue
Governor Bobby Jindal: Calm in the Eye of the Storm

During a July 2008 interview, Louisiana Governor Bobby Jindal told Fox News that, "when something happens in your state, as a governor, you have got to [be] willing to make those hard choices and not worry about taking the blame later." In early September when hurricane Gustav pounded Louisiana, Governor Jindal personified this sentiment and proved himself a successful leader by taking decisive action in planning for, responding to, and rebuilding after the storm.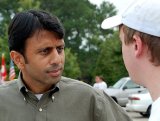 The first key to Governor Jindal's success was thorough preparation. Land, rail, and air transportation were coordinated to facilitate the evacuation of 1.9 million residents, the largest ever in US history. To assist with the evacuation, over 1,100 state troopers were put on notice along with over 7,000 members of the Louisiana National Guard. Search-and-rescue units were pre-positioned, shelters were opened, hundreds of thousands of meals ready to eat (MRE's) and liters of water were prepped for distribution, and contracts for ice were activated. Several days before Gustav's predicted landfall, Jindal issued a statewide declaration of emergency and contacted both President Bush and FEMA to request a pre-landfall federal disaster declaration and secure a streamlined response effort.
Bobby Jindal: Calm in the Eye of a Storm
Governor Jindal demonstrated his sound judgment and decisive action when unforeseen challenges arose. When buses contracted for the evacuation failed to arrive, school buses were assembled to replace them. And when meals promised by FEMA were not delivered as scheduled, Governor Jindal chose not to sit and wait and instead called on local businesses and community groups to set up kitchens and help feed those in need.
Jindal's leadership continues to be integral to recovery efforts in hurricane-ravaged areas. In the aftermath of hurricane Katrina in 2005, much criticism was leveled at the slow government response and lack of emergent leadership. The state-run Road Home program —initiated by the previous administration in response to hurricanes Katrina and Rita— has yet to provide aid to 15 percent of the applicants deemed eligible. By contrast, Jindal has emphasized that he is opposed to creating any similar bureaucracy. Instead, he prefers that the money go directly to local governments which can assess their own needs accordingly, believing it is in the best interest of the recovery process and the state. And that, perhaps, is the key to Jindal's success.
"I don't care if this is the last political office I hold," he told the Washington Times in an interview earlier this year, "as long as I do what's right for my state." Doing what's right for his state. It is this style of leadership that has contributed to Governor Jindal's success — not only in Louisiana, but in the arena of public service, as well.
–###–
Meredith Freed is an editorial assistant with the Ripon Forum