The Ripon Forum
Volume 53, No. 1
February 2019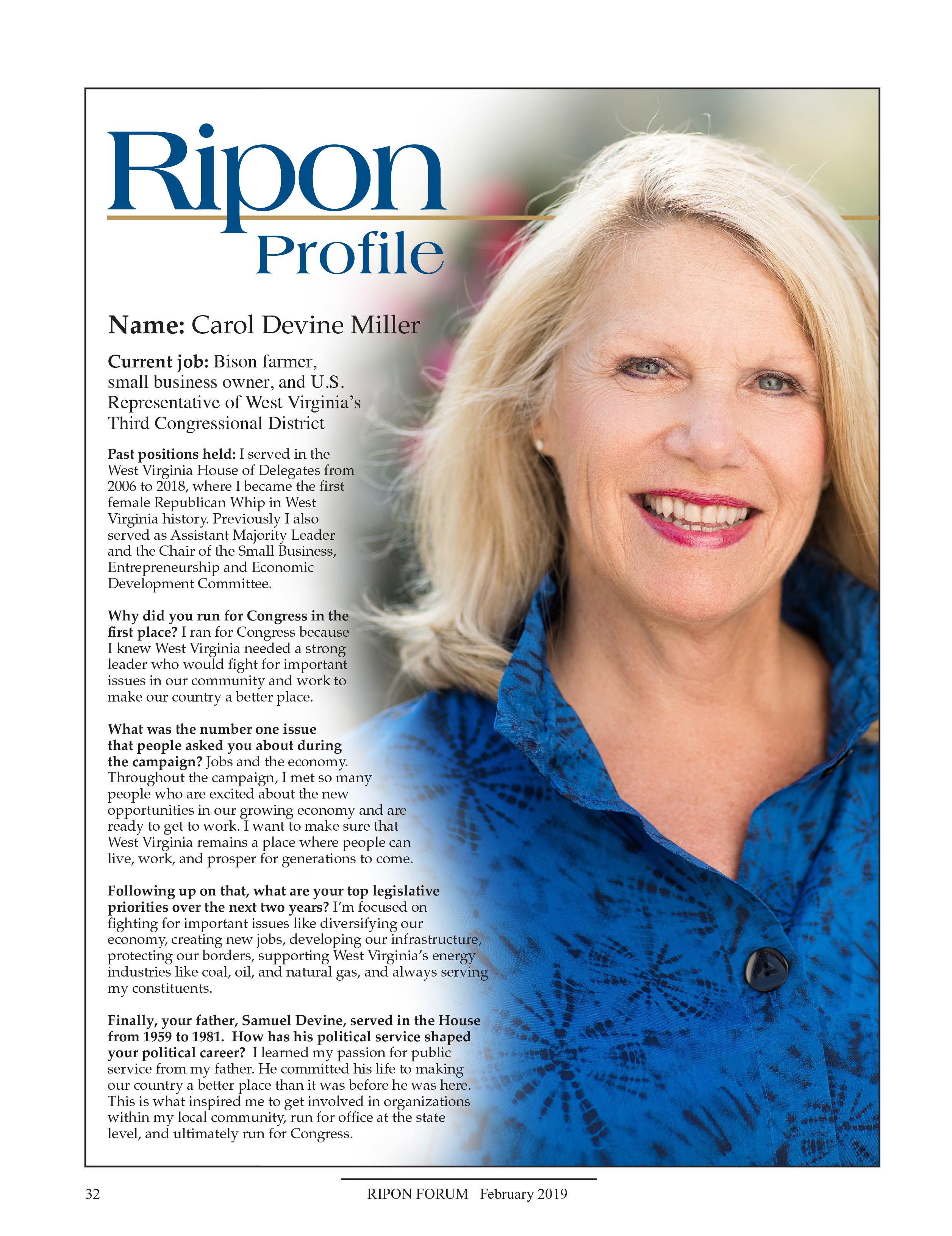 Name: Carol Devine Miller
Current Job: Bison farmer, small business owner, and U.S. Representative of West Virginia's Third Congressional District
Past positions held: I served in the West Virginia House of Delegates from 2006 to 2018, where I became the first female Republican Whip in West Virginia history. Previously I also served as Assistant Majority Leader and the Chair of the Small Business, Entrepreneurship and Economic Development Committee.
Why did you run for Congress in the first place? I ran for Congress because I knew West Virginia needed a strong leader who would fight for important issues in our community and work to make our country a better place.
What was the number one issue that people asked you about during the campaign? Jobs and the economy. Throughout the campaign, I met so many people who are excited about the new opportunities in our growing economy and are ready to get to work. I want to make sure that West Virginia remains a place where people can live, work, and prosper for generations to come.
Following up on that, what are your top legislative priorities over the next two years?  I'm focused on fighting for important issues like diversifying our economy, creating new jobs, developing our infrastructure, protecting our borders, supporting West Virginia's energy industries like coal, oil, and natural gas, and always serving my constituents.
Finally, your father, Samuel Devine, served in the House from 1959 to 1981. How has his political service shaped your political career? I learned my passion for public service from my father. He committed his life to making our country a better place than it was before he was here. This is what inspired me to get involved in organizations within my local community, run for office at the state level, and ultimately run for Congress.