The Ripon Forum
Volume 56, No. 2
May 2022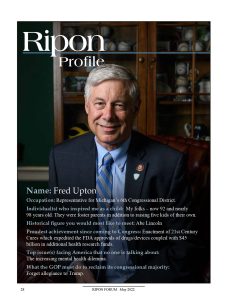 Name: Fred Upton
Occupation: Representative for Michigan's 6th Congressional District
Individual(s) who inspired me as a child: My folks – now 92 and nearly 98 years old. They were foster parents in addition to raising five kids of their own.
Historical figure you would most like to meet: Abe Lincoln.
Proudest achievement since coming to Congress: Enactment of 21st Century Cures which expedited the FDA approvals of drugs/devices coupled with $45 billion in additional health research funds.
Top issue(s) facing America that no one is talking about: The increasing mental health dilemma.
What the GOP must do to reclaim its congressional majority: Forget allegiance to Trump.