The Ripon Forum
Volume 51, No. 6
December 2017
…from the December 2006/January 2007 edition: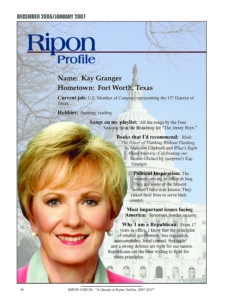 Name: Kay Granger
Hometown: Fort Worth, Texas
Current job: U.S. Member of Congress representing the 12th District of Texas.
Hobbies: Painting, reading.
Songs on my playlist: All the songs by the Four Seasons from the Broadway hit "The Jersey Boys."
Books that I'd recommend: Blink: The Power of Thinking Without Thinking by Malcolm Gladwell and What's Right About America: Celebrating our Nation's Values by (surprise!) Kay
Granger.
Political Inspiration: The women serving in office in Iraq.  They are some of the bravest women I have ever known. They risked their lives to serve their country.
Most important issues facing America:  Terrorism, border security.
Why I am a Republican: From 17 years in office, I know that the principles of smaller government, less regulation, accountability, local control, free trade and a strong defense are right for our nation. Republicans are the ones willing to fight for those principles.