The Ripon Forum
Volume 51, No. 6
December 2017
…from the February/March 2008 edition: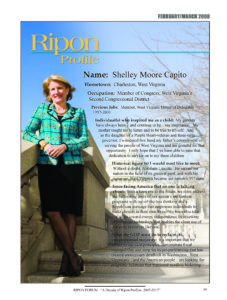 Name: Shelley Moore Capito
Hometown: Charleston, West Virginia
Occupation: Member of Congress, West Virginia's Second Congressional District
Previous Jobs: Member, West Virginia House of Delegates 1997-2001
Individual(s) who inspired me as a child:  My parents have always been – and continue to be – my inspiration. My mother taught me to listen and to be true to myself. And as the daughter of a Purple Heart-veteran and three-term governor, I witnessed first hand my father's commitment to serving the people of West Virginia and am grateful for that opportunity. I only hope that I've been able to pass that dedication to service on to my three children.
Historical figure (s) I would most like to meet:  Without a doubt, Abraham Lincoln. He served our nation in the hour of its greatest peril, and with his signature, West Virginia became our nation's 35th state.
Issue facing America that no one is talking about: With a keen eye to the future, we must address the ballooning costs of our nation's entitlement programs with out-of-the-box thinking and a Republican message that empowers individuals to make choices in their own lives. We must also take real steps toward energy independence by investing in promising technology that enables the clean use of domestic resources like coal.
What the GOP must do to reclaim its congressional majority: It's important that we adhere to our core principles, demonstrate fiscal responsibility and drop the hyper-partisanship that has created unnecessary deadlock in Washington. West Virginians – and the American people – are looking for pragmatic solutions that transcend needless bickering.