The Ripon Forum
Volume 55, No. 2
May 2021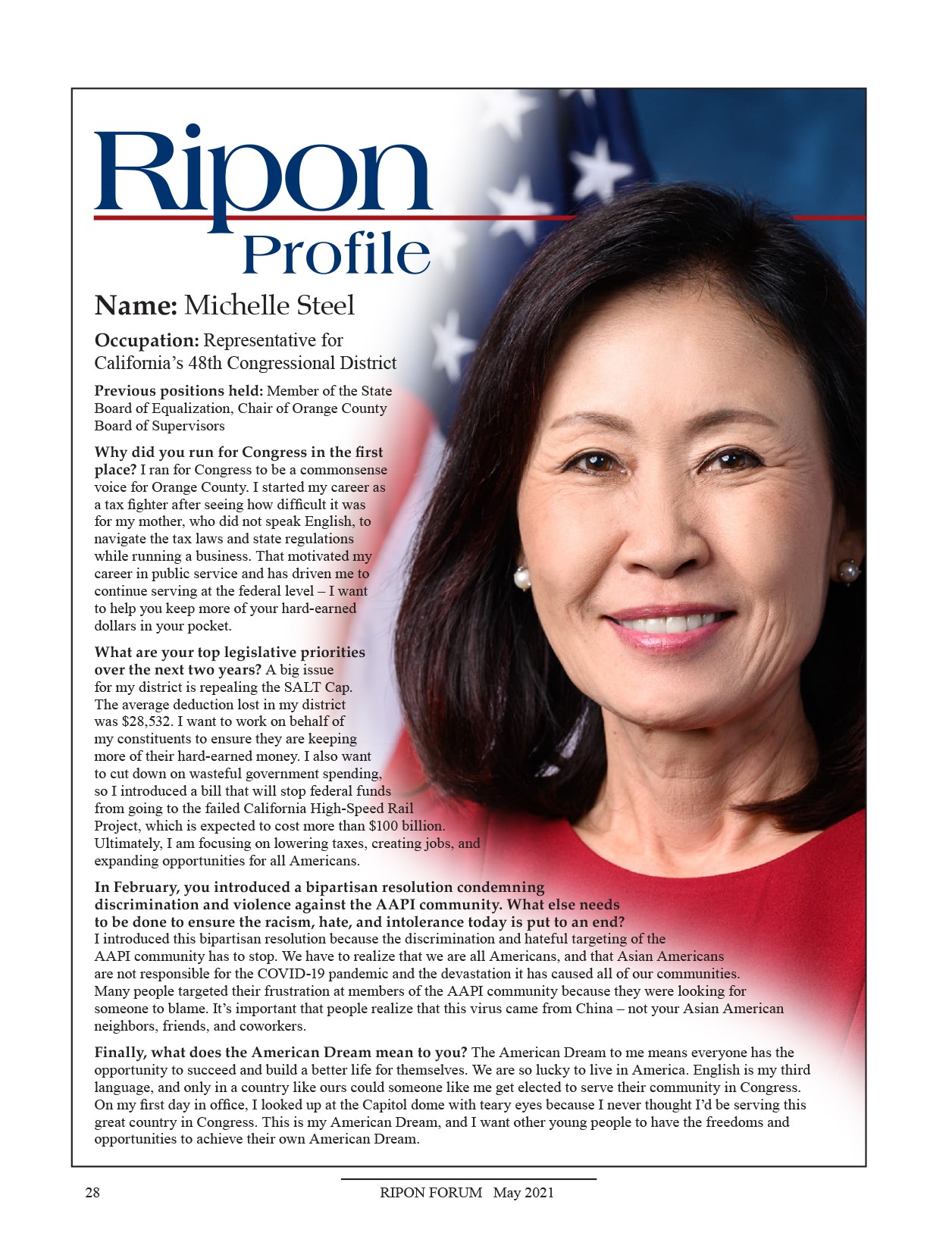 Name: Michelle Steel
Occupation: Representative for California's 48th Congressional District
Previous positions held: Member of the State Board of Equalization, Chair of Orange County Board of Supervisors
Why did you run for Congress? I ran for Congress to be a commonsense voice for Orange County. I started my career as a tax fighter after seeing how difficult it was for my mother, who did not speak English, to navigate the tax laws and state regulations while running a business. That motivated my career in public service and has driven me to continue serving at the federal level – I want to help you keep more of your hard-earned dollars in your pocket.
What are your top legislative priorities over the next two years? A big issue for my district is repealing the SALT Cap. The average deduction lost in my district was $28,532. I want to work on behalf of my constituents to ensure they are keeping more of their hard-earned money. I also want to cut down on wasteful government spending, so I introduced a bill that will stop federal funds from going to the failed California High-Speed Rail Project, which is expected to cost more than $100 billion. Ultimately, I am focusing on lowering taxes, creating jobs, and expanding opportunities for all Americans.
In February, you introduced a bipartisan resolution condemning discrimination and violence against the AAPI community. What else needs to be done to ensure the racism, hate, and intolerance today is put to an end? I introduced this bipartisan resolution because the discrimination and hateful targeting of the AAPI community has to stop. We have to realize that we are all Americans, and that Asian Americans are not responsible for the COVID-19 pandemic and the devastation it has caused all of our communities. Many people targeted their frustration at members of the AAPI community because they were looking for someone to blame. It's important that people realize that this virus came from China – not your Asian American neighbors, friends, and coworkers.
Finally, what does the American Dream mean to you? The American Dream to me means everyone has the opportunity to succeed and build a better life for themselves. We are so lucky to live in America. English is my third language, and only in a country like ours could someone like me get elected to serve their community in Congress. On my first day in office, I looked up at the Capitol dome with teary eyes because I never thought I'd be serving this great country in Congress. This is my American Dream, and I want other young people to have the freedoms and opportunities to achieve their own American Dream.