The Ripon Forum
Volume 47, No. 2
Spring 2013 Issue
by KIT BOND and HENRY CISNEROS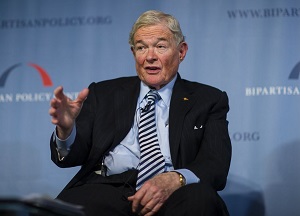 A 1996 Wall Street Journal article once described us as the "odd couple" of federal housing policy. While hailing from different backgrounds and holding divergent political views, we remain united — some 17 years later — in our belief that ensuring broad access to decent and affordable housing is a goal our country must never abandon. This sentiment has guided the work of the Bipartisan Policy Center's Housing Commission and is a key principle of the commission's report, Housing America's Future: New Directions for National Policy. We are privileged to serve as co-chairs of the commission, along with former Senators George Mitchell and Mel Martinez.
Meeting our nation's diverse housing needs requires a strong and stable system of housing finance. That's why a major focus of the commission's work has been, and will continue to be, housing finance reform. While hard to believe, we are approaching the fifth anniversary of the government's decision to place Fannie Mae and Freddie Mac under conservatorship. Yet, today, our nation's policymakers are still pondering the fate of the two mortgage giants and there is no consensus on what the future of our nation's $11 trillion housing finance system should look like.
 Meeting our nation's diverse housing needs requires a strong and stable system of housing finance.
Today, Uncle Sam dominates the housing market in a way never seen before in our nation's history, with the government supporting nearly 83 percent of single-family mortgages. Private capital flows into the housing finance system but assumes little of the credit risk associated with mortgage lending, which is ultimately borne by the American taxpayer through government insurance and guarantees.
The commission believes that a housing finance system so overwhelmingly dominated by the government is unsustainable over the long term. We therefore recommend the elimination of Fannie Mae and Freddie Mac over a multiyear transition period and the use of various "policy dials" during this transition to encourage the introduction of more risk-bearing private capital into the system. Reducing the government footprint and encouraging more private participation will protect taxpayers while providing for a greater diversity of funding sources.
At the same time, the commission recognizes we cannot meet America's mortgage credit needs exclusively through bank balance-sheet lending. The secondary market for mortgage-backed securities will continue to be a vital source of funding, but many investors in this market require a government guarantee protecting against catastrophic credit risk as a condition of their investment. In the absence of such a guarantee, investor interest would wane and widespread access to long-term, affordable, fixed-rate mortgage financing would likely disappear.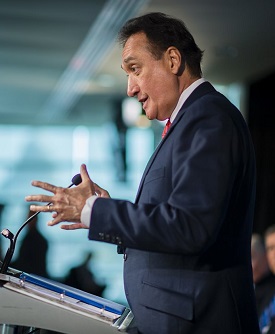 So the commission has concluded that the government must provide a limited catastrophic backstop in the secondary market to ensure mortgage liquidity. Unlike in the past, this guarantee would be explicit, apply only to the mortgage-backed securities, and kick in only after multiple layers of what we call "private credit enhancers" had depleted their resources. Even then, any losses would be paid for through a catastrophic risk fund capitalized by insurance premiums charged to mortgage borrowers.
We know what you're thinking: The housing market is on the rebound. Home prices are going up in many regions of the country. Fannie and Freddie even made a sizable profit last year. So why rock the boat?
These positive developments, while welcome, must not lull us into forgetting that the housing market is cyclical: Periods of modest growth and home-price appreciation are inevitably followed by periods of contraction and price depreciation. Last year's profits by the two GSEs are also no guarantee of future performance. What we need is a new housing finance architecture that will be sustainable over the long term, one resilient enough to weather even those periods of market decline and even turmoil.
 What we need is a new housing finance architecture that will be sustainable over the long term, one resilient enough to weather even those periods of market decline and even turmoil.
As we design a new finance system to support homeownership, let's not forget that more than one-third of U.S. households are renters. Unfortunately, our nation suffers from a paucity of affordable rental housing, a situation that will be exacerbated in the coming years as some six million Echo Boomers enter the rental market for the first time. For renters at the bottom of the income ladder — that is, those making 30 percent or less of their area's median income — the supply shortfall is particularly large. Not surprisingly, nearly two-thirds of these extremely low-income renters report spending more than one-half of their income just on housing costs. Rising rents will continue to be a major challenge for them.
In response, the commission offers a number of far-reaching recommendations: a reformed Housing Choice Voucher program that more effectively targets assistance to the most vulnerable households; greater utilization of the tax code to support the production and preservation of affordable rental units; and the adoption of a new performance-based system for federal rental assistance that focuses less on process and more on achieving positive results for those assisted.
We are gratified by the very positive reaction to the commission's report from across the political spectrum. Senator Patty Murray (D-WA) has described the report as a good foundation for a discussion of our nation's future housing policy. The Senate Banking Committee has already convened a hearing on the commission's housing finance reform recommendations. Republicans and Democrats in both houses of Congress have expressed a strong interest in learning more about our approach.
Our nation's housing challenges are severe and growing in both intensity and scope. We believe the commission's recommendations offer a viable path forward and can serve as a solid basis for bipartisan action.   RF
---
Kit Bond served as U.S. Senator from the State of Missouri from 1987-2011. Henry Cisneros served as Secretary of Housing and Urban Development from 1993-1997.