The Ripon Forum
Volume 0, No. 0
Dec 2006 - Jan 2007 Issue
How the mayor of Fresno is making his city's government more efficient and accountable
by ALAN AUTRY
The holidays are a time for excess. Excess eating, excess celebrating, and excess spending. For most people, once the holidays are over, the excess goes away. In Washington, DC, however, that's not the case. For as others have pointed out, when it comes to federal spending, it truly has become Christmas all year. 
Put another way, fiscal excess in our Nation's capital has become the norm. But with our debts piling up and our obligations growing everyday, perhaps it's time to admit that "normal" doesn't cut it anymore and start acting like responsible adults. That's what we did in Fresno, California, where I proudly serve as Mayor. Not only have we invented a remarkable way of conducting the people's business, but we have also been able to do more than we ever imagined. 
The New Normal is the result of a realization very early in my first term that there was no real knowledge of what our budget was based on.
We have invested over $100 million in infrastructure capital throughout the City and have dedicated another $45 million to our neediest areas through our "No Neighborhood Left Behind" program. We have built, in 11 months, what is considered one of the top Triple A baseball stadiums in the country. We have experienced over $1 billion worth of new investment in downtown renewal projects. We have invested in our Police Department in record amounts which has resulted in the lowest crime rates in over 30 years and resuscitated our Fire Department which had been gasping for air far too long. Perhaps most significantly, we created an outcome based budgeting system. At a time when governments at all levels are struggling to stay in the black, we built up our reserves from zero to over $15 million. 
We call our system "The New Normal." The New Normal is the result of a realization very early in my first term that there was no real knowledge of what our budget was based on. Oh, there were trappings of good judgment. There were endless columns of revenues and expenses, volumes of departmental reviews of last year's extraordinary accomplishments, pages and pages and pages of numbers all bound neatly into a heavy green book. But the more I looked and the more I questioned, the more it became clear that the current year's budget was simply based on the prior year with the addition of incremental departmental increases based almost entirely on a barter system that had been the norm for decades. 
For Fresno to reach its potential in the competitive world of municipal government in the new millennium, change was mandatory. I compare it to an automobile race. You can have the nifty paint job, the shiny wheels and even a handsome driver behind the wheel, but if you enter the race with a four cylinder engine when everyone else has eight, not only will you be unable to compete, you'll most likely embarrass yourself and your team in the process. 
We lacked a universal game plan, a system that would motivate appropriate behaviors and lead us inevitably and predictably to success. Like other municipal organizations, operations were steeped in conventional methods and procedures. In fact, it could be said that processes had become our products and comfort was found in their built-in predictability. Without meaning to, we had sequestered ourselves from the very people we were bound to serve. Instead of focusing on outcomes that were in sync with organizational and community objectives, we maintained a commodious relationship with the status quo.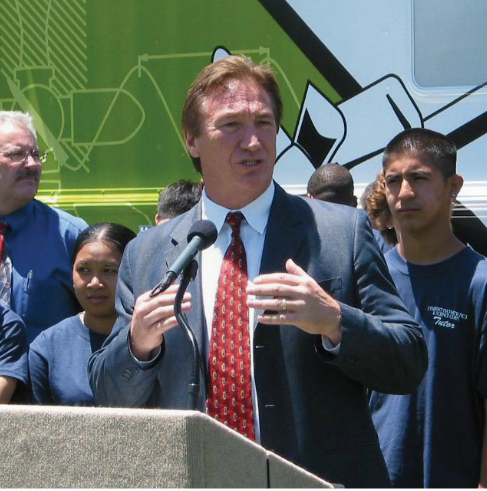 Let  me be clear – I do not believe in big government. However, I do believe in government big enough to do its intended job.
Let me be clear – I do not believe in big government. However, I do believe in government big enough to do its intended job. The challenge is figuring how big is big enough. Put another way, how many cylinders do we need to be successful? To answer this question, we first set forth a set of financial principles to guide our administration:
We will always spend within our means.

We will apportion the people's money by following three basic tenets:

Return the majority to the people in the form of efficient services.

Invest in economic development.

Save for emergencies.

We will be wary of gifts, grants and guarantees that come with too many restrictions that can end up doing more harm than good.
In developing our New Normal system of government, we planned and systematically constructed a series of sequential elements. No attempt was made to implement any element out of sequence or on its own. To do so would have corrupted the system and meant a return to the old normal. Furthermore, each element was specifically designed to motivate certain behaviors that would be essential to achieving success. These six elements included the following: 
First, I circulated to the entire community my mission: "Fresno – A united City working together to ensure equal access to opportunity, education and quality of life for every man, woman and child regardless of their race, religion, age or socioeconomic status." I wanted the City's Municipal Operations Organization (traditionally referred to as "The City" and lead by our City Manager) to realize that if they pictured the City as a wagon wheel, it would be clear that they were one of many spokes that, when made strong and true, supported the wheel on its journey. This new picture helped them understand that they were not "The Wheel" as many had believed. Rather, they were an integral spoke among many others that are required to move the "Wheel" forward. The message I was trying to convey was simple: in short, we've got to remember who we work for – the people. 
Second, after realizing their position within the bigger picture, the organization needed to create a view in their collective minds that would depict specifically how they wanted to be identified. They put that picture into words and called it their Vision: "Fresno – A Culture of Excellence Where People Get the Best Every Day." 
Third, after stating how they envisioned themselves, they agreed upon a core set of Values that would guide behavior and become the bedrock of our organizational culture: Accountability, Compassion, Trust, Innovation, and Teamwork. 
The fourth element consisted of what we called our triad of Key Objectives that, when kept in absolute balance, will be the ultimate measure of our success. These Key Objectives included Customer Satisfaction, Employee Satisfaction, and Prudent Financial Management. Every decision we make is determined by quantifying each of these Key Objectives and making sure that one or another does not upset the equilibrium of the three as a whole. 
Fifth, we established six Key Result Areas (KRAs) for the purpose of determining who would do what and by when. A Cabinet made up of interdepartmental decision makers was created for each KRA. Their objective was to work together as a formal team to establish specific outcomes relative to their particular KRA and then formalize the Goals, Strategies and Tactics that would allow them to achieve success. 
Notably, this system became the basis of our budgeting process. No longer would we budget by adding incremental increases to each department's previous year total; now every dollar had to fit within one of the KRAs, balance the Key Objectives and be formally justified and substantiated by the KRA cabinet. The KRA system spurred the destruction of silo-based budget bloating. Honest budgeting can only be accomplished in a cross-departmental group setting. 
I truly believe the only way to govern successfully…is to have unshakable principles and flexible politics.
The sixth and final element of our New Normal system of government is a compilation of Implementation Tools, a set of devices, mechanisms, gadgets and contraptions with which we measure success, adjust direction and reward performance. 
Through all of this, our goal is to not spend one dollar without fully understanding how it adds value to the outcome for which it is being requested. Our system takes more time and effort in the short run. In the long run, we believe it will pay, and is paying, dividends far beyond our investment. 
But of course, in the end, the success of any system – no matter how potentially efficient – is dependent on its leadership. I truly believe the only way to govern successfully, whether you're a Mayor, Governor, Senator or President, is to have unshakable principles and flexible politics. Too often it's just the opposite when dogmatic political ideology clouds the principles of good governance. 
There is no silver bullet or secret mojo that will change the "Christmas all year" attitude of government spending. It is only through people of principle with the political courage to change what has been considered normal for far too long that we will find true economic integrity.  RF
---
Alan Autry is the Mayor of Fresno, California.