The Ripon Forum
Volume 44, No. 3
Summer 2010 Issue
Name: Charlie Dent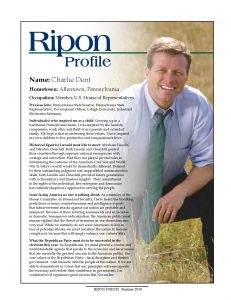 Hometown: Allentown, Pennsylvania
Occupation: Member, U.S. House of Representatives
Previous Jobs: Pennsylvania State Senator; Pennsylvania State Representative; Development Officer, Lehigh University; Industrial Electronics Salesman
Individual(s) who inspired me as a child: Growing up in a traditional Pennsylvania home, I was inspired by the honesty, compassion, work ethic and thrift of my parents and extended family. My hope is that in embracing these values, I have inspired my own children to live productive and compassionate lives.
Historical figure(s) I would most like to meet: Abraham Lincoln and Winston Churchill. Both Lincoln and Churchill guided their countries through supreme national emergencies with courage and conviction. Had they not played pivotal roles in determining the outcome of the American Civil War and World War II, today's world would be dramatically different. Defined by their outstanding judgment and unparalleled communication skills, both Lincoln and Churchill provided future generations with extraordinary and timeless insights. Their commitment to the rights of the individual, free enterprise and democracy has certainly shaped my approach to serving the people.
Issue facing America no one is talking about: As a member of the House Committee on Homeland Security, I have heard the troubling predictions of many counterterrorism and intelligence experts that future terrorist attacks against our nation are probable and imminent. Because of these sobering assessments and an increase in domestic, homegrown radicalization, the American public must remain vigilant that the threat of terrorism on our shores remains very real. While we certainly do not want Americans to live in fear of potential attacks, we must not allow the nation to become complacent, because this will simply enhance our vulnerability.
What the Republican Party must do to be successful in the elections this year: As Republicans, we must present a concise and understandable agenda that speaks to the economic and fiscal issues that are currently the greatest concern to the American public. The core values of the Republican Party – fiscal discipline and limited government – still resonate with the people of this nation. If we are able to demonstrate to voters that our principles will reinvigorate the economy and restore their confidence in government, I'm confident we'll experience great success this November.