The Ripon Forum
Volume 52, No. 1
February 2018
by KYLE CHANCE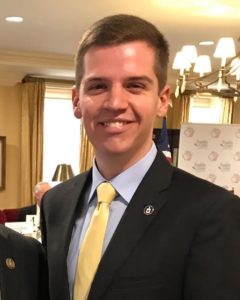 In 2018 America, everyone seems to have an opinion when it comes to national politics and the city which it inhabits.  My generation is no exception. As a student enrolled at Miami University in Oxford, Ohio, I wanted to reach out to a handful of my peers to illustrate how people my age view the current political climate in Washington, DC.
Luke Schroeder (age 20) interned in a Republican Congressman's office this past summer, his first time experiencing the workings of Washington in person. During his time there, he saw gridlock up close, something he understood as part of the legislative process. But what stood out to him was the toxic environment that seemed to accompany the disagreements.
"There needs to be a return to cordial debate," Schroeder insisted, talking about the current state of rhetoric exchanged between politicians in the United States. He identifies the attitude of the constituencies as a catalyst for the degradation of political decorum. "Why would Congress change without the constituency changing?"
Every day, constituents called the office he was interning for, and those of us who have had experience working on Capitol Hill know just how intense some of those calls can be. Schroeder does not cite the constituents as the cause of the partisan anger. Rather, he points toward the polarized media environment, where 24-hour cable news coverage demonizes those on the other side.
"[They] are out of touch with the problems facing everyday Americans. This is why they were so caught off guard when Trump won the presidency."

Charles Kennick (age 20) is the president of Miami University's College Democrats. He believes there is a problem in Washington arising from the seemingly endless campaign for office. "Instead of basing their decisions on sound policy that helps their neighbors," Kennick argues, "a culture of inaction and incompetence has proliferated due to elected officials [posturing] to look good for electoral or fundraising reasons."
Kennick stresses that the public's involvement is absolutely essential for a representative democracy, saying that government "will always be the product of the citizens, and if they don't care, neither will Washington."
The argument of our political leaders being disconnected from the general public is echoed by the sentiments of Kaitlyn Napoli (age 21). "[They] are out of touch with the problems facing everyday Americans. This is why they were so caught off guard when Trump won the presidency."

Rather than retreating to everyone's own side of the aisle, Napoli wants to see a renewal of cross-party communication, and most importantly, a willingness to compromise. Without mutual understanding and working with one another, how can the government properly serve its citizens?
Conversation about President Donald Trump is as abundant as ever among college students, especially since 2016 was the first time we participated in the election of our Commander in Chief.
Hana Hall (age 20) has previously interned for a Democratic Senator and a women's rights organization in Washington, and she is particularly skeptical of the President's knowledge on most issues.  "His policy agenda is constantly changing, and I genuinely believe he does not understand how to effectively lead his party," Hall explained. "He is reckless and uninformed, spending the majority of his time tweeting and watching the news instead of serving the people who elected him and implementing positive change."
This view of the President being erratic and unpredictable is present among many of the students I spoke with. "Foreign policy-wise, I am terrified," confessed Brendan Greenlee (age 20). With the world's changing economy, nuclear proliferation, and international intrigue unfolding on social media, Greenlee believes that Trump's policy of "America first" is the wrong way to govern the country in the twenty-first century—in his own words, "the world needs a leader now more than ever."

Despite his reservations, Greenlee sees some potential in the President's administration. Like many Democrats one year ago, he wanted to see bipartisanship on policies that many Americans agree on. "I hope common sense is found in infrastructure spending," Greenlee said. "Unfortunately, it seems the administration is not pursuing this golden opportunity."
"Foreign policy-wise, I am terrified … the world needs a leader now more than ever."
Hannah Shepherd (age 21) believes that President Trump "generally has a positive agenda." Similar to the other college-aged Republicans I have spoken to for this piece, it is not Trump's agenda which fosters discontent with the 45th President, but rather his tactless attempts to dramatize daily political events. "I fear that he has heavily contributed to shifting the national conversation away from the content of the issues and has centered attention on a 'reality TV show' version of politics."
Of these six students, three were Republicans and three were Democrats, and there is a lot more in common between them than one might think. Both sides agreed that the conduct of our President was hindering the success and image of the United States on a global scale, and they agree that Washington is broken: not necessarily by the hand of corruption, but by the dark cloud of derision and disdain that has been lingering above the city for the entirety of our adult lives.

Presidents come and go, but unfortunately the culture persists. Since speaking to these students, the government has shut down for the second time in five years. This spectacle of brinksmanship is yet another example of what my generation sees as the problem with politics. It is simply another disappointment.
Kyle Chance is a senior at Miami University in Ohio, and a former intern with The Ripon Society.